By Slavica Monczka Sep. 8th, 2011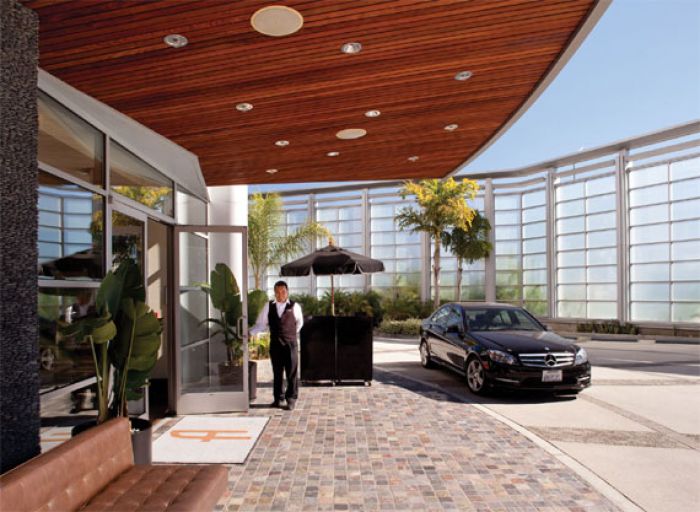 Photo Courtesy of Joie de Vivre/Paul Dyer
For my recent visit to Los Angeles, I needed an excellent hotel in a perfect location. Immediately the suggestion from a local was Hotel Angeleno, a
Joie De Vivre property
, whose mission statement is "creating opportunities to celebrate the Joy of Life."
Since I am all about promoting the "joy" of anything, I was instantly sold on my decision to stay at Hotel Angeleno and was pleasantly impressed. Equally impressive was my dining experience at West: an Italian steakhouse perched up atop at the penthouse level of Angeleno with the most fantastic views of Los Angeles. My experience as a whole at Hotel Angeleno can be described as luxury at a very attainable price point.

From the moment I pulled up in my car, the staff was pleasant from beginning to end at Angeleno. Valet is complimentary, with no overnight parking fee (something we seldom see any longer). The lobby introduces itself in a welcoming manner with its modern décor infused with an abundance of natural elements. A personal favorite of modern interior design, the balance of simple lines and airy space that incorporate natural elements such as stacked river rock stonewalls and wood panels.

This landmark building, with its circular design, offers every well-appointed room balcony views of the city. Luxury amenities include, but are not limited to, imported Italian linens, free Wi-Fi (another rarity), and large plasma TV, just to name a few of my favorites.


And now, on to the West! Modern and comfortable is the décor again, adorn with the glamorous touch of chandeliers and sconces much like large dangling diamond earrings you often see women in neighboring Beverly Hills wearing. Manager Jeff West seated us at what I presumed was the best seat in the house with its views, only to learn that nearly all the walls in the entire penthouse restaurant are glass, floor to ceiling, ensuring all patrons to feel this special.



My entourage du jour, aka husband with two little daughters in tow dressed up as if they were to be meeting a Prince, discuss with Executive Chef Mathew Woolf the specials he has chosen to prepare for us this fine L.A. evening. I simply handed over my ostrich skin textured menu and asked Woolf to "surprise us!" The girls wreaked havoc in fear they would be served anything other than their request of fried baby octopus, or as we "big people" like to call them, calamari.


I quickly encouraged them to try something new, as Chef Woolf delivers Lobster Stuffed Squash Blossoms on Sweet Corn Puree. Wow, I can truly say that words will not do this dish justice, but I will try. Tempura battered, melt in your mouth, warm squash and lobster was unique and heavenly. The next dish was the colorful Heirloom Tomato Salad with Burrata Cheese (Woolf's homemade cheese, of course) and Saba. The sweet balsamic vinegar balanced with the course sea salt, mini heirloom tomatoes, and for the love of God, the cheese! Chef Woolf was proud of his tomatoes, hand selected by him at the farmers market earlier that day.


If there were one culinary dish I am confident with my opinion of, that would be a great steak. Simple and medium-rare is how I prefer it. This Italian steak house proved to be very sophisticated, so I was under the assumption that I was not to be overly impressed with a good old grilled steak. My fourteen-ounce, cowboy cut ribeye steak, laid out over a bed of sautéed oyster mushrooms, proved me wrong. The flavors were overwhelming. Bravo Woolf! The wine pairing, superbly selected from their extensive wine list to marry and complete the exceptional dish.

Do not miss out on the "Make Your Own Bloody Mary" menu the morning after, a signature weekend brunch concoction featuring 42 different ingredients for a custom Bloody Mary. It is sure to be the bloody prescription to any quick fix needed from an evening of pandemonium experienced the prior night. Hotel Angeleno; luxurious experience at a rate you can take advantage of! For more on the Angeleno, visit JDVHotels.com/Angeleno.

Hotel Angeleno seduces you
With luxurious amenities and stellar views
Impressed you'll be with West too
The steak, bloodies, and to-die-for tiramisu
Slavica Monczka
Slavica Monczka created Seductively French (SF) to celebrate the allure of the French culture. SF recognizes and admires France as the birthplace of haute couture, fine art and architecture, and gourmet cuisine. French culture has seduced the world and SF invites you to experience the uniqueness of France, the spirit of the French people and the true meaning of passion. SF creates media con...(Read More)