By Sara Cardoza Feb. 22nd, 2012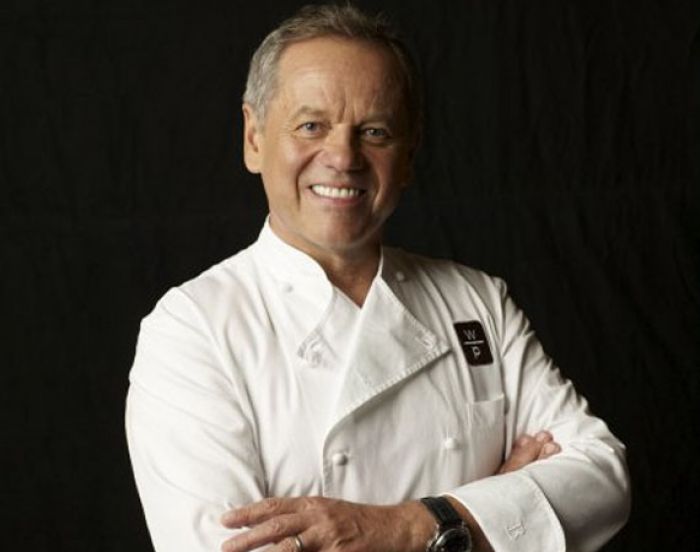 Photo Courtesy of Wolfgang Puck Official Page
With a personality as lively as his food, it's no wonder that
top Chef
Wolfgang Puck has become an entertainment icon in addition to being a wonder in the culinary world.
Hailing from Austria, Puck has been a celebrated chef for more than 30 years. He was the first chef to become a brand name, with numerous restaurants throughout the United States spanning from Beverly Hills to Colorado. Puck oversees the operations of many culinary establishments and stands at the helm of the fast-casual Wolfgang Puck Express and Wolfgang Puck Bistro.
Puck pioneered numerous culinary concepts including the use of the "open kitchen" and purchasing locally sourced ingredients to create some of the first "gourmet" pizzas. Other credits to his name include fresh and frozen Wolfgang Puck pizzas, canned soups, Wolfgang Puck–branded cookware, small appliances, kitchen accessories, and tableware.
Though he was born in Europe and is now an internationally known celebrity, Wolfgang Puck got his start when he moved to Los Angeles in 1975. It was then that Puck began working at Ma Maison in West Hollywood. The skills he gained while working in some of the finest restaurants in France, and the hard work he put in during his early beginnings at La Tour in Indianapolis did not go unnoticed. Puck's talent and vibrancy in the kitchen earned him part-ownership of Ma Maison and helped make the spot one of the most elite
restaurants in Los Angeles
.
Puck went on to open Spago Restaurant in 1982 which garnered instantaneous global success. There, Wolfgang debuted some of his signature dishes which included Sonoma baby lamb as well as smoked salmon and caviar topped pizzas. From there Puck's empire expanded to include Chinois, an Asian inspired restaurant in Santa Monica, Postrio in San Francisco, CUT Steakhouse in The Four Seasons Beverly Hills, WP24 at the Ritz-Carlton, Los Angeles, and the many incarnations and additions on Puck's restaurant list continues to grow.
L.A. is privileged to have been home to Puck's immense beginning. Wolfgang Puck has been honored by the James Beard foundation numerous times, most recently for The Lifetime Achievement Award. When he's not busy steering his culinary kingdom from inside the kitchen, Wolfgang can be seen making appearances on many cooking shows including the Food Network series,
Wolfgang Puck.
He has graced ABC's
Good Morning America
with his sense of humor and culinary knowledge that has made Puck a favorite television personality. In addition, Puck has also authored six cookbooks to help food lovers create some of his famous dishes. He's made his home where he first set down his U.S. roots; Puck lives in Los Angeles with his wife and four sons.
See All The
Top Chef Recipes
Sara Cardoza
Sara graduated from the University of Mary Washington in Fredericksburg, Virginia with a degree in creative writing. As a military child she spent her childhood living and travelling overseas which shaped her passion for travel, language, food, and intercultural exchange. She has recently joined the JustLuxe editorial team....(Read More)