By James Rothaar Mar. 15th, 2012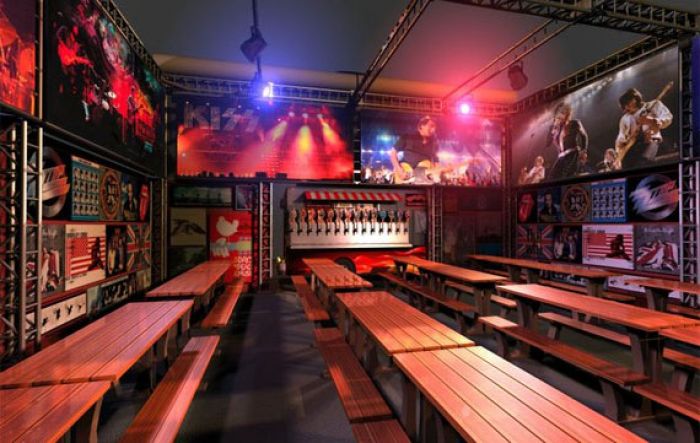 Photo Courtesy Rock & Brews
Rock star, media mogul, and new restaurateur Gene Simmons will be on hand for the opening of the Rock & Brews in El Segundo, California, located in L.A. County, on April 3, 2012. For the opening of the new
Los Angeles restaurant
, the famous bassist is partnering with restaurant impresario Michael Zislis and concert promoter Dave Furano for the debut of Rock & Brews. The themed restaurant will possess the ambiance of the backstage area of a major music venue with principal design elements that include a "Great Wall of Rock," rock-and-roll posters, as well as inspired artwork in order to open the eatery with a backstage aesthetic that is in tune with the setting.
Quality comfort foods and appetizers, along with more than 40 craft beers, flesh out the casual culinary selections. Brews will range from lagers, pilsners, and pale ales, to fruity, malty, hoppy, Belgian, dark, on-deck and bottled beers. Red and white wines also will be available. The entertaining menu options for Rock & Brews will include Opening Act appetizers, VIP salads, Headliner sandwiches, and Encore desserts. The casual decorum will be replete with picnic tables, concert lighting, plentiful flat-screen TVs and a studio-quality sound system throughout the restaurants.
Additional openings of Rock & Brews restaurants are planned in the Los Angeles area, as well as Denver, Colorado, and Maui, Hawaii. International destinations on the map for the family and dog-friendly restaurants include, Los Cabos, Mexico, and Tokyo, Japan. Four locations are scheduled to open in 2012. For more information, visit
RockandBrews.com
.
James Rothaar
As an independent contractor, James has written content for Justluxe.com and other leading online luxury lifestyle magazines. Rothaar previously served as the senior-tenured staff writer for JustLuxe, having worked with the digital magazine since 2005. He resides in Jacksonville, Florida, and works as an independent marketing consultant and a freelance writer. James Rothaar has an MBA degree...(Read More)