By Touring & Tasting Jun. 27th, 2012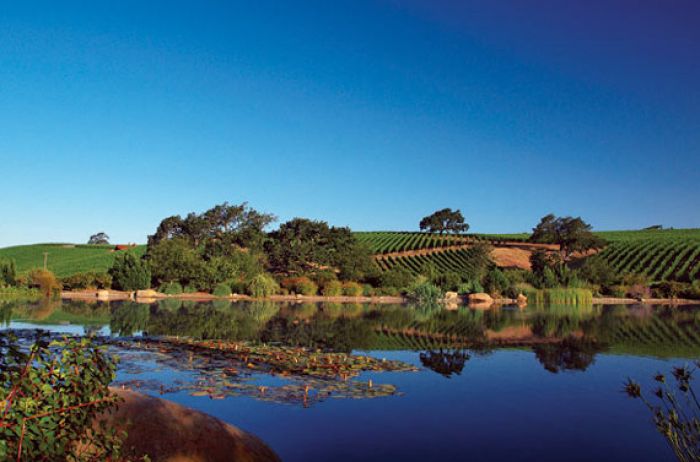 Photo Credit: Shannon Jordon
At the start of the new millennium, Larry Grassini, a lover of fine Bordeaux, decided to plant a vineyard on his ranch in Happy Canyon. He and his wife, Sharon, purchased the land back in the 1980s to serve as a family retreat, but as vineyards started popping up in the surrounding hills, the couple realized they could create a living legacy for their family.
In 2002, Larry hired vineyard consultants, along with Vineyard Manager Ben Merz, who helped plot out the vines. Planted in small blocks, spaced in six by-three- foot rows, the vines are adequately stressed to produce excellent quality grapes. The hilltop reserve blocks are planted even closer together. A special irrigation system protects the grapes from frost. The Grassinis' capable daughters, Mandy and Katie, manage the business, which allows Larry to maintain a big-picture point of view.
Loyalty, integrity, and a commitment to detail are guiding principles at Grassini Family Vineyards. Most members of the crew who helped establish the vineyard still tend the vines today. The Grassinis believe that the wine that ends up in the bottle is a reflection of the intense care and effort that goes into the vineyard. To acknowledge and reward the hard work of the crew, they developed a program that gives the workers complete control over all of the farming decisions for several rows of vines. They bottle a special wine from these rows and then use the profits to pay the crew a special annual bonus.
Today, just a decade after the first planting, Grassini grapes are in high demand. In time for the 2011 harvest, the Grassinis hired Andrew Levi as their winemaker. Andrew has international experience with Bordeaux varieties and is excited by the potential of the winery and its top-quality grapes. "This vineyard is very dynamic," Andrew says. "There is an extraordinary opportunity to make wines are that are both singular and distinctive to this site."
An Interview with Mandy and Katie Grassini:
T&T: You're sisters. How do you divide your roles at the winery?
MG:
The roles we play were divided based on our skills from past careers. I spent many years in sales, marketing, and hospitality, while Katie started in the ski and hotel industries and then went to law school.
KG:
The timing was perfect, really. I practiced law while the grapes were going through their first few harvests. Once we were ready to open the winery, I was able to put my legal knowledge to use with our contracts, licensing, permitting, and other issues.
T&T: With an Italian heritage, did your father consider planting Italian varieties?
MG:
Having Grassini as a last name, our dad definitely toyed with the romantic idea of having an Italian family make Italian varietals. But when it came down to it, he wanted to plant and grow grapes that were best for the land and the terroir of Happy Canyon. That's definitely Bordeaux varieties.
KG:
We did plant about 280 olive trees on the vineyard property and hope to have some high quality olive oil soon that bears the Grassini name. We also have wines coming out next year which will be named for our father's grandparents.
T&T: Your family led the drive to get Happy Canyon designated as an AVA. Why?
MG:
It was important to us because this small stretch of land is extremely diverse. We wanted our consumers and the entire wine industry to understand this.
KG:
Once we realized just how unique the microclimate and terroir are from the rest of the Santa Ynez Valley, we knew it deserved its own AVA.
T&T: You have a new tasting room in downtown Santa Barbara. What's it like?
MG:
Family is a priority for us and our new tasting room is like family. Guests can expect to be greeted with hospitality, grace, and great wines.
KG:
The new tasting room will reflect our love of family, and the pride we have in our wines and the valley we're so lucky to call home.
WHAT TO BUY:
'09 Estate Sauvignon Blanc Ripe apple, distinct peach, pineapple, guava, butterscotch $45

'08 Estate Cabernet Sauvignon Cherry, plum, brambly raspberry, clove, spice $65

'09 Estate Cabernet Sauvignon Raspberry, blackberry, plum, cherry, clove, caramel, mocha $65

'09 Estate Reserve Cabernet Sauvignon Blackberry, black cherry, ripe plum, toast, chocolate, vanilla cream $80

CONTACT:
Grassini Family Vineyards
805.897.3366, 805.686.1170
info@grassinifamilyvineyards.com
GrassiniFamilyVineyards.com


TASTING:
Tasting Room Open Thur–Mon 12–6
813 Anacapa St
Santa Barbara, CA 93101

SPECIAL NOTES: Sustainable and Biodynamic farming practices, winemaker on site, wine club events and discounts
Touring & Tasting
Established in 1995, Touring & Tasting offers an array of compelling marketing opportunities through its biannual, nationally distributed magazine wine club services weekly e-newsletter print newsletter and Website, TouringAndTasting.com. Touring & Tasting's Wine Club delivers an incomparable assortment of premium, hand-selected wines to a broad spectrum of motivated wine consumers. We offe...(Read More)