By Vicki Arkoff Aug. 7th, 2015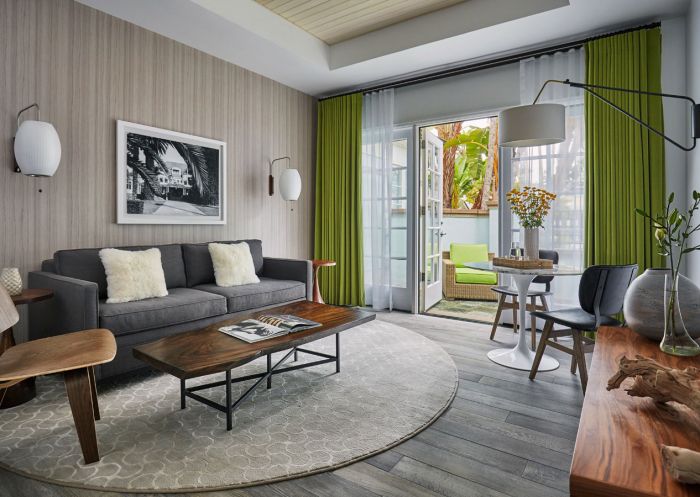 Photos Credit: Fairmont Miramar
Fairmont Miramar Hotel & Bungalows has just upped its WOW factor on its iconic bungalow suites, thanks to the sunny Midas touch of LA interior designer Michael Berman. Inspired by the Fairmont's newly-renovated Bungalow One, a three-bedroom suite and Berman's first hotel project, the residential specialist has now given the same beach-chic-meets-surfer-cool makeover to the historic hotel's 28 iconic one- and two-level bungalow-styled suites.
The design concept is materialized with elements from Mitchell Gold + Bob Williams, Stacy Garcia, Kravet, Bronze Studio and Taracea. The white, blue and neutral color scheme are nods to the ocean and sand, made apparent by whimsical white seagull lights hanging from teal coffered ceilings. Berman's custom furnishings utilize driftwood alongside tufted seating and upholstered bedding. Mid-century chairs, side tables and sconces strengthen the clean lines, while faux fur and velvet accessories soften matters. The design continues to bring the outside in with glass doors opening to sunny terraces. It's modern, retro and rustic all at once, creating a new sense of luxury that speaks to the heart, rather than tradition or ego.
And as it should be, Miramar's new spa-like bungalow bathroom is a sanctuary, a welcoming, open-space framed by blue velvet drapes, bleached wood flooring and marble mosaic walls. A rain shower shares the main space with the room's centerpiece: a round Lacava bathtub. Privacy from the master bedroom is achieved by a dimmable glass wall.
The makeover results in a fresh new face for the classic 4.5-acre Santa Monica hideaway a favorite of travelers and local celebrities, thanks to its coveted location just steps from busy 3rd Street Promenade. It also sits directly across the street from the cliffside Palisades Park overlooking the prime stretch of Santa Monica State Beach. The property features ocean view suites designed by Lynda Murray, superb seasonal dining at FIG Restaurant, The Bungalow social lounge by event producer Brent Bolthouse, fitness classes and services by Exhale Mind Body Spa. The private Miramar Beach Club provides guests with lounges, umbrellas, activities, full menus and butler staff.
The only bungalow-style luxury suites in West Los Angeles, these accommodations are located in the hotel's Miramar gardens. Originally added to the hotel in 1938, they were the home-away-from-home for such Hollywood greats as Jean Harlow, Marilyn Monroe and Greta Garbo. Now the remodeled suites are ready to again offer luxurious, secluded privacy to attract new Hollywood royalty who, like Garbo, just want to be alone. Summer rates range from $799 to $5,000.
Vicki Arkoff
Based in Los Angeles, Vicki Arkoff is Contributor for JustLuxe, reporting on travel, entertainment, lifestyle and autos. She also reports for Atlas Obscura, The Daily Meal, Day Spa Magazine, Lonely Planet, Prevue, Where Guestbook, Where Los Angeles Magazine, Baltimore Sun, Bing News, Chicago Tribune, Los Angeles Times, MSN, New York Daily News, Orlando Sentinel, San Diego Union-Tribune, Yahoo News...(Read More)