By Merilee Kern Jul. 13th, 2009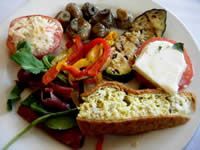 Fine Dining:
Located within Santa Monica's infamous outdoor shopping, dining, and entertainment Mecca known as Third Street Promenade, Locanda del Lago is an experience unto itself. This restaurant duly sets itself apart from the glut of others in the Promenade with its authentic Northern Italian cuisine crafted amid a vehement commitment to fresh, locally farmed ingredients.


Upon opening in 1991, Lago as it is known quickly gained notoriety for its unique focus on authentic cuisine specific to Lake Como in Northern Italy. Accolades have since ensued, including a 2009 Michelin Guide recommendation as well as praise by Gourmet Magazine, Los Angeles Magazine, Zagat, and Wine Spectator.

I recently visited Lago for dinner with my husband and two young children ages 7 and 10 who've already cultivated a love of fine dining. Lago is, in fact, quite family friendly, and a favorite with the celebrity-set. Among the stars who've brought their young children in to dine over the years include Dustin Hoffman, Goldie Hawn and Kurt Russell, Bob Saget; Police drummer Stewart Copeland, Kate Capshaw and Rita Wilson.

Upon arrival I immediately noted a blackboard adjacent to the front door, which listed an array of fresh produce used in that evening's menu along with markets and farms the items were purchased from. This and other nightly special information is proudly echoed inside an another, larger blackboard that serves as a main focal point in the dining room. Apparently conveying this information is a nightly ritual assuring diners the restaurant's ingredients, employed in an ever-changing menu, are both fresh and locally grown.


Once inside I was pleasantly overcome by the restaurant's old world ambiance and charming décor that duly evokes the warmth and comfort of an Italian countryside inn or "locanda." Lago's earthy color palette is complimented with greenery, substantial rustic furnishings, vibrant artifacts and artwork depicting life in Bellagio that, all combined, make the space feel quite homey. Because we arrived before sunset, the dining room's many windows - a benefit of the restaurant's plum corner location - streamed in dreamy natural light that further evoked a sense of comfort and relaxation. Outdoor patio seating is also offered for alfresco dining amid some of the best people watching in town. Whether eating indoors or out, Lago compels its patrons to slow down from their usual hectic pace and savor a meal, a libation and the company you're keeping at that moment.

Chef Roberto Maggioni's region-inspired menu, which features authentic creations from Bellagio not often found at Italian restaurants in the U.S., entices diners with seasonal selections for its soups, salads and antipasti, classic and innovative pasta and risotto dishes, designer pizzas, and a range of meat, poultry and fish. The restaurant also has an extensive vegetarian menu, and will happily cater to those with other special dietary needs.

Just as I got settled in with my white peach bellini made with fresh squeezed juice from fruit purchased at Santa Monica's famous Farmer's Market that day, a plate of rich, flavorful parmesan chips arrived to kick start our taste buds into gear. This was quickly followed by a basket of fresh baked bread and a complimentary bowl of lemon-infused trout pate spread, which was extremely light, delicate and salubrious in flavor.

As I did, you'll taste the difference at Lago with your very first course, with options starting at just $7. I ordered for the Melazae alla Parmigana - baked eggplant with fresh mozzarella and a spectacular herbed tomato sauce, while others at the table chose the Gamberi al Prosciutto - prosciutto wrapped tiger shrimp, arugula, shallot an orange wedges, and the Minestrone vegetable soup. Other appetizers and soups not to be overlooked are the Vitello Tonnato - roasted and chilled veal tenderloin, creamy tuna-caper aioli, micro rainbow greens and shaved parmesan; Carpaccio di Bue - beef tenderloin carpaccio with talaggio mouse and micro arugula; and the Vellutana - cramy savoy cabbage soup, fried brussel sprouts and a ciabatta crouton.


The Northern Italian culinary adventure ensued with dinner courses, which range in price from $11-$32 and feature an array of pastas made fresh daily. My Spaghetti allo Scoglio - spaghetti with mixed seafood, including calamari, clams and mussels, in a lightly spicy Arrabbiata sauce - was truly spectacular. At Lago, the seafood and sauce are combined while still cold so that the sauce is thoroughly infused with the fresh ocean flavors when it's brought up to temperature. And, the amount of spice was just right - peppery without being overbearing.

Because dining with my family inevitably turns into, well, family style, I did also partake in the other entrees served up: The presumably simple Pizza Margherita Fresca - pizza with fresh mozzarella, chopped Roma tomato, garlic and basil on a thin, doughy crust - was actually bursting with bright colors, flavor and texture. A great light-side selection. And, the vegetarian dish Pizzoccheri alla Valtellinese - substantial wheat pappardelle pasta, roasted garlic, savoy "curly" cabbage, and Yukon potato tossed in a creamy bitto cheese-sage fondue - is incredibly rich and an example of Lake Como comfort food at its best.
But, don't overlook the restaurant's other dinner options, especially since there are many you probably won't find at any other eatery. Besides our choices, which were all utterly enjoyed and are highly recommended, additional entrée standouts are the Lasagna di Cinghiale (wild boar lasagna with Bechamel sauce); Ossobuco alla Milanese (veal shank with a saffron-parmesan risotto); and the Pesce in Crosta di Sale (salt baked wild Chilean sea bass baked and dressed tableside with baby artichokes and Yukon potatoes in a white wine sauce).

Interestingly, Chef Maggioni also prepares a special seasonal tasting menu of three courses ($45) or four courses ($59) that can be paired with a wine tasting ($22). Each tasting menu focuses on organic produce of the season as well as a theme that may incorporate a specific cooking method or traditional flavor. Alternatively, Lago recently introduced a three course "stimulus package" dinner menu ($29) with impressive options available for the starter, entrée and for dessert. The Tagliolini Lago e Monti (spinach tagliolini with tiger shrimp in a portabello, cherry tomato and white wine sauce) would be my pick for the main, which is also offered on the regular dinner menu.


Dessert at Lago is equally resplendent, priced on the night of my visit from $6 to $14. Like everything else, the desserts, including the gelatos and sorbettos, are conceptualized and created daily in-house using fresh, top-quality ingredients. Our party indulged in the Profiterole al Amaretto - home made baignés filled with an Amaretto cream and topped with a chocolate and caramel sauce. Enough said. We also savored the Senza Farina - warm flourless chocolate cake topped with a vin brulée sauce normally served with a hazelnut gelato, although we opted for the vanilla gelato instead. This heavenly cake is a must for those with a true appreciation for all things chocolate.

Other recommended desserts include the Tiramisu (lady fingers, espresso, vanilla-mascarpone cream in a cappuccino sauce); Tris di Cioccaolato (a trio of mousses that features brandy-dark, Bacardi-milk, and Amaretto-white); Crostata Rustica alle Ciliege (warm cherry pie with vanilla gelato); and, also for the chocolate-lovers, Salame di Cioccolato (rich chocolate fudge with sugar cookie crumbles and vanilla bean sauce).

As impressive as the food is Lago's wine and cocktail selection nearly 400 choices strong. In fact, for its range of premium California and Italian wines, the restaurant has earned Wine Spectator magazine's "Award of Excellence" every year since 1995, and Luigi Veronelli "Best Italian Restaurants" guide praised the restaurant for it "vast and intelligent selection." The restaurant's artisanal cocktail menu is equally compelling, with a variety of clever concoctions made with freshly squeezed and just-picked local produce and organic liquors. Among the more ambitious is the Caprese martini, made with cherry tomatoes, basil, tomato vodka and balsamic, while the mouthwatering Mojito features mint, lime, Papagayo rum and sugar cane.


If after dinner drinks and a show are your thing, be sure to order Lago's authentic Italian Grolla, which is a combination of espresso, grappa, brandy, sambuca, lemon peel and sugar. After being flamed tableside, it can be shared from a hand-carved wooden "friendship" bowl that has a drinking spout for each person. Tradition states that, as the drink is passed, each relationship it touches grows stronger. There are also numerous dessert martinis with such tantalizing flavors as apple pie, key lime pie, candied apple, thin mint and white or dark chocolate. For those who prefer a traditional after-dinner drink, there is grappa, dessert wines, port, sambuca, cognac and brandy.

All told based on my first-hand experience, Lago is an extraordinarily distinctive Italian restaurant likely to exceed any luxe diner's high expectations.

Lago is located at 231 Arizona Avenue, Santa Monica 90401. More information is available online at www.LagoSantaMonica.com.

- Merilee Kern
JustLuxé.com's "The Luxe List" Executive Review Editor

The Luxe List product, service and travel review editor Merilee Kern scours the luxury marketplace for new and captivating "musts." Submissions accepted via e-mail at Merilee@JustLuxe.com.

Photo Credit: Dave Siegle Photography

Photo Credit: Megan Sheehy

Photo Credit: Dave Siegle Photography
Merilee Kern
Branding, consumer product trends, leisure and lifestyle expert Merilee A. Kern is a good life connoisseur who keeps her finger on the pulse of the marketplace in search of new and innovative must-haves and exemplary experiences at all price points, from the affordable to the extreme. The best of the best across all product, service and travel categories–as well as noteworthy marketplace change ...(Read More)