By Alexa Mangrum Jun. 1st, 2010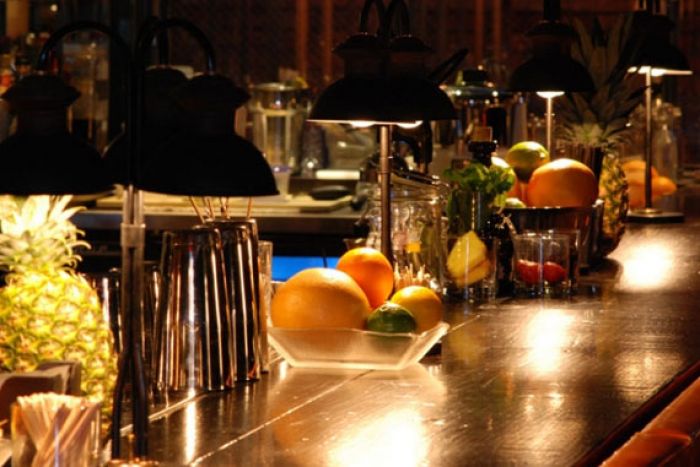 City Guides:
From a hefty membership fee of $2,200 now down to a mere $20, the exclusive
Caña Rum Bar at The Doheny
will now offer all 213 of its select members the chance to try at least over 140 small-batch rums with the opening of its new Cana
Rum
Bar.
Tucked away in an ambiguous parking garage on Flower St. in downtown LA, the illuminated hallway gives away anonymity showcasing the bar's best rums—inviting members and guests into the warmly lit space.
Cana
also features an expansive outdoor smoking lounge where patrons may pair the expansive rum selection with a carefully chosen cigar.
To fit the theme live Caribbean and tropical Latin music is played nightly and drink specials change daily featuring both classic rum
cocktails
to signature creations. Cocktail enthusiasts will delight over the 1930's themed Caribbean lounge featuring not only rum, and lots of it, but seasonal wines and beers from the world's biggest rum producing capitals.
The $20 annual membership fee includes not only education behind the spirits served but complimentary rum tastings as well.
Connoisseurs
and do-good-er's alike will be please to note that the fee goes directly to a varying charity per month. Bottoms up!
Caña Rum Bar at The Doheny
, 714 W. Olympic Blvd., L.A., Mon. - Fri., 6 p.m. - 2 a.m.; Sat., 7 p.m. - 2 a.m. ; closed Sun. except for private parties and special events.
Alexa Mangrum
Alexa Mangrum culminates her love of culture with her passion for writing as a Justluxe Editorial Team Member. An authority on the arts and design world, Mangrum frequently freelances for various publications globally. An arts and entertainment enthusiast in her local community of San Diego, Mangrum is a visual artist as well. Recently awarded as an Emerging Creative of 2013 by Google Inc. and con...(Read More)