Luxury Villa Vacation Rentals in Cape Town, South Africa
Posted: Jan. 14th, 2010 | By JustLuxe Team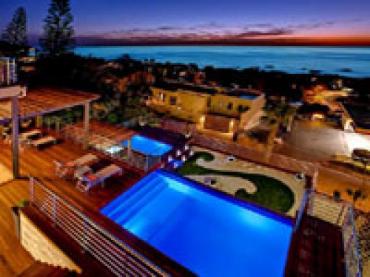 Luxury Villas: Just outside Cape Town, South Africa, sits the stunning 12 Apostles Mountain Range and some of the world's most renowned beaches. With so much natural beauty, it's easy to see why the region has become a top luxury beach destination, especially with some of the hottest nightlife and best restaurants just minutes from stunning beach villas that offer all the convenience of home and more.If you are thinking a visiting Cape Town in South Africa, Cape Town Villas offers some of the most luxurious accommodations to be found.

The villa at Sea and Rock features a tri-level floor plan with stunning views and multiple amenities including balcony access from 4 luxurious bedrooms, with spa baths, a patio with two Jacuzzis, two saltwater swimming pools, of which one is heated, a gas barbeque and a Zen Garden. Inside, there is a kitchen on each level, two of which also have a scullery, pantry and laundry room. The villas three lounges offer plasmas, DVD players, CD players and I-pod docking stations and Wi-Fi is available throughout the home.





In the resort town of Fresnaye, enjoy stunning seascapes from all angles and well-appointed décor that fits in with the surroundings. Set on a nearly private lot, with high-tech security, and a long driveway, the villa includes a bridged entrance over a koi pond that leads into a marble entryway. Inside, the villa is set around a stunning spiral staircase. Enjoy a well-equipped bar, Japanese antiques, a central entertainment area, a formal lounge, a fully equipped open kitchen, a huge gas-lit fireplace, outdoor patio including a pool with waterfall and barbeque. Upstairs, experience movies on a full screen as well as luxurious bedrooms and more imaginative amenities for complete indulgence.


Located just outside of exclusive Camps Bay is a spacious tri-level villa, perfect for entertaining. The open floor plan lets guests get a glimpse of the kitchen, outfitted with every modern convenience as they enjoy electronic entertainment devices including satellite TV, DVD, surround sound and Wi-Fi. Or they can step out onto the expansive terrace, outfitted with patio furniture, lounge chairs and an infinity pool. The villa also includes a guesthouse outfitted with a mini version of the main house's amenities and a separate entrance.

Other villas include full time butler and maid service and all include lavish amenities that compete with stunning views of the enchanting area.

Visit CapeVillas.com for more information.

For JustLuxe Carly Zinderman
Related Topics : South Africa, Vacation Rentals, Villas, Luxury Travel