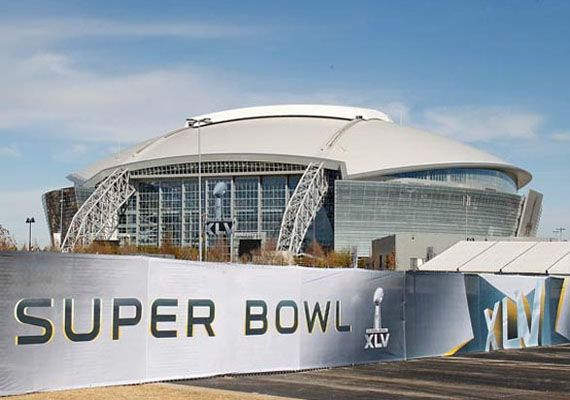 Bigger, richer and flashier than almost any city in the country, the
Dallas/Fort Worth
area is the perfect locale for a larger-than-life Super Bowl.
The brand new Cowboys Stadium is adding an extra frisson of excitement, as people crane for a glimpse inside its vast, gleaming steel-and-glass shell. Here's the insider's guide to the best parties, restaurants, nightlife and VIP stadium suites for Super Bowl XLV 2011...and beyond. Click here to check out the full slideshow.

VIP Suites

Though it has the world's largest HD screen (verified in the Guinness book), plus standing room areas to make entry-level tickets more special, Cowboys Stadium suites are where true high rollers need to be. And there are so many different kinds! In addition to the classic "Birds Eye Suites," there are the "Hall of Fame Suites" 20 rows up, "Field Level Suites," comparable to a dugout suite in a baseball stadium, and "Touchdown Suites" right behind the goal post. All told, there are approximately 300 suites within the stadium.

Cowboys Stadium

Everybody's calling it "Jerry's World," but the truth is, this three million square-foot athletic palace owes much of its artistic detail to Jerry Jones' wife Gene. She headed up the art council responsible for selecting the 21 commissioned artworks displayed all over the stadium. The works range from modern installations to the mural pictured. It's our favorite, though it's anything but subtle.

Bubble Room

Beer and hot dogs? Maybe for the plebes. However, suite and premium seat-holders at Cowboys Stadium get much more refined refreshment. Dee Lincoln's Bubble Bar is a sophisticated little wine bar serving 50 to 60 domestic and imported labels, both over-the-counter and via an enomatic wine system. If you haven't seen enomatic serving yet, it's basically fine wine on tap; self-service and pay-as-you-go. An incredibly fun, low-pressure and convenient way to taste.

Omni Hotels Hosting

Trying to brush shoulders with the players and coaches? Your best bet is the host hotels. Omni Fort Worth is hosting the Steelers and Omni Mandalay Hotel at Las Colinas (a suburb of Dallas) is home-away-from-home to the Green Bay Packers. Of course, both hotels will be booked by now, but there will be plenty of activity in the public areas. ESPN will have its broadcast base set up in Sundance Square, steps outside the Omni Fort Worth. Another hotel in the center of the action is the Renaissance Worthington. This handsome high-rise is big enough that it may have a couple rooms available due to last minute cancellations.

Steakhouse

Everybody knows that when in Texas you can't say you've dined right until you've sunk your teeth into a sizzling, marbled slab of prime, ranch-raised beef. And this is twice as true in Fort Worth, historic central processing point for the Texas beef industry. Thankfully for aesthetics, the Fort Worth Stockyards District is now a historic and cultural district, not a slaughter zone. There's still a steakhouse on every corner of historic downtown Fort Worth and the Stockyards. Expect to see team owners and managers, local luminaries and society types at Bob's Steak & Chophouse in the Fort Worth Omni, Del Frisco's and Reata. Reata is actually more "upscale cowboy cuisine" than strictly steak, and we recommend it highly.

M.L. Leddy's Leather Shop

If you happen into the Omni host hotels during Super Bowl week, you'll see two amazing hand-tooled bespoke saddles on display (one in each hotel). These are a gift to the team owners from the Omni and M.L. Leddy's, the premiere boot and saddle maker in Texas, and probably the world. Handcrafted down to the smallest detail, made from Herman leather and finest sheep's wool, each saddle takes three weeks to make. The wait time for a pair of custom made boots is one year. Patrons include royalty, American presidents, diplomats, celebrities, and champion riders, Leddy's in Fort Worth is a must-visit if you can only shop in one store during your Dallas/ Fort Worth stay. The store has been open since 1941, but the original Leddy's Ranch in San Angelo (where all boots are still made) opened in 1922.

Parties

Benefits, bashes and black-tie mixers are everywhere you look, from private mansions to Billy Bob's (the world's largest honkey-tonk). Mario Batali and local celeb chef Tim Love reunite for a Moyer Foundation fundraiser, the hottest ticket for Friday night, with a $500 ticket price. Aces and Angels Salute to the Troops will make its first Super Bowl Week date, and the Giving Back Fund, which last year won ESPN's nod for "#1 event," will host two events, including a Friday night gallery 'do hosted by Troy Aikman.

Nightlife: Rattlesnake Bar

Culture in the Dallas/Fort Worth metro area runs the gamut from art museums to rodeos, posh wine bars to honkey-tonks. Here are some recommended after-dark spots during Super Bowl: The Wine Cellar at the Ashton Hotel in downtown Fort Worth; fabulous retro dive bar Booger Red's Saloon in the Stockyards District; and the classic Rattlesnake Bar at the Ritz-Carlton. NC-17 spoiler ahead: For a gentlemen's club, on the non-seedy side, that serves surprisingly good steaks to go with the "nice views," The Lodge is a fave.