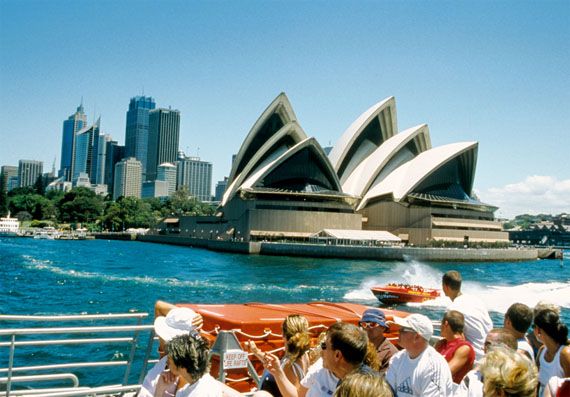 Paul Hogan aka Crocodile Dundee promised to "slip a shrimp on the barbie" for us and Americans and others flocked to Australia in record numbers. But will Oprah Winfrey have the same impact on
Australian tourism
?
We'll soon find out. The four shows she taped down under aired recently where she waxed lyrical about the place and touted its many attributes.

Of course, I couldn't agree more. For ten years I wrote and revised Frommer's Australia, which meant that "Oz" became my home-away-from-home. I've crisscrossed the country numerous times, always enjoying the people I met and the beautiful sights I saw.

In fact, I think a trip to Australia should be on every traveler's bucket list, but too often folks are overwhelmed by the country's size and options; they tend to choose a smaller, more do-able destination instead.

In response, I've created a shortlist of Australia's Five Must Have Experiences.

1. Savor Sydney
The harbor is her heart, so jump on a ferry and view one of the world's most beautiful cities from the water. Oprah focused on the Sydney Opera House and you should, too. Take a tour if you must, but also buy tickets for a show and enjoy "the house" the way the locals do. This includes picking up a sandwich at a nearby deli and picnicking on the front steps or around the back with a water view.

2. Go to the Great Barrier Reef
There's a reason it's one of the wonders of the world. My favorite islands are Lizard, Orpheus, and Heron.

3. Watch the Wildlife
Head to Kangaroo Island in South Australia to see kangaroos, koalas, wallabies, fairy penguins and emus in their natural habitat. The bush is literally alive with these Aussie icons. You can also see black swans, sea lions, sacred ibis, kookaburras, New Zealand fur seals and more.

4. Enjoy the Food and Wine
Multicultural Australia offers myriad ethnic cuisines, but their home-grown Shiraz is the stuff of legends.

5. Visit The Outback
Oprah went to Uluru in the heart of Australia's Red Centre, but she didn't have time to walk around the world's largest monolith, which is my favorite thing to do. I also really like the nearby Olgas. These 36 enormous rock domes, with narrow valleys between them, are a great area for hiking.

Right now some folks in Australia are complaining that it cost $2 million to bring Oprah and her entourage to their shores, but I'm guessing that the impact she'll have on their tourism industry will make this seem like a bargain.