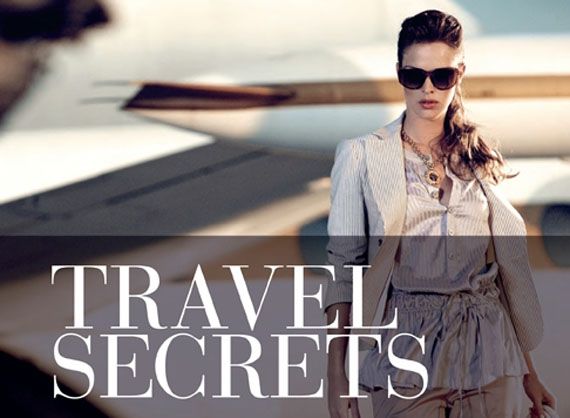 When it comes to
travel
, it's crucial that the reality at least meets our expectations; or even better, supersedes them.
The only way a hotel, resort or flight is going to become memorable is by becoming an experience-one that you'll remember and share. In her stunning new book, Travel Secrets, luxury travel expert Tanya Rose has put together a collection of her favorite hotels from around the world.

Readers will also be delighted with her vast knowledge of tips and advice to make sure your trip–whether it be for travel or pleasure–is memorable for all the right reasons. If there's anyone you should take note of when it comes to travel, it's Tanya. She founded luxury PR company Mason Rose in 1993 and is considered "the voice of luxury travel."

The London-based CEO has been a travel guru to the stars of entertainment and commerce for the past 25 years. And, for Travel Secrets, not only does she open up her address book, but she also calls upon her well-traveled friends; such as Tamara Mellon, Anya Hindmarch and Sir Tim Rice, to offer once-in-a-lifetime insight into the world of luxury and beyond.

JustLuxe.com managed to catch up with Tanya to talk about all things travel.

JustLuxe: Did you have fun researching your new book?

Tanya Rose: I'm one of those people who can say hand on heart that I love what I do. So bringing 25 years of travel knowledge together with my friend and co-author, Martin Turner, has been hysterical. We laughed so much and shared a passion for the project, it was so much fun.

JL: Did you intend it to be a bible for luxury travel?

TR: Luxury in terms of it not just being about the hotel, but how you plan your travel and what you do when you get there, that will make your trip authentic and magical. Getting all the travel ingredients right can be a luxury without the right advice.

JL: Which of your experts' advice did you most agree with?

TR: I am not being deliberately diplomatic by saying "all of them," because everyone has a special insight or personal secret to share when it comes to traveling. These friends are all exceptional in their fields and travel constantly, so I was excited to hear what they would say and they didn't disappoint. I'm already following their advice.

JL: Why is traveling so important?

TR: It is the experience in life that opens your mind, heart and eyes to a special view. It fuels interesting conversations and weaves a tapestry of memories across your life.

JL: What are your top five tips to making sure your holiday/trip goes to plan?

TR: 1. Everything goes better when you plan in advance.
2. Seek expert firsthand knowledge from trusted sources.
3. Get the right room in the hotel to avoid issues with bad views and noise.
4. Book your restaurants in advance. You can always cancel or amend.
5. Traveling is not just the flight. Plan your transport at either end and don't overpack-although I always do!

JL: What's your favorite destination for relaxation?

TR: The original Mayr Clinic & Spa in Austria where I completely detox, unwind, sleep and re-charge at least once a year. I also lose a stone!

JL: Which hotel have you been most impressed by?

TR: The Royal Mansour in Marrakech literally took my breath away when I walked into this luxurious walled palace.

JL: Which destination would you recommend for honeymooners?

TR: It depends on the couple and the time of year. You could automatically think beach, palm trees and turquoise sea, as most people do. But men can get bored by too much sun lounger and not enough activity so you have to strike a balance. For instance Safari and Beach is the perfect combination, so Africa with the Seychelles.

JL: How about for adventure-seekers?

TR: If you want the completely authentic adventure experience you simply cannot go past "Momentum Adventure" who will have you fly-fishing in the wilderness of Canada, sleeping in custom ice caves to observe the Northern Lights, or racing dune buggies in Baja California.

JL: How should hotels/resorts go out of their way to impress guests?

TR: Hotel staff, and especially General Managers, need to recognize guests throughout their stay and not just on arrival. A luxury hotel or reasonably priced hidden gem is nothing without genuine warm hospitality and service with a smile.

JL: What services do you expect from a five-star plus resort/hotel as standard?

TR: Efficient, quick and genuine service which is dictated by staff to guest ratio; a very comfortable bed; spotlessly clean; good dining options; an imaginative room service menu (and letting you order from the restaurant menu not just room service menu if you have been somewhere for more than a few days); high-speed wireless Internet and power sockets that I can reach easily; astrong hair dryer in front of a mirror; and bathrobes for men, not munchkins.

JL: What do you never leave home without?

TR: My passport and a photocopy of it with extra photos and all the contacts for the trip loaded into my iPhone on local dial so I don't have to rummage through my handbag in the back of a taxi. My M-Lab travel kit so I always arrive fresh.

JL: What do you take on a long-haul flight?

TR: Cashmere to keep me warm when the plane is too cold; anee de Mamiel's seasonal facial oils to keep my skin hydrated and her blend of lavender, eucalyptus, peppermint, lemon Myrtle, tea tree and cypress which is designed to be antibacterial, antiviral and de-stressing–perfect for helping keep a clear head and warding off bugs on a stuffy aeroplane; iPad loaded with the movies I want to watch; and good sunglasses for the other end.

JL: Where do you turn for travel advice?

TR: To my network of contacts that reside in the destinations I am going to and if I don't know anyone, I find someone. Local knowledge is king.

JL: Any horror stories you'd care to share?

TR: Renting a villa in the South of France through the wrong resource and were greeted by bed bugs and a departing chef. It was truly a nightmare and as if to emphasise the horror of it all, a deafening electrical storm to go with it. Even the taxi driver looked like Boris Karloff!

Travel Secrets, published by Mason Rose Publishing, is available from www.masonrosepublishing.com priced £24.95.