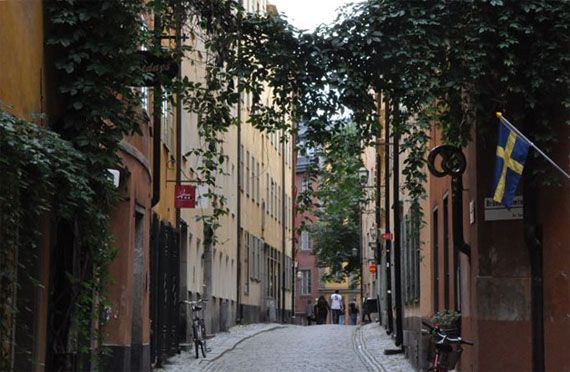 Photo Credit: Chaney Ojinnaka
Stockholm is the perfect destination for the end of summer or beginning of autumn, just before it starts getting cold. Celebrated as the "Venice of the North", Stockholm sits on 14 islands and is known as Europe's first green capital. Lucid memories of Stockholm include trend-obsessed, pram-pushing, salty food-eating, and design over-functioning sorts of streets and people, but here are five must do's for an overall introduction to this Swedish port.
Ice Bar Stockholm Literally a freezer, with intricately-designed ice fixtures close to the central station, this bar has a true fun factor. Buy your ticket, wear the poncho, get inside and order a vodka. Of course, time is against you at this point. How much absolut vodka can you have in your ice-sculpted cocktail glass, while perched on ice seats in front of ice tables until you are truly frozen? We lasted twenty minutes.

Mälarpaviljongen This bar is quintessential Stockholm. It sits on a large wood plank right on the water with lush trees surrounding it. The bar itself is placed right in the center, and is very well designed with hanging crystal glasses, glossy gray bench seating all around and decorative pink and green flower petal fixtures. Complementing the bar is a self-serve restaurant with comfort food— perfect for that midday lunch and cocktail after all that sight-seeing in Kungsholmen.

Orangeriet This place will give you a good indication of how the Swedish do trendy. With a mish-mash of random but well positioned vintage furniture pieces, the restaurant's façade completely opens up overlooking the water. It's the place to see and be seen. Sip on a cocktail and grab a seafood platter on the terrace while watching the runners, hipsters and tourists.

Gamla Stan (Old Town) The Old Town, dating back to the 13th century has so much going for it that it would be a disservice to miss it while in the capital. With a maze of narrow cobblestone streets and orange-hued architecture, Gamla Stan exudes old-world European romance. It is simply amazing, especially the imposing German Church and Center Square. For a combination of history and great Swedish fare, try Fem Sma Hus for dinner.

Fotografiska Situated in a former industrial customs control warehouse, the museum exhibits insightful and at times provocative photography and art. Besides interesting art on display such as the now-internationally recognized works of Liu Bolin (Invincible Man), it lends lots of people-watching opportunities showing one how the Swedish do art museums. Don't forget to make it to the top floor café for breathtaking views.

For official visitor information to Stockholm, check out their tourism site.
Chaney Ojinnaka


Mälarpaviljongen
Chaney Ojinnaka


Orangeriet
Chaney Ojinnaka


Cafe culture
Chaney Ojinnaka


Fotografiska