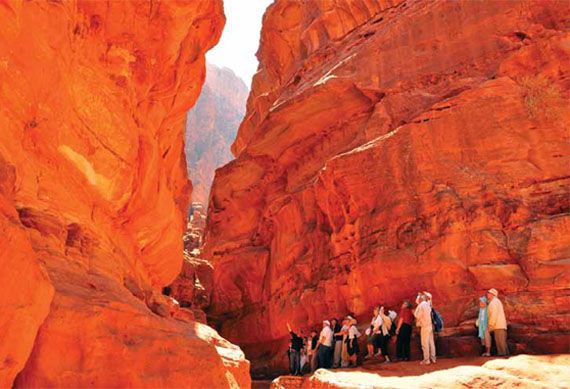 Photo Courtesy of TCS & Starquest Expeditions
Here is the new $64,000 question: Is this exclusive
fantasy vacation
for two a deal at $63,950 per person? TCS & Starquest Expeditions thinks so and they are calling its special trip the "Heaven & Earth: Around the World by Private" Jet program.
Reservations are available for only 78 guests, and the adventure begins on Halloween Day, October 31, 2012. The tour will feature elaborate presentations by educators on topics such as art, architecture, religious history, natural history, and astrophysics. "Our travelers will explore natural wonders, ancient treasures, and discover the powerful influence the heavens have had on cultures throughout history," said Shelley Cline, managing director of TCS & Starquest Expeditions.



"Flying from one destination to the next by private jet, they [the patrons] will experience unmatched comfort, security, and flexibility." The major attractions of this deluxe 21-day adventure will be witnessing a total solar eclipse and seeing stars in the daytime while in Australia. Other exotic destinations include stops in Guatemala, Peru, Easter Island, Samoa, Indonesia, India, and Jordan.



Additionally, the private aviation firm will be transporting supplies for medical clinics and schools. The company, which has offered similar upscale travel for more than 20 years, also will donate funds from the proceeds of this extravaganza to support essential programs.

Other stops on this extravagant expedition include tours of the Kingdom of Rajasthan in India and the Lost City of Petra in Jordan. The North Coast of Peru and Indonesia's Island of Java are additional destinations. For more information, visit TCSandStarquestExpeditions.com. 

Borobudur, Indonesia

Ayers Rock, Australia

City Palace, Jaipur

Easter Island Moai

The Olgas, Australia