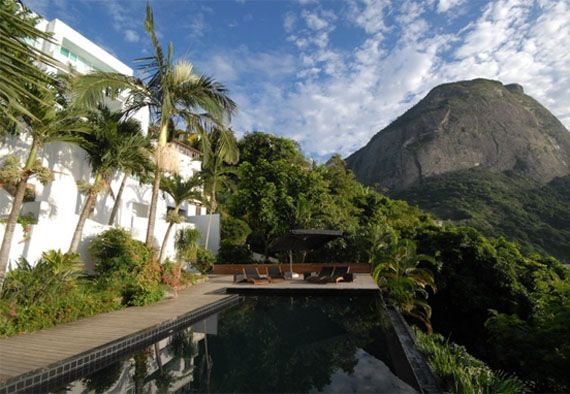 Photo Courtesy of OASIS Collections
Holiday property rental agencies may be a familiar concept in the States, but in less Web-logged destinations, renting a short-term home or villa can be fraught with doubt, miscommunication, and renters' remorse.

South America is a region that's been well off the grid of all but the big box hotels until now...but thanks to OASIS Collections, a vacation rental management firm founded by several New York real estate entrepreneurs and venture capitalists, suddenly a range of accommodations is available to business and leisure travelers in four South American countries. Along with its original Argentina headquarters in Buenos Aires, the firm has opened a second South American office in Sao Paulo, Brazil, and is also operating in Punta del Este, Rio de Janeiro and Cartagena.



"We offer all-around service, with staffers on the ground, and local knowledge of everything from the best neighborhoods to the most reliable local tradesmen," explains managing director Katharine Pottinger. In addition to the services that standard agencies offer — cleaning service, credit card payment, etc. — OASIS provides professional concierge service by Quintessentially (paid for by OASIS), backup mobile Internet, a members-only clubhouse (in Buenos Aires, with a pop-up planned for this year's high season in Punta del Este) and various bespoke services. A driver, a fully stocked refrigerator, day trips to outlying regions, and other luxury services are available upon request.

OASIS caters to business travelers as much as leisure, with markets like Sao Paulo estimating business travelers as 80% of overall rentals. Its customer base is primarily English-speaking: American, European or Australian people who want to stay away from the big-box hotels but appreciate a familiar accent and bricks-and-mortar Manhattan location when they call for service. Perhaps most importantly, this is a small circle, which started from word-of-mouth and friends-of-friends, and still retains its aura of two-degrees of separation.



"We're very different to AirBnB," says Katharine Pottinger. "OASIS started because the three North American founders all owned properties in Buenos Aires. Originally, it was all word-of-mouth. It's still very much about networking and talking to people." Further to this, if an OASIS staffer gets an incoming email request from someone who's seen a property online, their first move is not to book the requested property, but to make contact with the potential customer and make sure the property is appropriate.

"We'll talk to the customers and try to get an understanding of what they're looking for, and who they are, and make sure they're going to the right place," explains Pottinger. She terms this delicate task "managing expectations," and often employs it in cities like Punta del Este and Rio de Janeiro, where going a half-turn too far might make the difference between jet-set and slum, or high season and hibernation.



This is equally important whether talking to a leisure traveler who's trying to wind up smack-dab on the beach for New Year's in Punta del Este, or a businessman trying to find a three-month lease within walking distance of his office. It's proven to be quite complementary to the service offered by established international relocation firms — many of whom send OASIS their South American business because of the wealth of local knowledge the firm offers. The average length of stay booked by OASIS clientele ranges between ten days to two months for corporate clients. Vacationers are hardly less, with the high end of vacation stays being three weeks.

Filling an obvious gap in a market that's of increasing interest to cosmopolitan travelers, OASIS has seen solid growth during its first year in business. It now employs 30 people, most of them full-time. There are talks within the brand of expanding to Miami and New York to cater to crossover markets, or working with tourism boards to expand high season. But overall, there is no need to offer "someone for everyone."



"We started with a small investment and we're tremendously pleased," says Pottinger. "We want to be the best at what we do in South America," she says. "In the destinations we are, we want to continue to provide a more all-around service."

That said, there's a possibility of OASIS extending its reach to vacation destinations in Brazil and Argentina, or working to extend high season in Punta del Este, or expanding to crossover markets including Miami and New York. Nonetheless, don't expect mass-market availability from this brand. It is clear on its offering, which is closer to a private club than a HomeAway. That said, it is first-to-market among U.S.-style vacation rental agencies in the nascent South American market, and with all eyes turning toward Brazil and Argentina right now, it's appeared right on time.
Florianópolis, Brazil
Rio de Janeiro, Brazil
Buenos Aires, Argentina
Cartagena, Colombia
Buenos Aires, Argentina
Buenos Aires, Argentina