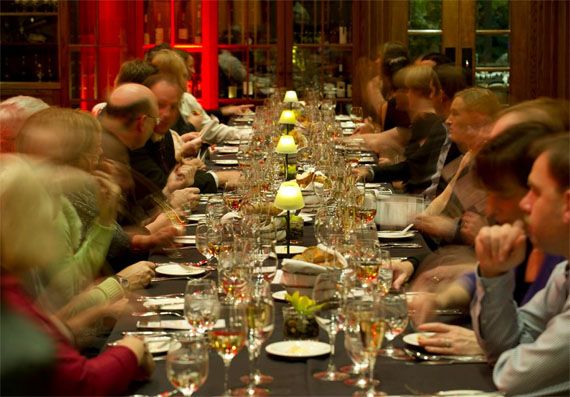 Photo Courtesy of Whistler Cornucopia
A month into autumn, there are so many harvest festivals and regional
gastronomic celebrations
on the calendar worldwide, we can't figure out an orderly and fair way to cover them. So we shall make do with a disorderly and probably unfair roundup (because we can't possibly include EVERYTHING that's deserving), in installments as we can manage. Here's a first dispatch of harvest-time goodness, with more to follow — in no particular ranking, because "better" in this case is only a matter of personal taste.
White Truffle & Olive Oil Harvests, Umbria

If you're trying, in the future, to remember which Italian region is the heartland of white truffles, roasted chestnuts, chocolate, olives, and various other specialty items that make a foodie's world spin faster, remember this much: Ummmmmm. As in, Umbria. Midway through the harvest season, this small but agriculturally rich Italian region is segue-waying from chocolate celebrations to truffle and olive harvest-themed festivities. Mostra Mercato Nazionale del Tartufo di Fabro (National Truffle Market of Fabro) runs this year November 11-13. Citta del Castello hosts its own truffle fair November 4-6.

This overlaps with an EVOO celebration that spans the entire region, bringing all the notable cities and producers on the Umbria DOP Oil Trail together for a program of tastings, picking opportunities, guided field treks and more. Activities are planned every weekend through December 11, 2011. In the southwestern part of the region, medieval Montecchio will have its own olive fair in December. (Photo courtesy of Umbria Online)



Wine, Food, Film & Music, Napa

Traditionally a slow month in Napa, November may see a lot more traffic, thanks to several new festivals. Showing that it's got more to offer than just really excellent Cabernet and America's most famous regional cuisine, Napa presents the inaugural Napa Valley Film Festival November 9-13 (expect critically acclaimed films, top Napa chefs and wine-soaked after-hours parties), and Live in the Vineyard — styled "An Intimate Pairing of Music, Wine & Food" and featuring pop music stars alongside famous wines and restaurateurs. Presented by Aloft Hotels, this twice-a-year event next occurs November 5-7, 2011. Michelle Branch and Daughtry headline the music program; Duckhorn, Monticello Vineyards and The Hess Collection are the main winery sponsors.



November 17-20 brings the new festival we're most excited about: Flavor! Napa Valley. This is Napa doing what it does best: star chefs, America's leading wine experts, and the stately setting of the Silverado Resort. Organized by Culinary Institute of America alumni as a fundraiser for future CIA students, this weekend has an incredible roster of participating chefs including Thomas Keller of French Laundry, Scott Conant of Scarpetta, Michael Chiarello of Bottega, and Cindy Pawlcyn of Mustards and Go Fish. (Photo Courtesy of Napa Valley Film Festival)



Cornucopia, Whistler

Heading north to BC, we drool a bit over the program for Whistler's annual culinary extravaganza. "Crush" parties (to celebrate the finish of grape-crushing activities in the vineyard), winemaker dinners, grand tastings, chef luncheons, educational events, and after parties keep this mountaintop resort busy every waking moment from November 10-13, 2011. Events we particularly want to hit: VIKING STAGE Series: All You Need is Cheese; Bubbles & Brunch at the Fairmont Chateau; and all-night dine-around Masquerave at Bearfoot Bistro (sponsored by our friends at Infiniti).