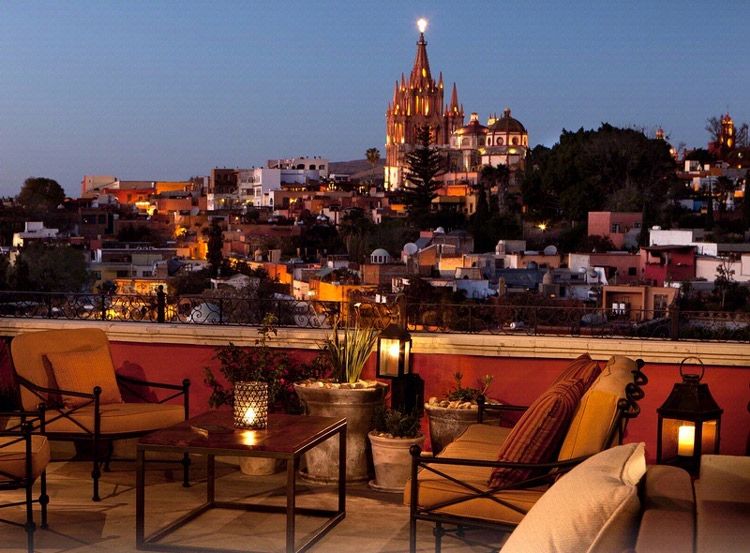 Photo Courtesy of Rosewood San Miguel de Allende
Bucket list aside, this magical Mexican colonial town, San Miguel de Allende, looks too good to be true, but isn't. Superlatives lack descriptive power to express the palpable joy that a simple stroll, or chance encounter will evoke in this enchanting enclave. Those narrow, cobblestone streets that offer peeks at the most charming doorways, arches, courtyards, parks and vistas are not Disney creations, but finely preserved remnants of a proud historically significant area that echoes its past and embraces its present ever so graciously.
As a designated UNESCO world heritage city, San Miguel de Allende, its architectural and cultural treasures are renowned. As an artistic enclave, it has offered refuge to artists and appreciators for decades. As an international hub, it has welcomed visitors and residents from all over the world to form a uniquely tolerant global community respecting its indigenous heritage and adding to the richness of life for all who choose to call this home. Mariachis and tango, tacos and Thai are just some of the contrasts that will surprise and delight you.
Sightseeing aside, this town, San Miguel de Allende, is meant to be inhaled and experienced, lived in, not just visited, if just for a brief moment in time. Every nook and cranny is a visual delight; every path, a new discovery; every encounter with locals, residents or other tourists is a new friendship in the making; every sight, sound and taste is a sensation to savor.
Whatever time you spend here will not be enough and you will be planning your return visit before you ever leave. Even after your first visit, you will have encountered worldly, discerning individuals who could live anywhere but choose to live here. One such couple from Manhattan said they never dreamed of finding another locale that could possibly compete, yet, after their first visit, they bought a second home in San Miguel and rarely feel the need to return. Another couple, vintners from Napa California return regularly for a long weekend.
You find artists, professors, musicians, and lawyers all enjoying the joie de vivre, culture, cuisine and camaraderie that exist around every corner. But, for fear that you might just think you've literally gone to heaven, there is one caveat: the cobblestones. As a world heritage site, these must remain, so every step you take must be cautious and conscious. Perhaps its one sure way to get you to slow down and savor San Miguel.
Where to Stay in San Miguel de Allende
Treat yourself to a luxurious sojourn at the
Rosewood San Miguel de Allende
. Nestled within the historical heart of downtown, this resort sanctuary presents 67 beautifully appointed accommodations. A Rosewood Spa®, signature restaurants, a rooftop lounge with breathtaking views, event space, outdoor amphitheater and high-end residences.
Known for its commitment to a sense of place, this newly built Rosewood property fits into its surroundings and seems to have been there forever. You experience the charm of the surrounding community and the luxury that can only be afforded by state of the art amenities such as Wi-Fi, in-room fireplaces and air conditioning, balconies and private outdoor terraces throughout the property.
This unique combination of old and new enables you to fully enjoy every moment of your precious time. Explore the cultural riches of San Miguel, including its churches and museums, galleries and mercados and then retreat and relax with a spa treatment, or languor in one of the resort's pools or on-site gardens with dining and evening entertainment at your doorstep.
Enjoy a captivating terrace bar with dining at Luna on the top floor of Rosewood San Miguel de Allende, where the views vies with the signature cocktails and global tapas menu to provide you with a uniquely San Miguel-moment-in-time. The sunset highlights the paroquilla and other landmark churches, setting aglow the sparkling city lights which reflect the moonlight to set the mood for rooftop romance.
Savor several of the 40-something tapas including the duck tacos, coconut shrimp, risottos, flaming cheese, lobster tempura, chicken curry and chocolate with churros. Revel in the creative concoctions of Angel and his bartending team who will create drinks to suit your palate and mood. Then stroll down to your suite and enjoy the evening glow of your fireplace and candlelight as you dream of your next day in San Miguel.
If you want to experience world class, Michelin-Star quality dining, chose 1826 Restaurant at Rosewood San Miguel de Allende. Executive Sous Chef Rurik Salazar honors San Miguel's farm-to-table philosophy by presenting traditional and innovative Mexican culinary expressions that highlight the abundance of fresh products grown locally, as well as in the restaurant's own garden. Dine outdoors surrounded by fountains and foliage or indoors in sight of the artisan open kitchen.
From the perfectly crusted breads, to the three salts, to the starters which might include tiradito, sushi, sea scallops, parmesan cream soup, and raviolis, you know you are in the hands of a gifted chef. His interpretations of every dish combine traditions and add his creative touches. Surprise and satisfy your culinary curiosity by selecting from the menu or request a tasting menu to best sample his artistry. Either way, you will enjoy a gourmet adventure to heighten your Rosewood San Miguel experience.
Whether you are a guest or a visitor, A trip to Senses Spa at the Rosewood San Miguel will reinforce your sense of well being. The scent of lavender and products incorporating this locally grown wellness ingredient surround you with a sense of place. The caring staff address your individual needs and aim to provide you with a sense of balance.
Their warm welcome is reinforced by the skilled mastery of the trained therapists who will leave you in an altered state of relaxation bordering on bliss. Their signature mole treatments and their soon to be launched wine experience offer unique options to add to the Sense-ational list of offerings available at this world class spa. Rejuvenate, relax, renew and revel in your stay at Rosewood San Miguel.
Among the most renowned and coveted bed and breakfasts of San Miguel is
Casa Schuck
, which is often a first choice for visitors who require a small, charming accommodation that is a conveniently location just minutes from the heart of town. Expat managers, Susan and Chuck lovingly oversee the large, rooms and suites that are tastefully decorated but retain the comfort and amenities such as Wi-Fi and flat screen TV that discerning travelers require. Helpful, bilingual staff are able to assist with all manner of requests.
Breakfasts served in the blue room or in the courtyard are prepared-to-order, healthful, gourmet feasts. Lingering in the lush courtyard, wading in the small pool or watching a San Miguel sunset on the terrace is hard to beat after a day treading the cobble stoned streets and Casa Schuck delivers.
Perhaps you are looking for a quiet, intimate, bed and breakfast for your sojourn in San Miguel? Casa Liza will fit the bill. Located just moments from the picturesque open air town laundry—where clothes are washed by hand and the local gossip gets aired—this 17th century inspired estate offers nine uniquely-decorated colonial suites surrounded by lush gardens and is walking distance to Parque Juarez. The house manager, Beatrice, and her accommodating staff present beautiful and balanced breakfast treats. They aim to make their casa your home. (
Photo courtesy of Casa Schuck
)
Where to Eat in San Miguel de Allende
Among the endless supply of satisfying eateries, here are a few that locals love. Located right beside the church of San Antonio, with terrace views of the church, city and occasional fireworks, is Cafe Firenze, one of the most popular and beloved spots for Italian fare in San Miguel. Partners/Owner Antonio and Chef Gerardo both worked in restaurants in Atlanta for 15 years before bringing their world-class cuisine to San Miguel.
They are passionate about the quality and presentation of each menu item and they offer several nightly specials which reflect the local availability of ingredients. Among the perennial favorites is a risotto with mushrooms and truffle essence, a Greek salad with watermelon, and short rib raviolis—all of which are soulfully satisfying and presented with panache. They offer wine pairings from Chile, Argentina, Mexico and Italy to compliment the dishes. (
Photo courtesy of Cafe Firenze
)
Perhaps the best part of this restaurant is Antonio's warm welcome and the gracious service from the dedicated staff. Whether you are a resident or visitor, you will remember Cafe Firenze and want to return for delicious dining.
Besides the charm of colonial San Miguel there is the new, contemporary expression of this town embodied in Hotel Matilda. Their restaurant, called Moxi is the second incarnation of Master Chef Enrique Olvera, who has enjoyed international recognition for his celebrated Mexico City restaurant, Pujol. (
Photo courtesy of Moxi
)
At Moxi he combines Mexican culinary traditions with his signature cooking techniques, combining unusual ingredients with artistic flair to surprise his discriminating guests. With farm-to-table ingredients, he creates new combinations such as basil and spinach marinated chicken, catch of the day baked in ash and covered with green mole sauce.
The impressive wine program organized by Sebastian Acosta, Food and Beverage Director, offers unique, global pairings and a distinguished list of fine Mexican wines. In a cool hip, atmosphere, surrounded by helpful staff and a stunning indoor/outdoor setting, this is an experience to savor. (
Photo courtesy of Moxi
)
A visit to San Miguel is not complete without a market tour and or hands-on cooking class with Chef Paco Cardenas, who will greet you at his home and welcome you into his artistic outdoor kitchen. Chef Paco uses local ingredients to prepare his original recipes designed to honor the Mexican tradition in a light, contemporary motif. After demonstrating his recipes, you will practice and produce a memorable meal that you will share with newly made foodie friends over wine and lively conversation.

What better way to understand the culture and appreciate the dedicated work that goes into every gourmet bite of San Miguel's culinary reputation. Chef Paco's recipes and guidance will turn you
into a proud Mexican cook. (
Photo courtesy of ExploreAndGoMexico.com
)