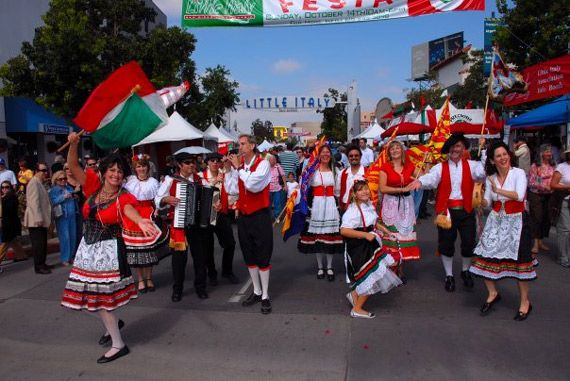 Photo Courtesy of Little Italy Association of San Diego
Italians love to celebrate their heritage (With the last name Imperatore, I know this quite well). At the heart of the culture is the desire to bring people together over an enormous spread of food, good wine and lots of laughter. Though Italians need no excuse to proclaim their pride, October is really their time to shine as it happens to be Italian Heritage Month.
During these four weeks, it becomes that much more important to recognize the influence Italians and Italian-Americans have had in fields like art, science, fashion, film, literature and architecture, etc. And although we can't all take the time to actually travel to Italy to appreciate the origins of such contributions and immerse ourselves in the rich culture, we can certainly venture to our local Little Italy neighborhood to get an authentic taste for it.
Here are five locations in the U.S. bringing Italian traditions to their city streets:
New York City
The most famous of them all, Manhattan's Little Italy lures in visitors with scents of fresh baked bread wafting under shiny decorations flashing white, green and red. Its cobblestone streets are lined with turn of the century apartment buildings, 38 different Italian restaurants, three authentic bakeries and a plethora of shops selling ceramics, clothing, jewelry, and specialty foods and products. A great time to check out this part of town is during one of the oldest and biggest festivals in NYC. Started by immigrants from Naples in 1926 to celebrate the city's Patron Saint, the annual Feast of San Gennaro festival is an 11-day event that takes place at the end of September. Mulberry Street is packed to the brim with over three million people looking to experience the festivities: parades, live musical entertainment, Italian delicacies, religious processions and even a cannoli-eating contest. (
Photo courtesy of Little Italy NYC
)
San Diego
As you stroll down this Little Italy's main road, India St., look up at any of the lamp posts and see the faces of famous Italians looking righ back at you—everyone from Leonardo DiCaprio to Martin Scorsese to Joe DiMaggio. Once home to 6,000 families, the district was first established in the 1920s and went through a 30-year decline before becoming the popular, thriving community that it is today. Events take place year-round to spread the Italian spirit of food, fun and family, including Little Italy Carnevale, Little Italy Festa! (the largest Italian-American festival on the West Coast), Taste of Little Italy, and Little Italy Tree Lighting & Christmas Village. Another well-known event is the Little Italy Mercato farmers' market that pops up every Saturday from 8 a.m. to 2 p.m. The streets fill with live music and over 150 booths offering locally grown produce, artisan foods, and arts and crafts. (
Photo courtesy of Little Italy Association of San Diego
)
Cleveland
This Little Italy was established in the mid 1800s when artist Joseph Carrabelli started creating marble and granite sculptures on Mayfield Road. Italian families began to settle down in the area between the top of the 'hill' and the railroad, continuing their traditions in this Cleveland borough. Today, this neighborhood is still known for its artistic influence, containing over 20 galleries and hosting the city's biggest art walk. The three-day event brings in 100 different exhibits from artists all over the world and also features wine tastings, a scarecrow making contest, live music, homemade Italian and international cuisine, trunk shows and more. Perhaps even more popular is the annual Feast of the Assumption, a four-day event in mid-August which just marked its 114th year. Over 100,000 people flock to Mayfield Road to enjoy carnival rides, parades, food vendors, fireworks, and live entertainment. (
Photo courtesy of Cleveland Little Italy)
Baltimore
Whether you drive, cab it, walk, hop in a water taxi or take the subway, Baltimore's Little Italy is easily accessible from virtually anywhere in the area. In the heart of the city, between the Inner Harbor and Fells Point, are 30 Italian restaurants, historic St. Leo's Church, bocce ball courts, and the Adult Learning Center where one can learn the native language and get further in touch with the culture. Every year residents and tourists alike look forward to events such as the Feast of St. Anthony festival in June, Feast of St. Gabriele Festival in August, Columbus Day Parade in October, St. Leo Parish Dinners in March and November, and the Christmas Tree Lighting in December. Every July and August, folks arrive to the corner of High St. and Stiles St. to set up their lawn chairs and take in a movie at the Open Air Film Fest. Now in its 13th year, this free cinema showcase (complete with free popcorn) takes place on Friday nights, with live music at 7 p.m. and an Italian-inspired movie beginning at 9 p.m. (Photo courtesy of Baltimore Little Italy)
San Francisco
North Beach is the name of this Little Italy neighborhood where cool jazz clubs, quaint cafes, old world delis, Italian restaurants, small clothing boutiques, specialty shops, and bookstores are all packed into less than one square mile. The area is steeped in history: The oldest street in San Francisco, Grant Ave. runs right through it; Beat Generation greats Allen Ginsberg and Jack Kerouac used to frequent clubs and cafes around town; and Joe DiMaggio grew up at the corner of Valparaiso and Taylor Streets. For first-timers, a bike tour is a great way to get around and see the sights. Ride over the Golden Gate Bridge through Sausalito and Tiburon, making a return trip on the ferry. As is true with most parts of the city, parking can be extremely difficult so it's highly recommended to take a bus or Cable Car when stopping here. (Photo credit: Alejandro De La Cruz)