Diane Sukiennik & Michael Reiss View Profile

Freelance Travel Writers | Food & Wine Access
A Culinary Tour Through Costa Rica's Exotic Countryside
Nov. 26th, 2012 | Comments 0 | Make a Comment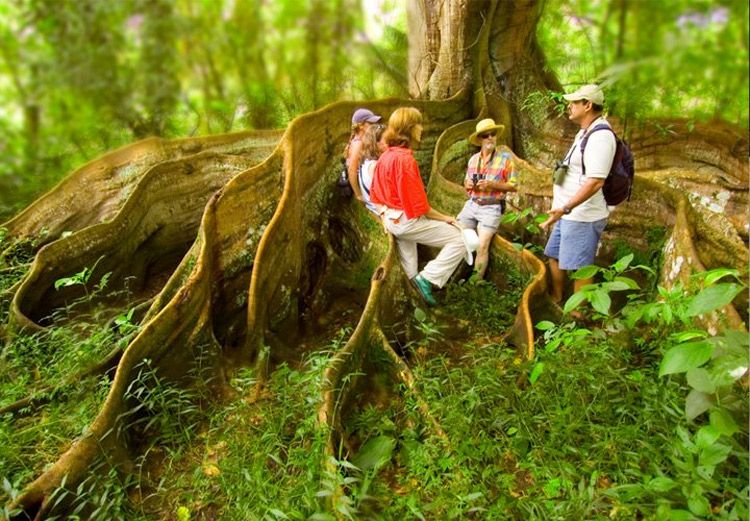 Photo Courtesy of Costa Rica Tourism Board
Costa Rica is a naturalist's dream come true. This diminutive country—the size of West Virginia with a population of four million—has made its mark on the tourist map by devoting more than a third of its land to natural parks and wildlife preserves. Its reputation as an ecological sanctuary, filled with carefully preserved fauna and flora, is legendary. From the rugged, volcanic mountain peaks to the tropical rainforests, to the world-class surf, this country rocks.
Mountain grown coffee is one of Costa Rica


Its natural resources include an abundance of food stuffs that have been used by chefs around the world. Now, Costa Rica is waking up to its own culinary possibilities. Once known only for its wholesome, if bland dishes, chefs are now using their indigenous ingredients and the global palette of herbs and spices to revive and create their own culinary identity. Here are some highlights of our culinary tour... (Photo credit: Michael Reiss)

Start your stay in the central highlands, at Finca Rosa Blanca Coffee Plantation and Inn, where you will be the guests of Glenn and Teri Jampol and their welcoming staff. Arriving at this uniquely conceived, designed, and decorated eco-luxury inn, you will feel more like friends than visitors. With paramount goals of cultural authenticity, environmental respect and sustainable tourism, this "eco lodge" holds the reputation of being Costa Rica's first-ever certified sustainable hotel and the only hotel to achieve a perfect 100 percent score for its efforts. In fact, Glenn Jampol is recognized as an international expert in the field. (Photo courtesy of Finca Rosa Blanca Coffee Plantation & Inn)

At Finca Rosa Blanca Coffee Plantation and Inn you will be surrounded by beauty, nature, art and a spirit of generosity and authentic hospitality during your stay. Besides all the amenities of a luxury property, you will have access to remarkably knowledgeable guides who will enrich your experience with their expertise.

Plan to take the coffee tour with Leonardo, who will mesmerize you with his passion for and mastery of coffee. His depth of knowledge and engaging manner is captivating and enlightening. From first sight of a coffee bean to expert cupping experience, you will be enchanted and enriched. (Photo credit: Michael Reiss)

Schedule a spa experience at El Targua Spa, where their nature-based massages and custom-prepared treatments, which use the local organic flowers, plants, herbs and minerals, are provided by their skillful staff. Surrounded by the verdant, lush, mountain foliage, you will feel pampered, nurtured and renewed. (Photo courtesy of Finca Rosa Blanca Coffee Plantation & Inn)

Experience organic cuisine al fresco, surrounded by nature, at El Tigre Vestido Restaurant. Here, Chef Oscar recreates the legendary dishes of his grandma using local ingredients grown in the surrounding farms and adds his own, modern creative touches, such as his roasted tomato and coffee soup with crispy leeks. Enjoy the estate-produced, organic coffee of Finca Rosa Blanca as a drink and as one of the ingredients in the "Coffee Connoisseurs Tasting Menu," which is available upon request. You will leave your plantation experience enlightened, invigorated and ready for a stay in San Jose. (Photo courtesy of Finca Rosa Blanca Coffee Plantation & Inn)

On your way to San Jose, plan to tour the Sibu Chocolate Workshop. You will be seduced by the fascinating history and art of chocolate as you taste your way through the unique aromas and flavors of boutique, artisanal chocolates made with Costa Rica's finest, single-origin organic cacao that also carries the Rainforest Alliance Seal. These world class chocolates are made by local master chocolatiers to celebrate the ingredients and cultural heritage of the country. (Photo courtesy of Sibu Chocolate Workshop)

If you are an urbanite, a stay in San Jose will satisfy your curiosity. This is a "city in the making" or, more accurately, the remaking. Public buildings are under renovation; roads and new mass transit plans are underway; pedestrian walking zones are abuzz with activity; The National Theater is thriving; The National Museum offers lots of well curated exhibits and the Mercado Central (founded in 1880) is bustling with activity. (Photo courtesy of The National Theatre of Costa Rica)

There is no more interesting way to explore and get acquainted with this revitalizing city than with a walking tour from Barrio Bird Walking Tours. Your guide, Stacey, has a passion and an encyclopedic knowledge of the past, present and future of this vibrant urban pueblo which she is oh, so eager to share. (Photo courtesy of Barrio Bird Walking Tours)

Check into Hotel Grano de Oro, for a luxurious, urban respite that is close enough to downtown, yet situated in a quiet enclave where peace and repose in grand comfort are guaranteed. This member of the Small Distinctive Hotels of Costa Rica is a model of sustainable hospitality, proving that luxury and social/eco-consciousness can harmoniously coexist.

The 40-room tropical Victorian style mansion offers guests all the expected amenities, plus unique rooms with lushly landscaped private balconies and courtyards. Their massage service, Aromas Tropicales, offers soothing treatments and massages to ready you for a night of gourmet dining at Restaurante Grano De Oro. (Photo courtesy of Hotel Grano de Oro)

Restaurante Grano De Oro entices you with its elegant space and sophisticated, continental menu. Offering indoor and courtyard dining, French Chef Francis Canal combines his impeccable French technique with locally sourced ingredients to produce some of the finest dining in the city. Dishes, such as Seared Scallops, with Crispy Risotto and Roasted Scallions in a Broccoli and Ginger Sauce, are presented with panache and are superbly satisfying. The beverage selection, organized by Food & Beverage Manager, Ciro De Angelis, features global selections from an impressive wine cave that will engage even the most discriminating connoisseur. (Photo courtesy of Hotel Grano de Oro)

Ever wonder what it would be like to live in luxury in the tropical rainforest? If it sounds paradoxical, stay at Arenas Del Mar, where the rainforest meets the ocean for an unforgettable, one-of-a-kind, five-star experience. As Manuel Antonio National Park's only eco-luxury beachfront property and Costa Rica's first hotel with a perfect five-star luxury rating and Five Leaf sustainability rating, Arenas Del Mar is the ideal spot for a memorable vacation. (Photo courtesy of Arenas Del Mar)

Opened in 2008, the resort raises the bar on opulence with their spacious rooms, decks with private Jacuzzis overlooking sweeping forest to ocean views, where "getting up close and personal" with sloths and white-faced capuchin monkeys is an everyday occurrence sure to thrill and delight. The beaches, spa, and innumerable nature and adventure activities offer more than enough for any age or interest. (Photo courtesy of Arenas Del Mar)

The two on-site restaurants and bars, El Mirador and Playitas, offer a wide variety of international and Costa Rican dishes. And, if you are lucky enough to experience a tropical shower complete with thunder and lightning, their room service menu is extensive and expertly served. (Photo courtesy of Arenas Del Mar)

Don't miss the complimentary tours offered by the resort. One walking tour is designed to acquaint guests with local customs, which includes tortilla making, the old-fashioned way, in the homes of the on-site staff where their welcoming hospitality is warmly offered. The other tour, "Living Green," conducted by Piero, a biologist, and the resort's Sustainability Officer, is a veritable course in ecology and the green practices that have garnered the coveted Five Leaf designation for the resort. You are sure to come away with a greater awareness and appreciation for sustainability as it is practiced at the resort and no doubt, you will incorporate these practices back home. (Photo courtesy of Arenas Del Mar)

Visit Villa Vanilla, an organic tropical farm, to learn about and enjoy the sights, tastes, and aromas of tropical spices, coffee, chocolate and essential oils, all cultivated through bio dynamic farming practices. Sample gourmet vanilla, cinnamon and chocolate treats as you gaze at the breathtaking mountain vistas. (Photo courtesy of Rainforest Spices)

Always striving to raise the bar, Arenas Del Mar has just launched a series of Culinary Adventure Packages. Top international chefs are invited to join the resort chefs in exploring and creating dishes using the abundance of local ingredients. Guests who join the adventure are offered a package which includes cooking classes, special dinners, coffee, rum and organic wine tastings, tours and visits to wildlife and local fishing cooperatives. (Photo courtesy of Arenas Del Mar)

The latest program featured Chef Chip Roman from Philadelphia. Renowned for his three popular restaurants, Blackfish, ELA and Mica, as well as his catering company, this young father of four had perhaps met his greatest challenge here in Costa Rica. In a matter of hours before dinner service, he noted that his requested list of ingredients had not arrived. (Photo courtesy of Mica)

The Food Channel show "Chopped" takes on new meaning when guests from around the world come to Arenas Del Mar to taste a luminary chef's cuisine and behind the scenes, he is met with all kinds of unexpected surprises. The expectations for dinner builds, as diners devoured deftly prepared dishes including Cauliflower Soup with Water Apple; Madras Curry and Pacific Lobster, and Queen Sea Bass with Bok Choy in a Coconut-Basil Broth. Each course is matched with wines and cocktails meant to enhance the experience. (Photo courtesy of Mica)

Chef Chip rose to the occasion and received a standing ovation from his satisfied diners, who came back for more inspired dining, night after night. The camaraderie between cooking staff, wait staff, and culinary customers rose to a crescendo with promises to reconvene next year, same time, same place, new chef, same satisfied palettes for another Culinary Adventure Package at Arenas Del Mar. (Photo courtesy of Arenas Del Mar)
You might like :
Epicurean Experiences Around the World
Featured Luxury Hotels
Vancouver, Canada
The Fairmont Hotel Vancouver
The Fairmont Hotel Vancouver, a 'Castle in the City', is a landmark hotel in...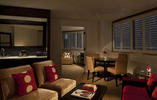 New Orleans, United States
W New Orleans
What's the word for W New Orleans? Spicy. Located just steps from the notorious...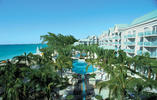 Grand Cayman, Cayman Islands
The Westin Grand Cayman Seven Mile Beach Resort
Fronting the famous Seven Mile Beach, The Westin Grand Cayman Seven Mile...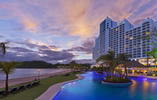 Panama City, Panama
The Westin Playa Bonita Panama
Discover complete rejuvenation at the natural refuge, where a serene beach...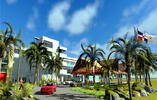 Punta Cana, Dominican Republic
The Westin Puntacana Resort & Club
Boasting three miles of white-sand beaches along the turquoise Caribbean Sea,...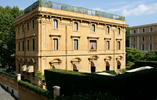 Rome, Italy
Villa Spalletti Trivelli
Of all the boutique hotels in Rome, Villa Spalletti Trivelli is the paradigm,...