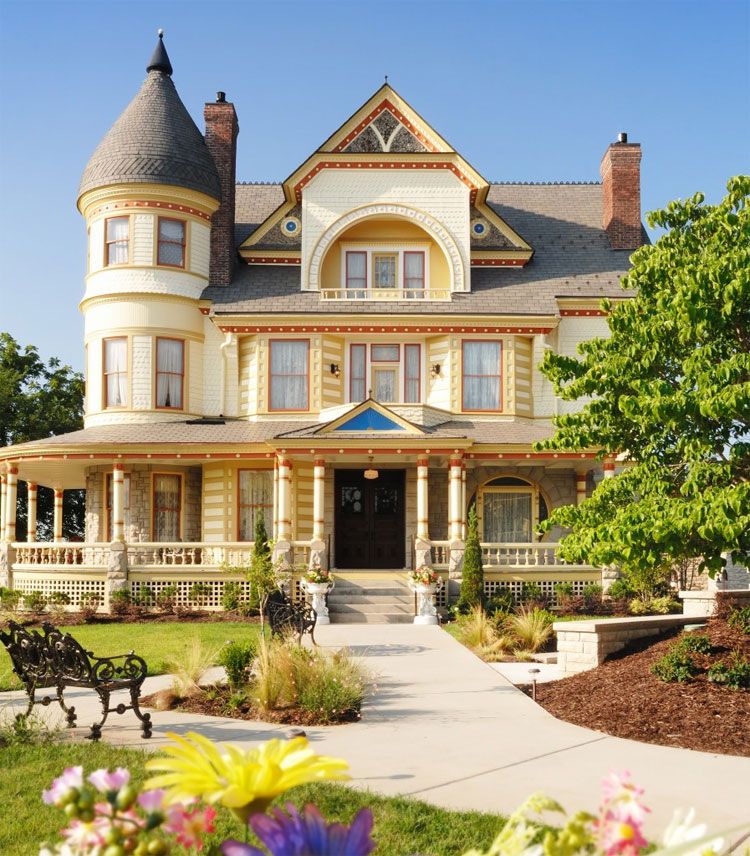 Photo Courtesy of Queen Anne Mansion
Private Residence Clubs have been around since the early 2000's—they were basic offshoots of the fractional idea, where the buyer becomes the owner of a fraction of the property, and is allowed to use it for an equal amount of time, expressed in fractions. If the buyer has a 1/10th share he has about five weeks of time at the property. The Private Residence Club is basically a high end, multi-amenity
luxury fractional
. They were popular at the outset, but with the decline in the economy, many did not survive. Those that did, however, are doing well. 
Those that didn't and those that did are NOT anything like this one. The Queen Anne Mansion Preservation Trust Inc., A Private Residence Club is a new idea, with an identity that is one of a kind, in an area that is one of a kind as well. The Queen Anne Mansion is a single site, 19th century, 12,000 square foot property, and is in Eureka Springs, Arkansas.
By anyone's standards, it is an exceptional home—12,000 square feet worth. It includes seven private suites, a carved wood entry hall with massive central staircase, has an extensive antique collection, with private landscaped grounds, Italian marble fountains, and an adjacent Victorian cottage, The Kelley House, that the spa.
The Mansion is a member of the National Trust for Historic Preservation to which each owner will be accorded an individual membership. The Mansion is also a member of the Victorian Society in America whose mission is to preserve the United States' extraordinary 19th-century heritage.
Queen Anne Mansion piano room
Pricing is as follows: The first 12 Patron Owners will benefit from the launch pricing of $150,000 per interest. A threshold to closing of 24 deposits has been established, at which point each of the owners will begin to have access to the property.
Ownership will afford each purchaser the right to reserve a minimum of 28 nights of annual usage in seven-night blocks. Owners may reserve a single suite, multiple suites or the entire estate, with each suite counting as one night of usage. Additional nights beyond the 28 reserved nights may be accessed on a space-available basis to owners and their accompanied guests.
Steve and Lata Lovell are the conceptualizers and owners of the Queen Anne. I interviewed them recently, and asked them about the challenges of such a
one of a kind
project, that took over six years to complete.
JustLuxe: Tell me the history of the Queen Anne Mansion—who built it, who occupied it, and why did they do it in Eureka Springs, Arkansas?
Steve/Lata:
The Queen Anne Mansion was originally built in 1891 by wealthy industrialist Curtis Wright for his family in Carthage, Mo. Noted architect of the time C.W. Terry was responsible for bringing to life Wright's original vision. Over the next 80 years, four changes of owners lived in the Wright House. In 1984, the Mansion was purchased by the Kansas City-based Evans family who had routinely passed and admired the Mansion on drives to and from their Eureka Springs weekend home. The Evans family took on the task of moving the Mansion to Eureka Springs, which included dismantling the home. Reconstruction began in 1985 and was completed in 1987. We purchased the Mansion and neighboring Victorian cottage, the Kelley House, from the Evans's in 2005.
JL: How did you get involved in this project? Why did you buy it?
Steve/Lata:
We have always loved architecture, particularly Victorian architecture. We restored a much smaller Queen Anne home in North Carolina in the early 1980s. We fell in love with the Queen Anne Mansion when I first saw it in 1995 and jumped on the opportunity to buy it in 2005. Lata had also fallen in love with Victorian architecture and furniture, and enjoyed this project immensely. We have similar taste and had previously designed and decorated other homes; however this was the first historic home that we furnished together with Victorian-period antiques. The team approach comes naturally for us. We love art, architecture and history, and find ourselves drawn to areas with a lot of history and culture.
JL: What were some of the challenges in getting it to be a fractional? I would imagine it was a complicated process, given the fact that fractionals and PRCs are not well known in that part of the country.
We explored a variety of models that provided us with opportunities to expand ownership to the least, most intimate number of people while offering the most value possible with a usage framework that made sense. Shared ownership among 82 co-owners offering the opportunity to reserve at least 28 nights annually in any one of seven luxury suites, coupled with virtually unlimited day use and exchange opportunities with The Registry Collection, provided us with what we believe is the right answer. The model is simple to explain and the service-rich ownership story has been embraced by everyone we have spoken with.

JL: Explain what a Preservation Trust is, and how it relates to the Queen Anne Mansion.

Steve/Lata: Potential buyers are invited to purchase interests in the Queen Anne Mansion as a way to preserve the historic home for future generations to come.

JL: Please tell me about some of the unusual and one of a kind antiques that are in the home.

Lata: The American 12-piece dining room suite from 1860 is one of the most unusual sets in the home. We are told there is only one other dining room set like it and that is in the White House. In the style of Charles-Honore Lannuier, this very rare Egyptian Revival set with cherry wood and marble from Georgia has a unique blend of styles. Additionally, the set displays a Federalist-style eagle, shield and stars combined, with an Egyptian sphinx and Empire style. All the trim is carved cherry wood, finished in gold leaf. The feet of the table are most unusual and are removable for cleaning.

JL: What are some of the other unusual aspects of the Queen Anne that you personally were attracted to when you first saw it?

Steve/Lata: We fell in love with the Queen Anne Mansion the first time we saw it perched high above the entry to historic downtown Eureka Springs. It just has fantastic curb appeal. The quality we like most about the Queen Anne Mansion is its furniture-grade woodwork inside. The home was built by a furniture manufacturer and the evidence is everywhere you look.

JL: I am also interested in the new template you have created, the single site PRC with restoration/renovation dimensions. Do you see this as being a scalable template that can be used in other estates and in other parts of the country?

Steve/Lata: Absolutely. Our hope is that people will follow in our lead and use the Private Residence Club business model as a way to preserve historic homes throughout the United States, while offering a limited number of like-minded co-owners the opportunity to enjoy those homes as they once were enjoyed by their original owners. We were invited to speak at the 2012 National Preservation Conference this fall, where the Queen Anne PRC model was met with tremendous interest and enthusiasm. We may be the first, but we probably won't be the last.