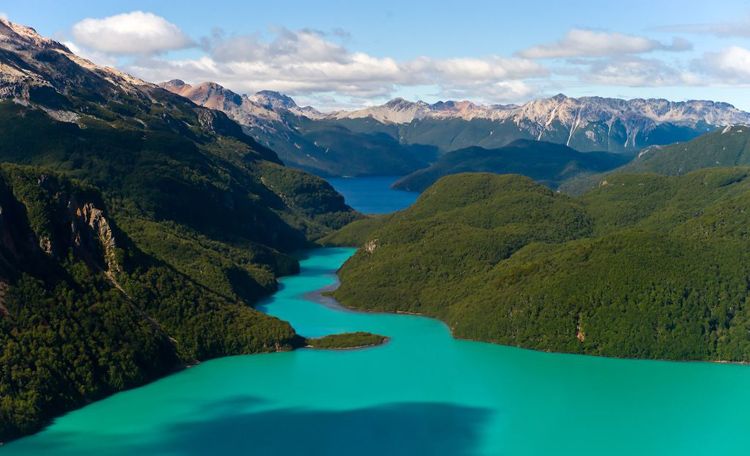 Photo Courtesy of The Patagonia Sur Reserves
Patagonia Sur Reserves, host of many extraordinary wilderness adventures, welcomes Abercrombie & Kent's Marco Polo Club this March for an 11-day, all-inclusive
luxury vacation
through Chile's dazzling landscapes and culturally rich locations. Travel by land, sea and air, experiencing to the fullest of your ability the country's traditions and natural beauty, without sacrificing the comforts of home.
Upon arrival at the airport Marco Polo Club, you will receive special VIP service through immigration and customs, eliminating much of the hassle of international travel. From the airport, you are transported to the
W Hotel Santiago
. Later on, once you've freshened up, you will embark on a sightseeing trip to the colonial center, and take an eye-opening journey on the Metro to see how the other half lives. As if riding the metro wasn't enough excitement for the day, next on the itinerary is an excursion to San Cristobal Hill to study an extraordinary panoramic view of the city of Santiago through a funicular. Afterwards, pick up some handmade knickknacks at the market, and then, once your hunger is too great to bear, have a gourmet snack and eventually a welcome dinner at a renowned Peruvian and Chilean themed restaurant.
Likely, you will awaken the next morning with an extra pep in your step, Cachapoal Wine Valley, to test some Merlot and Carmén?re with local celebrity sommelier Salome Aros egging you on. Afterwards, continue your discovery of Chile's most fertile and productive region at the jointly owned Altair winery, mostly full of delicious Cabernet Sauvignon. After a welcome glass, you and your fellow winos will be whisked away on a romantic horseback ride through the surrounding hills, and still later, a tour of the cellar and a private lunch. Eventually, you will be offered dinner and cocktails with the tour director enabling you to ask any questions that you forgot or withheld, like if they are hiring perhaps?
On the third day of the trip, you will fly to Puerto Montt, only to board a smaller, less reassuring charter plane to Valle California on the Patagonia Sur Nature Reserve. The area is littered with mountain lakes, ancient forests, and surrounded by the intimidating Andes Mountains. Here, there is a lot of flexibility in the activity department. If you would prefer mountain biking along the river to taking a helicopter to a fly-fishing spot, that's your business and no one can tell you different. If neither of those sound appealing, there is also the option of planting a native tree in a mildly depressing attempt at reforestation.
Lodging in Valle California will be provided by La Estrella Lodge, aptly named after the stars, as you will be staying in a glass-domed yurt to allow the night sky to blanket you while you sleep. The adventure freezes here for two more days, allowing everyone to try something new, like fly-fishing, horseback riding, hiking, or kayaking. And on your last night in Patagonia Sur, you and the rest of your group will be privileged to a roast Patagonian lamb barbeque.
On day six, you and your comrades will fly to Puerto Montt, yet again, this time on your way to Puerto Varas. While in Montt however, you will be given a tour of the main square and local markets, eventually resting your head at the Hotel Cumbres Patagonicas in Puerto Varas. After a restful night's sleep, return to Puerto Montt for yet another flight—this time to Punta Arenas. You will be guided to your cruise ship, the
Stella Australis
, and encouraged to admire ancient ship hulls and European architecture along the way.
Afterwards, something that will probably interest you a lot more than hulls and houses, Luis Gonzalez, chef of Remezon Restaurant, will take you on a grocery shopping excursion, and then invite you into his kitchen to witness the day-to-day mastery that is his life. After you set sail, the ship will coast along the Almirantazgo Sound and arrive at Ainsworth bay, where you can disembark in order to search for either a beaver dam or elephant seals. After the noontime meal, you can even enjoy a quick trip to Tucker Islet to admire the cute Magellanic penguins native to the region.

Meander along the Beagle Channel and arrive at Pia Fjord on the ninth day of your adventure, where you can take a short hike to view a massive glacier tongue. It turns out, you never had to leave the boat to see glaciers, as once you embark again, the ship will sail through Glacier Alley, where hanging glaciers are trapping you in on both sides. Make for land again on the tenth day to view "the end of the Earth," and Wulaia Bay, once a massive Yamana aboriginal settlement. On the eleventh day, you make your final stop in Buenos Aires, where long farewells to your new friends will end when you board your respective flights home. Unless, that is, you want to linger a little longer to explore Argentina's most famed city, in which case you have three extra days, bunked comfortably up in the Four Seasons Hotel, Buenos Aires.
This Marco Polo Club itinerary, running from March 17-27, 2013, starts at $12,495 per person.