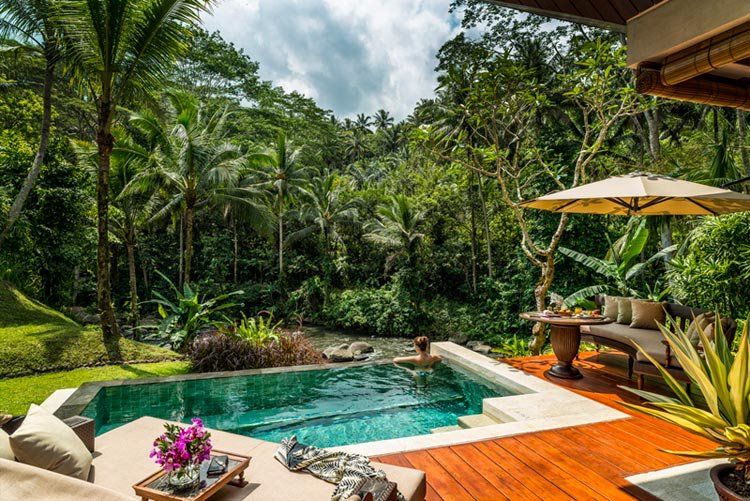 Photo Courtesy of Four Seasons Resorts Bali
Bali has been called the island of the gods—and for good reason. The moment you set foot on this balmy Indonesian island you are enveloped in an aura unique to this place. The ubiquitous temples and sculptures, dressed in black and white checkered cloth, remind passersby of the balance between good and evil; offerings of flowers, rice and incense are placed at every doorway and threshold to appease the represented deities. Women in sarongs poise baskets on their heads, as motorcycles dart about like fireflies, flirting with the mass of vehicles, all in a congested contest to get to their respective destinations.
Bali's people exude an overwhelming sense of gentleness, acceptance, warmth and welcoming, which touches every visitor, despite the encroachment of the bustle and commercialization of modern society on this tradition-bound culture. Immersed in religion, ritual and superstition, daily life is dictated by gestures and routines which seem puzzling, charming and endearing.
Photo courtesy of Pan Pacific Nirwana
The tropical foliage, myriad temples, breathtaking rice fields and village compounds are intriguing and soul satisfying. The spectacular resorts, quaint inns, unique cuisine, art and dance tradition and numerous points of interest make this island an incomparable journey for all your senses.
Here is a sample itinerary that offers a taste of the beauty that is Bali, all with an eye for ecological, cultural and culinary excellence.
Where to Stay
Pan Pacific Nirwana Bali Resort
Photo courtesy of Pan Pacific Nirwana
One of the top rated sites in Bali is the mystical temple at Tanah Lot which juts out to the sea and is, in fact, unreachable at high tide, much like Mt. Saint Michel's monastery in France. Now picture a 103-hectare property, featuring an 18-hole golf course winding along these same seacoast cliffs and incorporating this sacred temple on the 7th hole. Welcome to the Pan Pacific Nirwana Bali Resort.
Photo courtesy of Pan Pacific Nirwana
The Pan Pacific Nirwana Bali Resort offers all the signature amenities that have made it a world-class property. From the sense of place that comes from the gamelan musical greeting, to the stunning architecture, top-rated golf course, open air bar overlooking the temple at sunset, and intimate Bali beds scattered along the sea coast overlooking the crashing waves, the resort is full of offerings that will entice you to stay forever.
Photo courtesy of Pan Pacific Nirwana
A fitness and spa compound, family rooms with bunk beds, jungle gyms, waterslides, daily kids programs, club level lounges, restaurants featuring local and international cuisine, and special experiences like rice planting, temple blessings, and cooking classes, are all available here.
Photo courtesy of Pan Pacific Nirwana
The TLC Gastro Pub and Merica Restaurant offer open air, as well as indoor dining, with an international flair. Meanwhile, the Spa at Nirwana employs experienced masseuses who ply the art of Balinese massage with deft strokes that heal the body and soothe the soul. All in all, the Pan Pacific Nirwana Bali Resort offers a world of luxury experience at an exceptional price point. (
Rates start at $128USD
)
Villa Sungai
Photo Courtesy of Villa Sungai
The one thing that royalty and celebrities alike wish for is the luxury of privacy. The Villa Sungai offers the experience of living royally, with exclusivity and utter privacy in your own stunning Balinese compound. The one-of-a-kind villa is surrounded by lush greenery and the rooster calls from the neighboring village. At Villa Sungai, your experience starts with VIP airport butler service and round-the-clock access to a complete staff, including chauffeur, concierge, chef, and masseuse dedicated to you alone, and all a mere bells ring away.
Photo courtesy of Villa Sungai
Your personal preferences are noted well in advance of your arrival so that your villa is exactly the way you like it, with additional surprises like a welcome gift of signature cocktails and snacks, along with live entertainment accompanying dinner. Daily meals are merely a menu selection away and the culinary excellence of each item rivals that of the professional chefs on the island in both variety and execution. Beverages including inventive cocktails, international wine selections, freshly prepared smoothies, juices, tea and coffee drinks add to the pleasures of the table.
Photo courtesy of Villa Sungai
Choose the sounds of nature or the Bose surround-sound iPad selections to lull you into a hypnotic state of bliss on your open air Bali bed. Awaken to take excursions to nearby sights, go clubbing by night, or simply savor the serenity of your private residence. Explore the local village with "Little Made" as your host and guide. He will introduce you to his community and explain the subtle points of Balinese living that have made this culture one of the most stable in the world. Your private spa suite, complete with an infinity pool, outdoor tub and showers, as well as exclusive Aqua amenities await to refresh and reinvigorate you. All of these luxuries merely prepare you for the sheer delights of living large at Villa Sungai, where your every wish is a delight to deliver. (
Rates start at $1,035USD
)
The Chedi Club Tanah Gajah, Ubud
Photo courtesy of The Chedi Club


No trip to Bali is complete without a visit to Ubud, the artistic center of the island. While there, tour the rice fields—the life source of Bali—or explore the wonderful art-scene. The Chedi Club offers you the unique opportunity to experience both.

Imagine staying in one of just 20 exclusive villas surrounded by the beauty and serenity of the rice fields with the bustle of Ubud just a short shuttle ride away. Besides the beauty of your contemporary Balinese accommodation (most with private pools), you have the magnificent grounds decorated with rice fields, swan-filled ponds, waterways, temples and lush vegetation to enjoy. In addition to all of this, you will have access to the incomparable complimentary Chedi Club benefits, including your own dedicated butler, a stocked mini bar, daily laundry service, breakfast, tea and cocktails, yoga, rice field treks, and complimentary limo service.
Photo courtesy of The Chedi Club


The restaurant at the Chedi Club, overseen by Executive Chef Dean, offers world-class cuisine and wine selections, with creative versions of Balinese and international fare. While dishes are suited to the tastes of their discriminating and well-traveled guests, diners are also encouraged to request whatever their palate craves. The hotel's impeccable services often exceed expectations—like the tailoring that is included in the laundry amenity. The flawless standards of this member of The Leading Hotels of the World will make your stay in Bali sheer bliss. (Rates start at $535USD)



Four Seasons Resort Bali at Jimbaran Bay
Photo courtesy of The Four Seasons Resorts Bali
The
Four Seasons brand
is known for understated taste, sophistication, and impeccable service. It meets and exceeds its standards in Bali where it has one resort with two locations: the Four Seasons Resort Bali at Jimbaran on the Indian Ocean, and the Four Seasons Bali Resort at Sayan on the Agung River in the middle of lush jungle and rice fields, just minutes from the artistic village of Ubud.
The resorts contrast each other in architectural design, but complement one another in their representations of the best of Bali. Guests are encouraged to explore both properties during their stay. The Four Seasons will even provide transport and hold your villa at one property while you overnight at another.
Photo courtesy of The Four Seasons Resorts Bali
The Four Seasons Resort Bali at Jimbaran property, an authentic replica of the traditional Balinese pavilion architecture, is complete with its own temple. Though you are immersed in the tranquility of your own villa, complete with outdoor living pavilion and plunge pool, you are mere steps away from the beach and lively fishing village of Jimbaran.
Within the bounds of the Jimbaran compound, there are groomed tropical gardens, an art gallery, a temple and a cooking school, as well as several restaurants offering Balinese, Mediterranean, Italian, Thai and Japanese cuisine. The newest restaurant, Sundara, is a multi-level beach playground offering seaside swimming, casual international dining, and cocktail bar lounging, all in a sleekly sophisticated ocean-side setting.
Photo courtesy of The Four Seasons Resorts Bali
The Cooking School at the Four Seasons Resort Bali is world class, with a modern, comfortably air-conditioned, demonstration kitchen with a rotating schedule of Balinese, Indonesian and Asian lessons that enable eager students to bring the tastes of Bali back home. The chef and his staff are encouraging and make the experience a cultural and culinary delight, with the lesson culminating in a meal of your own creation. The class also includes a visit to the local fish and vegetable market accompanied by the Chef.
Photo courtesy of The Four Seasons Resorts Bali
The Spa menu includes traditional treatments and a variety of custom services that have been carefully researched and designed to incorporate the best healing practices from Asian traditions. Guests can choose from numerous unique, balancing and renewing treatments that use the essential elements of water, salt, crystals and essential oils to cleanse and restore harmony and vitality to the body and spirit. Your spa treatment will anchor your holiday into a transcendently-memorable moment in time. The Four Seasons Resort Bali Spa is a truly unforgettable spa experience. (
Rates start at $499USD
)
Where to Eat
Mozaic Restaurant Ubud
Photo courtesy of Mozaic Restaurant Bali
If you choose only one restaurant to visit outside of your resort dining, you are advised to make it Mozaic. It is hard to believe that one of the world's top rated restaurants is located in Ubud, a small artistic village in the interior of the island of Bali, but here, haute cuisine may very well be the universal language. The lounge and bar of Mozaic is hip, trendy and attracts a late night jazz crowd on the weekends. The restaurant, nestled in a garden oasis, is a sensual, perfectly lit backdrop for Chef Chris Salans' creative French-Asian Cuisine.
With notable international accolades, like being named one of The World's 50 Best Restaurants by
Restaurant
magazine in 2009, it's no wonder that the restaurant's 60 seats are booked months in advance, with an eager waiting list at-the-ready in hopes of a last minute cancellation. Chef Salans presents several six-course dining selections.
Photo courtesy of Mozaic Restaurant Bali

One menu uses exotic Balinese ingredients, displayed table-side; the other is a bit more continental in flavor profile, with touches of Asian inspiration throughout. Chef Salans and his wine director have carefully matched each course with impressive old and new world wines (almost impossible to find elsewhere in Bali because of the import restrictions) to complement the cuisine. Flawless technique, knowledgeable servers, sophisticated presentations and a magical ambiance ensure continuing accolades from an adoring international clientele. The result is a marriage made in heaven; Bali and the gods approve!