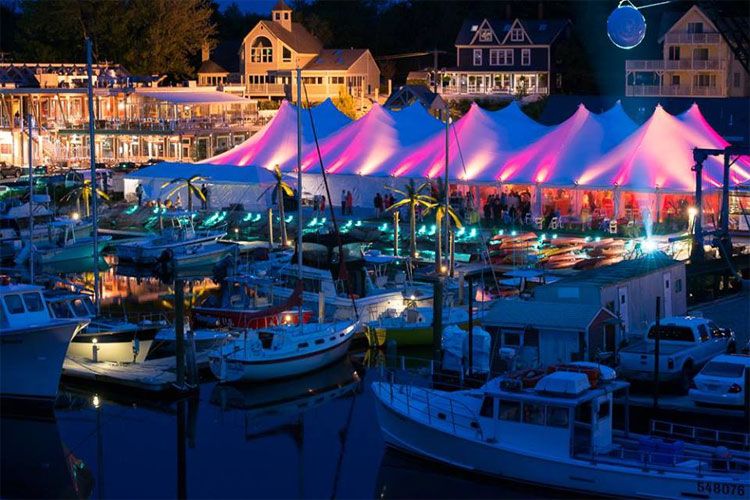 Photo Courtesy of Kennebunkport Festival
Sometimes we want just to veg out with a BFF on vacation and sometimes girls
just wanna have fun
! For this particular girls getaway, we were looking for an unusual escape that would offer relaxation along with fun, excellent food, wine and mingling with locals. It was found by attending Maine's 2013
Kennebunkport Festival
for food, wine, and works of art. For six days, Kennebunkport showcases their local talent to the community through an event featuring chefs, artists, musicians, wine purveyors and beer makers.
Photo Courtesy of Kennebunkport Festival
The festival benefits Share Our Strength's
No Kid Hungry
program and is hosted in part by
Maine Magazine
. Elaborate cocktail receptions held in galleries, hotels and unexpected venues are always a delightful discovery. The 'Art of Dining' events are held in private homes, hotels and resorts while well-known chefs work their magic in the kitchen. One of the guests at each dinner is usually an artist with work featured on walls. You should purchase tickets for the dinners ahead of time; there is limited seating (between 10 to 40). As a result, these are the hottest tickets in town. For two nights, we split up and went to different festival dinners to enjoy meeting new friends and later compare notes in the wee morning hours.
Photo Courtesy of The Inn at English Meadows
We scheduled our arrival before the festival to experience several accommodations. A favorite of my companion's was the newly renovated
Inn at English Meadows
. Proprietors Liz and Eric Brodar have remodeled, with an eye for enhancing its traditional architecture and juxtaposed with clean lines, a soft blue palate and thoughtful antiques.
Photo Courtesy of The Inn at English Meadows
By successfully banishing any trace of the former owner's doilies and cabbage rose décor, you are surrounded instead by keen design and sensibility honed in New York City. In this restful home, you will never feel the usual B&B angst of 'the breakfast' conversation. You may sit at your own table, exchange normal pleasantries and enjoy your morning repast in peace. Inn at English Meadows is highly recommended for a BFF getaway, several couples or a summer family stay in their cottage.
Photo Courtesy of Captain Fairfield Inn
We also wanted to spend one night in a more affordable B&B. This is Kennebunkport after all, summer home of President Bush's family, so we weren't sure we'd find one. But the Lark's boutique
Captain Fairfield Inn
, a historic sea captain's home, was ideal. A husband and wife team of innkeepers, Chef Jed Thomas and Alana Buie were on duty and provided the friendliest service and a great breakfast. Its eclectic design is pretty unique in Kennebunkport. But you'll enjoy it there, as the inn is convenient to the waterfront and located in one of the best neighborhoods close to Main Street.
Photo Courtesy of Hidden Pond
For the rest of our stay, we left the heart of town and took up residence in one of
Hidden Pond
's charming bungalows. This establishment also features beautifully designed two-bedroom cottages, ideal for a family reunion or corporate retreat. Our bungalow was in a serene area of the resort near the restaurant Earth, an adult pool and Tree Spa. Taking advantage of the location, we booked delightful massages in the Tree Spa rooms. It seemed like we were outside with a host of birds providing background music. Although located on the outskirts, the Hidden Pond staff is available and quick to whisk you off to town for shopping or provide a complimentary bike for exploring local trails.
Photo Courtesy of Zapoteca Restaurante
That evening, the festival started with cocktails and appetizers at One Dock by sponsor
Maine Magazine
. Next, we split up to enjoy the Maushart Residence with Chef Leslie Oster of Aurora Provisions and the King-Guffey Residence with Chef Shannon Bard of Zapoteca Restaurante. In the morning, we drove around Kennebunk and Kennebunkport, finding each road lovelier than the one before. Their summer cottages and mansions were subtler than Newport, R.I., but equally breathtaking. Shopping at little shops and resellers was divine and we topped our afternoon off with lunch at Mabels. There, I insisted my best friend try its famous Maine lobster roll.
Photo Courtesy of Sonoma-Cutrer Vineyards
Hours later, dressed to the nines for dinner, we met artists at the Maine Art Gallery and
Old Fort Inn
. At the Hass Residence, my friend enjoyed the talent of Chef David Turin of David's Restaurant, with wine from Mick Schroeder of Sonoma-Cutrer Winery. I dined with Chef Harding Lee Smith of Corner Front and Grill Room with wine by Tabitha Blake of Crush Distributors.
Photo Courtesy of Alice Tan Ridley
By this time in our wine, dine, sip, art opus, you may be wondering how many fancy outfits and divine pairs of shoes we packed? A lot. And the biggest party was still to come with Bettina Doulton, owner of Cellardoor Winery's sponsored Pop the Kennebunks event; we were prepared for something memorable. Each year, her party gets more elaborate and better than the year before. Tonight's Maxim's de Paris themed party featured a French inspired menu by Kitchen Chick Catering. Also featured was get-you-moving music by NYC's Alice Tan Ridley, Shelley MacArthur, The Chris Humphrey Big Band and a troupe of cancan dancers kicking their heels up with all the guests. Hosted at the former Elmina Sewall Estate, now the William Farley Estate on Brown Street, this was over-the-top and
tres fabu
.
Photo Courtesy of Camden Harbour Inn - Camden Maine
Friday was our day to relax and we needed it. Yet, at 5 p.m. we were off to an art show at
The Colony Hotel
. Featuring some of Maine's most collectible artists, it was a preview of what was to come on Saturday at the Grand Tasting. Michelle returned to the Inn at English Meadows to join
Maine Magazine
Editor Rebecca Falzano, inn owners Eric and Liz Brodar, Executive Chef Denis Francerschini of Bar Italia of New York and assorted guests for dinner. I went to Beth and Bruce Webster's residence to enjoy food from Chef Geoffroy Deconinck of Natalie's at the Camden Harbour Inn. Looking out from the living room after a bit of rain cleared, the magnificent view seemed as if the room might really be on the rocks.
Photo Courtesy of Hidden Pond
Saturday, our last day at Hidden Pond, began as always with a lovely breakfast delivered in a basket to our room. In the afternoon, we headed for the grand dame, the stately Colony Hotel for an afternoon of tasting, sipping and viewing art. Viewed from the porch, a living picture of the ocean, people on the rolling lawn and a background of motor boats slowly passing the grand old wooden hotel felt like something from another moment in time. Wide covered wrap-around porches provided plenty of space for all exhibitors to showcase their work.
Photo Courtesy of the Kennebunkport Festival
We were happy to discover more local providers who did not have the opportunity to take part in the dinners. Enjoying art, more new friends, and more wine we even met a few locals with whom we had shared our various dinners. What a beautiful memory of a lovely getaway! We still search out locations for laid-back escapes, but for an extraordinary experience, we were delighted to attend our first Kennebunkport Festival.