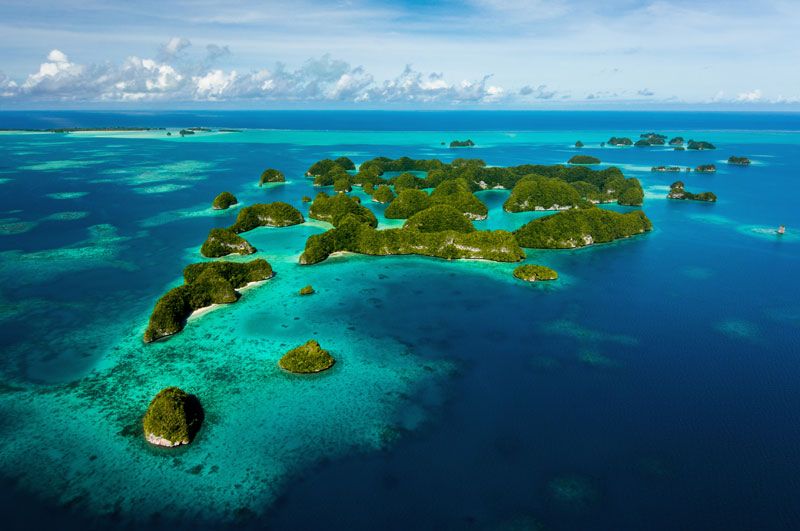 Photo Courtesy of Shutterstock
While Palau is one of the youngest and smallest sovereign states in the world, it's a destination steeped in fascinating history and world conflict that has emerged as a tourism hotspot after receiving a boost in notoriety from the 2005 TV season of Survivor.
Photo Courtesy of Visit Palau
The country's population of around 21,000 is spread amongst an island chain consisting of nine inhabited islands out of the nearly 300 that make up the country. Since becoming a sovereign state in 1994, the country has steadily grown in popularity as an exceptional location for island and marine exploration with a keen focus on snorkeling and scuba diving. That being the case, tourism has become a major aspect of the region's economy alongside fishing and local subsistence farming. This small population combined with tourists who engage in active, adventurous outings means things wrap up pretty early throughout the islands, leading to a quiet and comfortable atmosphere rather than being a high-energy Pacific island hotspot like Singapore, Japan or Hawaii.
Photo Courtesy of Shutterstock
Palau's indigenous dishes center on rooted vegetables like potatoes, yams, taro and cassava as well as fish, poultry and pork. However, as the youth of the island is being brought up amongst a tourist-friendly environment, they often prefer western and Asian meals over their traditional counterparts. This is evident throughout the nation's largest city Koror, where Chinese, Korean, burgers, pasta, pizza and more are readily available, and are often frequented by locals.
Photo Courtesy of Visit Palau
That said, it shouldn't be a surprise that the most visited sites in Palau aren't installations, but reefs and shores heavy in marine life and beautiful underwater vistas. And they're indeed gorgeous; Palau has been named as the top "Underwater Wonders of the World" by CEDAM International. (Yes, apparently that's a thing…The More You Know). Whichever of these underwater tourist vendors you choose, there are a number of diving locations that come highly recommended:
Photo Courtesy of Visit Palau
Shark City - Though you're not absolutely guaranteed to see sharks, the dive is still great. Cabbage and staghorn coral can be seen throughout the area. Wily but manageable currents mean weak swimmers or first-time divers should probably avoid this location.
Big Drop Off - The aptly-named Big Drop Off is a wall that quickly goes from a walkable couple of feet to a staggering 2,000 feet. It features stunning soft corals, reef fish, pyramid butterfly fish and sea fans.
Photo Courtesy of Visit Palau
Ngemelis Wall - Palau's most popular and sensational dive, the Ngemelis Wall is often considered by veteran divers as, bar-none, the best on the planet due to a bogglingly large variety of soft and hard corals.
Jellyfish Lake - Completely isolated in one of the country's rock islands, the once ocean-connected lake has an unchecked jellyfish population void of predators and rich in the jellies' favorite snack: algae. Unlike many other types of jellyfish, the stinging cells of these are miniscule and have very little or no effect on human skin, which allows swimmers to get closer to them than anywhere else. However, due to a hydrogen sulphide layer around 15-20 meters underwater, scuba diving is prohibited. Snorkeling, on the other hand, is allowed, and the lake makes for one of the most interesting swimming locations around.
Photo Courtesy of Visit Palau
Turtle Cove - With a very cool entrance of just a small, blue hole that opens up to an absolutely spectacular wall, Turtle Cove feels like an exclusive adventure and is a truly wonderful dive. The turtles of this diving destination are most often found in the cove's shallow waters.
Blue Corner - Located less than an hour by boat from the majority of Palau's resorts, Blue Corner boasts a steady stream of sharks. However, the currents in this area are notably high, making this spot ill-advised for inexperienced divers or those who have any doubts about their swimming prowess.
Photo Courtesy of Elilai

After a long, experience-fueled day of swimming around some of the world's best diving locations, visitors are sure to be insatiably hungry. Luckily, a number of high-end restaurants are available through Koror to partake in. Japanese cuisine from Dragon Tai comes highly recommended by expats, though it's open only for lunch. Those looking for a little more spice should hit up Taj, an indulgent Indian restaurant and one of Koror's highest-rated eateries. If a couple is in the mood for a romantic outing, they simply can't go wrong with Elilai where dramatic lighting and scenic views accompany flavors from all around the Pacific Rim.
Conversely, the city has a vast array of food stands and hole-in-the-wall dining spots that have become beloved staples, the most notable of which is probably Kramer's Café which features tasty seafood and has become quite popular for its fish tacos. Otherwise, anyone just looking for a quick burger won't have to look much further than the next corner as burger joints are as densely located, if not more so, than any North American city.
Photo Courtesy of Palau Pacific Resort
And, once an individual has swam their fill and satiated their hunger, a good night's rest is of utmost importance. As a tourism-based resort country, there are almost two dozen properties to choose from, each of which should provide island charm and easy access to water-based activities. However, for the best accommodations and service, three resorts really stand out: Palau Pacific Resort, Palau Royal Resort and Caroline's Resort. The first two offer all the comforts discerning travelers have grown accustomed to and provide top-notch amenities, rooms and views. Caroline's Resort, on the other hand, has bungalow living and, as an added perk, access to the man-made beach at Palau Pacific Resort.
Photo Courtesy of Visit Palau
As the site of numerous confrontations and political claims beginning in 1885, Palau underwent occupations and ownership from the likes of Spain, Imperial Germany, German New Guinea, Japan and the United States. This all ended in 1994 when the local government signed a Compact of Free Association with the U.S. and became a sovereign nation of its own. Since then, the country has undergone a swift evolution toward the underwater tourism powerhouse of today.