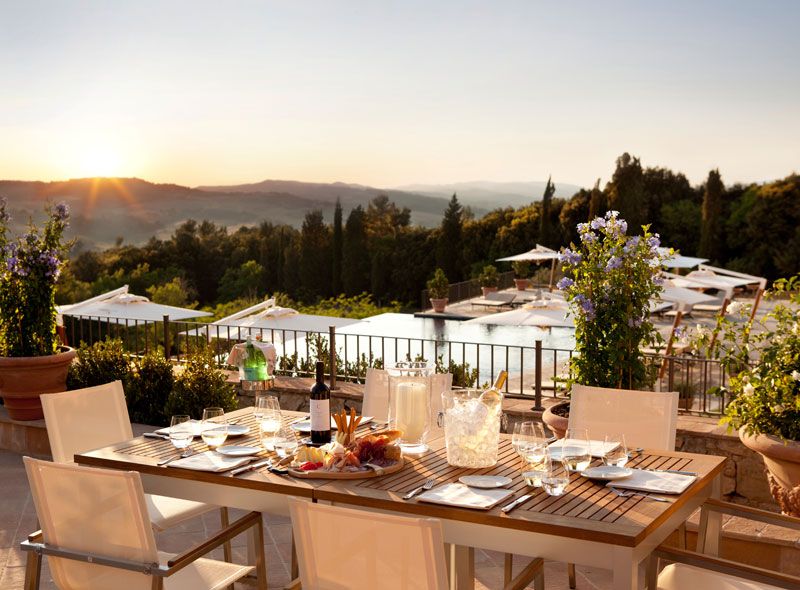 Photos Courtesy of Castello di Casole
I don't know about you, but it's pretty hard for us to pass up a trip that offers to take you on a culinary adventure through Florence, Italy. Foodie or not, we've all got to eat, so why not do it while hobnobbing with esteemed chefs and overlooking the Tuscan countryside? That's what we thought.
Partnering on a Culinary Adventure package from June 15-20, 2014, Castello di Casole—a 10th-century-castle-turned-five-star-resort—and the Farmhouse Inn in Sonoma, California, have crafted an itinerary that should please even the pickiest palate. At € 1,326 (USD $1,807) per night per couple, the package will take guests through a gastronomical trip that highlights the history, language and culture of some of Italy's finest locations.
Guests will get to stay at Castello di Casole, where they will be treated to a tour of the castle and its impressive estate. On day one, after arriving at the castle, foodies will start their vacation off with a welcome reception which will have light fare, cocktails and meet and greets with the week's guides. Don't worry though, the rest of the day is free to relax and sleep off that jet-lag.
Lest you worry about all the eating you'll be doing during the trip and completely throwing off your workout routine back at home, the hotel will also offer morning Pilates classes to ensure you feel good about taking that second helping of pasta. Day four takes guests into the city for a little shopping excursion and a guided history and culture tour before finishing with a family-style sunset dinner on the Ristorante Tosca Terrace.
The full itinerary offers some remarkable selections, but some of our favorites include:
Breakfast at Ristorante Tosca featuring introductions of Michelin-starred Chef Steve Litke and Daniele Sera
Choice of Spa treatments, painting class or Italian language class
Guided tours of Siena and Florence
Cooking class with Steve Litke in winery kitchen at Castello di Casole
Pizza-making class
Nightcaps at Bar Visconti
We know the trip is coming up pretty fast, but let's be serious, when did time ever stop you from jet-setting to Europe for a week at a moment's notice? If you're already as excited as we are about partaking in great food and wonderful Italian living, reservations can be made through the resort's booking page. Buon appetito!