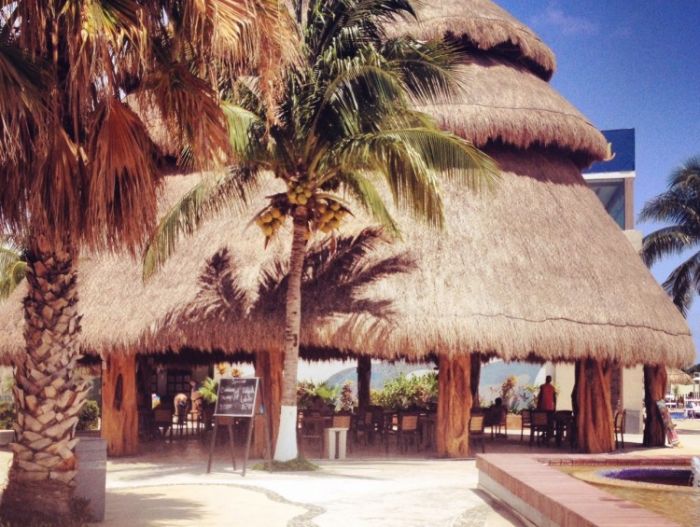 Photo Credit: Lena Katz
Beach bars like this one may have come to represent a Cancun vacation, but on the Yucatan Peninsula where Cancun, the Riviera Maya, Cozumel and Tulum are located, culture and nature are deeply intertwined, offering infinite opportunities to explore and learn. Here are eight ways the Yucatan Peninsula can take your Mexican vacation to the next level, beyond the beach bars.
Photo Credit: Lena Katz
Open Cenotes, Esmeralda
The Yucatan has a vast network of underground rivers, and Cenotes are sinkholes connected to the underground system. Some are closed, some partially open, and some fully open like the one pictured. They were sacred sites for the Mayans. Many are safe for swimming, although this one is not because of crocodiles.
Photo Courtesy of Rio Secreto, Reserva Natural
Rio Secreto
Just a few miles from Playa del Carmen and a quick trip from Cancun, this network of underground rivers and semi-sunken caves was discovered by accident just a few years ago. Now a nature reserve, Rio Secreto is one of the only places to try underwater cave wading/swimming without needing to be a diver or advanced spelunker.
Photo Credit: Lena Katz
Flamingos
Now for something not dark or scary: Flamingos are always a fun sighting in the Yucatan region. Most commonly seen from December through April, flamingos are welcome in small flocks on many resort grounds, in nature parks and in the wild.
Photo Courtesy of Dolphin Discovery
Manatees at Dolphin Discovery
Animal friends, here's a very special opportunity indeed: Two of the area's Dolphin Discovery locations—Isla Mujeres and Cozumel—are home to rescued manatees. Humans can interact with them in very small groups, and it's an educational and thoroughly charming experience where you learn more about the gentle creatures while helping to feed them. (They eat 40 pounds of lettuce each and every day, and it takes their human handlers almost eight hours a day to feed them.)
Photo Courtesy of Cancun CVB
Whale Sharks
People who have swum with the massive yet peaceful whale sharks tend to compare them more to whales rather than the cold-blooded creature they are named from. Whale sharks are filter feeders like Baleen and Right whales, meaning, they live on tiny plankton. They're non-aggressive, often thought to be quite intelligent, and the largest of all fish.
Photo Courtesy of Xoximilco Park
Xoximilco, Cancun
Eco-amusement attractions abound in the region, and none of them conform to any standard guidelines, they tend to be a mix of park/beach/preserve/costume hybrids. Take this new attraction, for example: It's a boat party, but not as you know it. Guests are rowed out onto the Cancun canals (who knew Cancun had canals?) in a flotilla of trajineras (semi-covered large canoes), where there commences an after-dark bazaar featuring dinner, cultural parties, mariachis, performances and shopping, all on boats.
Photo Credit: Lena Katz
Cooking Demonstrations, Xcaret
The Yucatan Peninsula is an interesting cultural melting pot, in that there are Mayan villagers who still live in the undeveloped jungle, Mexican cultural specialists who re-enact the ancient customs for cultural legacy and/or for pay, and then fully modernized Mexicans who live in big cities. Xcaret, which holds many cultural festivals including the Sacred Mayan Journey, is where all three groups mingle with fewer barriers than usual. Case in point: This man is not Mayan, and he's usually a chocolate expert, not a primitive hunter.
Photo Courtesy of Xcaret Park
Dia de los Muertos Altar, Xcaret
All of Mexico approaches the annual Day of the Dead holiday with celebratory reverence, but every state has different customs, usually with large group gatherings at certain sacred sites. Xcaret hosts the Festival of Life and Death with altars, food for the soul rituals, workshops, traditional dance and theater performances and more.