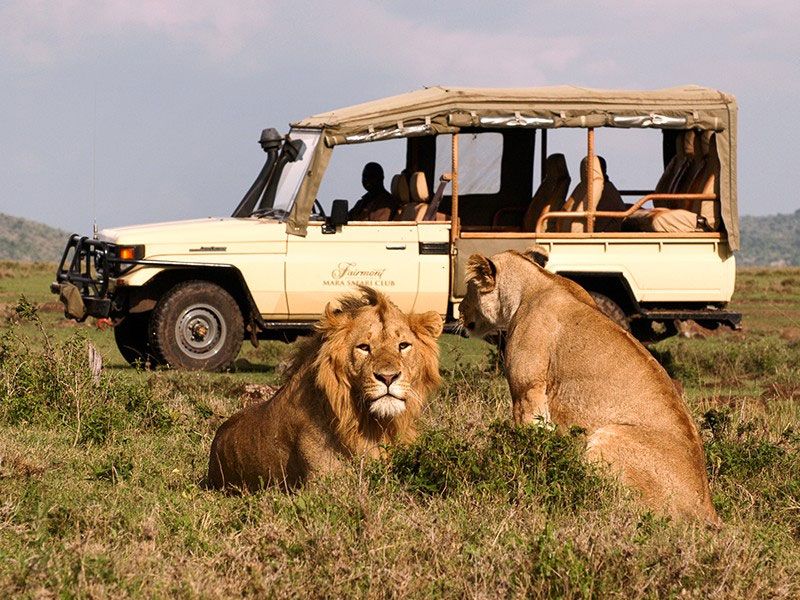 Photo Courtesy of Fairmont Mara Safari Club
Fairmont Hotels and Raffles have come together to create a wilderness infused getaway that will take guests from luxury glamping and tropical gardens in Kenya to a private villa escape in Seychelles.
Photo Courtesy of Fairmont Mara Safari Club
The first leg of the trip takes you to the Fairmont Mara Safari Club's luxury tents where you'll see firsthand the hippos of Mara River and the one of the planet's most robust nature reserves. Game drives will take guests on search of Africa's Big Five animals: lions, elephants, buffalos, leopards and rhinos. Lucky adventurers will also be able to spot many other magnificent beasts like gazelles and zebras.
Photo Courtesy of ZRyzner/Shutterstock
Travelers will also get the chance to visit a local Masai village to experience the traditional jumping 'Adumu' dance in person. And, come nightfall in the bush, dinner is served around a bonfire.
Photo Courtesy of Fairmont The Norfolk Hotel
Once out of the wild and into Nairobi, travelers will experience some of the best restaurants and lounges in the area and accommodations will be provided by Fairmont The Norfolk Hotel. While there, explore the property's lush tropical gardens, spa and dining venues.
Photo Courtesy of Raffles Praslin, Seychelles
After the wilds and excitement of Kenya, guests will be transported to Seychelles where sandy beaches and blue waters await. During this portion of the journey, guests will stay at Raffles Praslin, Seychelles in private villas with ocean views, plunge pools and access to a 24/7 Raffles Butler. Activities include paddle boarding, snorkeling, small island visits and possible trips to Vallee de Mai.
Photo Courtesy of Raffles Praslin, Seychelles
For those who'd prefer to spend the last days of their vacation truly relaxing after those trips through the African wilderness, The Raffles Spa is a perfect spot to unwind with an outdoor massage while being lulled to serenity by the lapping blue ocean waves.
To book your trip, contact any of the hotels directly.