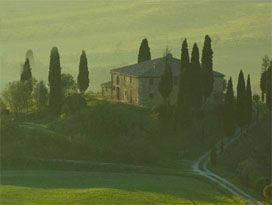 Luxury Travel:
Oh come all yee gourmands for fine dining experiences in some of the most scrumptious destinations around the world! Cork & Fork Epicurean Travel is serving up delicious luxury-vacation packages in Europe, South America, and the U.S. The travel menu includes Italy, France, Spain, Portugal, Ireland, Argentina, California and Oregon with heaping dishes of culture and luxurious accommodations to spice things up.
"Despite a reduction in consumer spending on luxury travel in the past year, the culinary travel market is a growth area. We absolutely see sufficient demand for such customized, high-end offerings," said Jim Dondero, principal and co-founder of Cork & Fork Epicurean Travel.
The tour packages include culinary classes from top-notch chefs, including Michelin-star rated chefs, who present their personal recipes and cooking techniques. Customized walking tours with visits to boutique wineries with tasting sessions and indigenous food markets of the area also are part of these tasty packages. Very detailed recommendations of the finest restaurants, cafes, and eateries in the region or the city being visited complete these trips of epicurean nirvana.

According to Mr. Dondero, the vacations are designed to help clients travel with flavor by putting together a customized package that includes interactive culinary experiences with lavish accommodations and cultural tours. The price of a seven-day tour starts at $5,000 per person.




With the consumption of all that wonderful food and wine, it may be a good idea to throw in a few activities to balance it out. For golfing enthusiasts, there are vacation packages that add golf to the mix. Check out Cork & Tee Epicurean Golf Travel, a sister company of Cork & Fork. Both firms are affiliates of Virtuoso, which is a consortium of agencies that specialize in luxury-travel options.

For JustLuxe James Rothaar