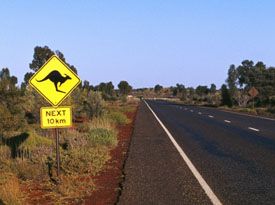 Luxury Vacations:
With an incredible landscape, adventure lurking around every corner, and an exciting and eclectic culture, Australia has topped the list as one of the most sought after destinations among Americans for more than a decade. From its vibrant cities and rugged outback, to its friendly people and local events, Australia truly offers something for just about everyone.
For those searching for an exciting adventure and an overall new and unique experience, we've rounded up some of our favorite activities in some of the most popular Australian destinations, as well as some of the more remote and off-the-beaten path locales.
Outback Adventure
Hop on a plane in South Australia and enjoy a scenic flight over the majestic rock basin of Wilpena Pound before exploring the legendary waterholes of the Flinders Ranges. Head to Arkaroo Rock and marvel at the Aboriginal art and learn about the area's pastoral history. For another authentic outback adventure, saddle up and be part of the action as you help herd cattle along South Australia's Oodnadatta Track on this year's Great Australian Outback Cattle Drive.

Dive In

If herding cattle is not on the itinerary, head to the Northeastern coast of Queensland and take a plunge into the Great Barrier Reef. Divers of different skill levels have traveled from all corners of the globe simply to experience this breathtaking underwater world full of colorful coral, underwater tunnels and caves, and flourishing marine life. After a day of underwater exploring relax at Hamilton Island's qualia in a private saltwater plunge pool overlooking brilliant blue waters or top by nearby Whitehaven Beach for a champagne picnic on one of the whitest sand beaches in the Pacific.

Luxe Holiday
If the thought of being nose to nose with giant sea turtles is too adventurous for your liking, how does a leisurely dip in a glass-bottomed pool sound? The Olsen, a luxury boutique hotel located in Melbourne's shopping district, features the world's largest glass-bottomed swimming pool, which hangs over Chapel Street, a bustling retail strip.

Rather spend the day on the links? Well then take a swing on the world's longest golf course. Spanning 1,365 kilometers, Nullarbor Links consists of 18 holes, which are scattered among participating towns and roadhouses along Eyre Highway, from Kalgoorlie in Western Australia to Ceduna in South Australia.

Hit the Road
The vast and varied Australian terrain can also be easily explored by vehicle. Get behind the wheel and make your way down the Great Ocean Road, which is unarguably one of the world's best scenic drives. Making your way past the charming seaside towns just outside of Melbourne, you'll eventually arrive in Warrnambool, where you can spend the day whale watching or visiting the Tower Hill Nature Reserve.


Go on a Food & Wine Walkabout
As you can see, Australia offers many different levels of adventure, but let's not forget about the many other things to see and do. With a selection of food and wine as diverse as the country itself, Australia is the perfect place to gather with mates, eat, drink and toast the good life. Each year, Australia is home to some of the world's most widely celebrated food and wine festivals. In fact, renowned chef, Anthony Bourdain, once stated that he would rather eat in Melbourne than Paris, a true testament to Australian cuisine.

Just some of the leading culinary events include the two-week long Melbourne Food & Wine Festival, also known as the world's longest lunch, and Tasting Australia, which attracts some of the world's top chefs, sommeliers, and restaurateurs to the area.

So whether it's the allure of adventure in the outback or the sophisticated tastes of Australia's cities that strikes your interest, there has never been a better time than now to discover all that Australia has to offer. For more information, visit www.Australia.com/now.

For JustLuxe Christina Stewart