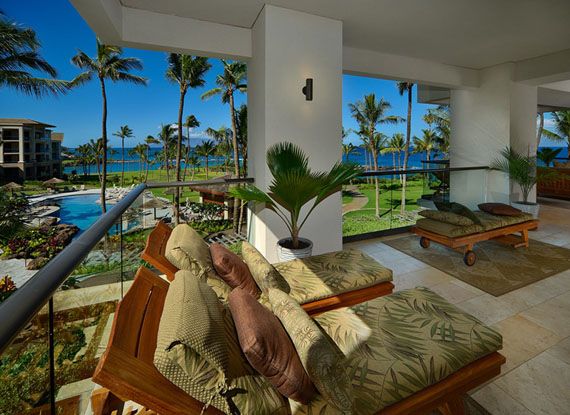 Luxury Villas:
Here's one of the most interesting stories we've heard in our travels. We recently stayed in a penthouse suite at Tropical Villa Vacations in Wailea, Maui, which is adjacent to the acclaimed Grand Wailea Resort (which is known for its children's activity pool). You know what some people who stay at Tropical Villa Vacations in Maui do? They rent a week at the villas – because they are luxuriously gorgeous and spacious – and simultaneously, they book rooms for a week, next door at the Grand Wailea, simply so their kids can have access to all the fun in the activity pool. Now that's the meaning of true luxury!

Tropical Villa Vacations manages 25 exclusive homes and villas including 16 Wailea Beach Villas on Maui. We recommend it enthusiastically. After all, here's a level of luxury that is simply unprecedented in our travels – and we go everywhere. For starters, these properties are fully stocked with everything imaginable to make your trip remarkable. Take the kitchen, for example. Need a cappuccino maker or perhaps just a battery-operated frother? How about a popcorn maker plus popcorn? Would you believe a waffle iron, full set of Tupperware and Corning Ware, cookbooks, Henckels knives, cheese graters, a rolling pin, pumpkin pie spice, basil, Torani syrup, grenadine and Chambord liqueur? That's just a small sample of what's in the kitchen, to make you feel right at home, in case you want to enjoy a cup of Joe, make pastry, or bake an apple pie. In a word, we were wowed by the level of service, amenities, location and surroundings. And it gets even better – Tropical Villa Vacations has partnered with Hawaiian Airlines to offer guests up to 25,000 bonus HawaiianMiles for new reservations at any of the Wailea Beach Villas resort residences that it privately manages.

We stayed in the Wailea property, on the 4th floor in a penthouse villa, Grand Seascape K407, accessed by a private elevator. This vacation residence, with 2300 sq-feet, offers unabashed luxury; it includes oceanfront views with a private lanai and Viking grill; laundry room completely outfitted with washer, dryer, detergent, and anything else needed; living room with huge HGTV screen and home theater; three bedrooms with the most comfortable beds we've ever slept in; bathrooms with double sinks and marble floors; and adjacent walk-in closets. The name of our unit, "Grand Seascape" could have also been named "The Spa," with beautiful blonde wood, golden granite counters, cream color marble floors, and Tommy Bahama furnishings.

At this elevation, guests are privileged with unequaled panoramic views of Wailea Beach, the neighboring Four Seasons and Grand Wailea Resorts, and westward towards the sparkling blue Pacific. Facing the ocean, floor-to-ceiling solid glass doors and screen doors retract for an open-air living experience. This previously undiscovered vista is simply impossible to capture in photographs. With confidence we can boast that you likely may not want to go anywhere during your holiday, if other than to lounge day and night on the oceanview private terrace, from where you can whale-watch during winter season, stargaze at night, and capture the Maui sunsets and rainbows that the island is famous for.

Rates for this villa vary, and with all of the villas, you're best bet is to visit the website, to see current rates. In general, for this penthouse, depending on the season, rents are anywhere from $850-$1,650 per night. All bookings require a four-night minimum.

Outside, you'll also be captivated by the location. Wailea is the premier luxury destination on Maui, and Tropical Villa Vacations' vacation homes in Wailea sit on a prime piece of property fronting Wailea Beach. That means that the white sands are just steps away on a superb slice of beach. Yet there's also a family pool plus an adult pool, and a workout room, as well as access right across the street to The Shops at Wailea. (We highly recommend dinner there, at Tommy Bahama – read our review of it in our story about "Maui's Top Ten Restaurants,")




Irresistible Accommodations
Nancie Brown, spokesperson for Tropical Villa Vacations, took us on a tour of some of the other residences at the Wailea property. Unit D102, "Golden Mandarin," is an Asian-themed three-bedroom, 3 ?-bath unit measuring 3,500 sq. feet. This is an extraordinary villa that is surrounded by a pretty lawn and garden combined with broad panoramic ocean views and a private cold splash plunge pool. It's a comfortable yet romantic living space. Recently, a new cream color three-piece leather sofa set was added to the living space to enlarge the area.

"Bella Luna", Unit D302, was one of our favorites, featuring a modern interior. It has an all-white living room; white marble floors; stunning oceanfront views; and a dark wood kitchen that even has a wine refrigerator. Our favorite features of Unit D302 are the live fresh green plants, mural-sized 1080 pixel flat panel television in the living room, original island photographs, eclectic but tasteful modern art collection, multiple iPod docks, the cool travertine flooring, lofty ceilings, warm mahogany wood trim, colorful marble counters, soft all-cotton high thread-count bed linens, and the fully equipped office nook.



The "Royal Ilima" Unit, said Ms. Brown, is "all about the location." In this ultrabeautiful home, "guests come year after year, and they stay for a month," said Ms. Brown. "This one is never discounted." One of our favorite things about the Royal Ilima is the Art-Deco bedroom featuring mirrored furnishings and even a zebra-print boudoir chair.

Because of their over-the-top luxury, Tropical Villa Vacations attracts people who demand the best in life, including numerous celebrities and high-profile executives. "Many of them have their own private planes," said Ms. Brown

Services With A Smile
If you need anything else, "guests are all contacted prior to arrival," explained Ms. Brown. That means that they all receive special consideration and assistance thanks to personal concierge services. You'll be assisted with booking dinners, chartering boats, taking trips to neighbor Hawaiian islands, renting special cars and limousines, paddling an outrigger canoe, you name it. The concierge can also make arrangements for family portraits; lei greetings at the airport; in-villa massage services; personal yoga, swimming, snorkeling and surfing instruction – and the list goes on and on. "We do anything and everything," Ms. Brown explained, adding with a laugh, "as long as it's legal." In fact the only thing these properties don't do is weddings, although they get their fair share of honeymooners.

Tropical Villa Vacations was the first vacation rental agency in Hawaii to provide complimentary in-house "hotel-style" personal concierge services. The concierge staff provides assistance with all aspects of a client's vacation and are available to their on-island guests seven days a week

One of the highlights is that Tropical Villa Vacations offers its guests the private culinary service of "Chef to the Celebrities," Sabra Ricci. Ms. Ricci, a graduate of the California Culinary Academy in San Francisco, has gained acclaim over the years for her healthy, delicious menus and "detox" cuisine. Her loyal clientele ranges from Fortune 500 CEOs to Hollywood A-listers who include Julia Roberts, Courteney Cox and Jenny McCarthy. On Maui, Ms. Ricci does not offer her services as a private chef through any other vacation rental properties. And if you need break to unwind, detox, lose a few pounds – or just veg out – you can create your own Maui Personal Spa Holiday, which is a collaboration between Tropical Villa Vacations, Ms. Ricci, and Dr. Cathy Wong, a licensed naturopathic doctor and nutritionist. Programs are implemented within the comfort of the guest's private accommodations and include a wide selection of spa treatments, traditional Asian and Ayurvedic therapies, yoga, hot stone therapies, customized meal plans and more.

Because of the many ways that the company distinguishes itself, it's no surprise that the well-heeled love working with Tropical Villa Vacations. Irene Aroner, the owner, has, for three consecutive years, been recognized by Conde Nast Traveler as one of the top villa rental agents in the world. In the June 2009 issue, she was named as one of only 49 agents, worldwide, that "made the cut," based on an in-depth assessment of agents' competency, connections, business practices, user-friendliness, honesty and familiarity with the villas and the regions they represent. Ms. Ironer founded her company in 1995 and for many years previously was Chief Concierge and Consulting Concierge at Four Seasons Hotels and Resorts in Maui, Beverly Hills, Seattle and Tokyo. Having spent more than a decade as a concierge at various Four Seasons hotels, Ms. Aroner brings an obsessive attention to detail to her property evaluations and customer service. And it shows! Tropical Villa Vacations was also named "one of the premier agencies for Hawaiian villas" by Travel + Leisure Magazine.

The company is now also offering a rare opportunity to rent a villa at the newly-opened Ritz-Carlton residences, Kapalua Bay. Tropical Villa Vacations is an official board-approved rental agent for Villa 2203, also known as the "Ocean Dreams" Unit. It is currently the only villa at the new resort that is offered for short term (less than six months) visitor accommodations, and it is available exclusively through Tropical Villa Vacations. "Ocean Dreams" features more than 3,500-sq-feet of living space, including three bedrooms and a convertible den, three and a half bathrooms, entry via semi-private elevator, elegant hardwood floors, designer furnishings, five televisions with HD programming, and much more.

We can honestly say – if you're planning a stay in Maui, it doesn't get any better than staying in a luxury residence through Tropical Villa Vacations. These rooms at the top, which attract the rich and famous (and those with excellent taste), are definitely stars in their own right.

For more information: Tropical Villa Vacations, (808) 875-2818 or toll-free (888) 875-2818, ext 206; www.TropicalVillaVacations.com.

By Debbi K. Kickham and William D. Kickham. Esq.
JustLuxe Contributors
Marketingauthor.com