Luxury Accommodations at Outrigger Aina Nalu, Hawaii: Some Like it Haute
Posted: Jan. 26th, 2010 | Comments 0 | Make a Comment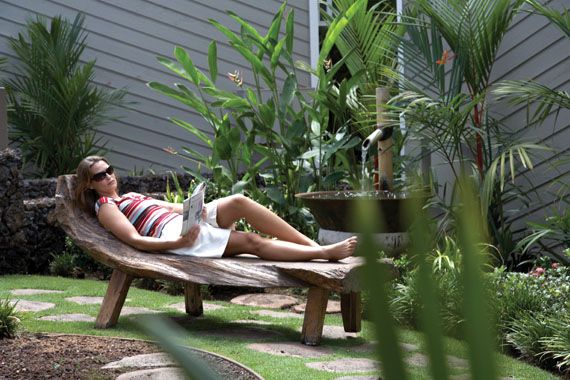 Vacation Rentals:
One of the things you notice when you first plan a trip to Maui, is that accommodations tend to fall into one of two obvious categories: 1) Hotel rooms, and 2) High-rise, luxury condominiums. That's not to say that accommodations in either of those categories are bad, at all. Both offer many attractive features. But those venues, due to the large concentrations of people within them, invariably lack a certain intimacy, and they also present some obstacles.
A hotel room, while certainly nice, rarely offers cooking or kitchen facilities, forcing you to buy your meals either on the hotel property (read: expensive) or dine off-property, which is also quite pricey. At even a modest restaurant in Maui, you can expect to pay between $80-$100 for dinner for two, (no alcohol). To avoid this, a luxury condo almost always provides a full kitchen complete with stove, microwave, refrigerator and all cooking facilities. But, luxury has a price, and you're going to pay for that luxury. Rates at most luxury condo properties will run a minimum of $400 per day (to start) and most have a 3- or 4-night minimum. Are there any options aside these two general categories, where you can enjoy luxury and the comforts of a full home, without breaking the bank?



The answer is a refreshing, and resounding, "yes!" At the Outrigger Aina Nalu, located in the heart of Lahaina town, Maui, you will find condominiums that offer luxury and everyday convenience – in other words, champagne surroundings on a sparkling-cider budget. These homes offer all the comforts and convenience of a home, coupled with Outrigger's legendary customer service. Added to that legendary service, is a $30 million makeover that the property underwent just two years ago, upgrading the property to the best in Hawaiian-inspired design. The nine-acre Aina Nalu property, set in a peaceful garden atmosphere, is also extremely well-located – just a quick 3-minute walk from the heart of Lahaina and Front Street, Lahaina town's main avenue that is lined with award-winning shopping options including noted jewelry and art stores, and of course, great restaurants like the amazing Lahaina Grill. (See our story about the Lahaina Grill on JustLuxe.com, in our story on "Maui's Top 10 Restaurants.")

We have enthusiastically welcomed every opportunity we've had, to stay at this lovely resort. The Outrigger Aina Nalu consists of 188 one- and two-bedroom condominium units, designed with a distinct modern elegance – appointed with art and décor elements that depict historic Hawaii. Each unit has a full kitchen, complete with stainless steel appliances, stove, microwave and granite countertops. Gorgeous! Trust us, there isn't a meal you can't make in these beautiful kitchens. (And if you prefer to dine al fresco, there are barbecue facilities poolside, where you can grill anything from fresh fish to hot dogs and hamburgers.) The bathrooms feature walk-in showers with natural stone – ruggedly beautiful, and definitely not your average hotel room tub/shower setup. (In fact, there are no tubs in any of the bathrooms at the Outrigger Aina Nalu.) Custom tile flooring adorns all the baths, hair dryers are also provided in each bathroom, all of which are quite spacious. Also, each unit provides full laundry facilities – washer and dryer.
Related Topics : Hawaii, Luxury Travel
LET'S CONNECT LUXURY NEWS & MORE






Featured Luxury Hotels

Scottsdale, United States
The Westin Kierland Resort and Spa
At The Westin Kierland Resort & Spa, enjoy the essence of Arizona from the...
Sedona, United States
The Sedona Rouge Hotel and Spa
The Southwest United States was once part of a vast domain of little known...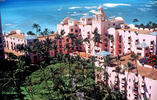 Waikiki, United States
The Royal Hawaiian, a Luxury Collection Resort
Welcome to The Royal Hawaiian, a Luxury Collection Resort, affectionately known...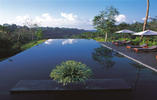 Bali, Indonesia
Alila Ubud
Alila Ubud is a tranquil and secluded hillside retreat that sits high up on...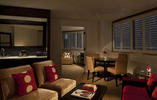 New Orleans, United States
W New Orleans
What's the word for W New Orleans? Spicy. Located just steps from the notorious...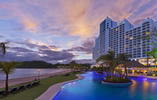 Panama City, Panama
The Westin Playa Bonita Panama
Discover complete rejuvenation at the natural refuge, where a serene beach...