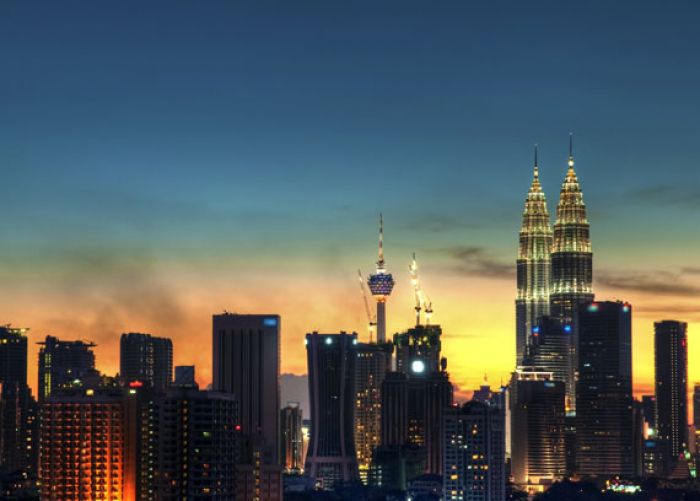 Luxury Vacations: Both the capital and largest city in Malaysia, Kuala Lumpur offers adventure and diversity for everyone with a wide range of activities showcasing Malaysia's best sights. With architecture that holds a range of influences to gardens that abound with botanical delights, the commonly dubbed "K.L" is a mecca for those wishing to enjoy either traditional or contemporary Malaysian culture. Here are some of the top ten best for anyone wishing to get a well-rounded view of all that Malaysia has to offer.

What To Do:
Visit the Kuala Lempur International Airport, Malaysia. The moment you deplane at the airport in Kuala Lumpur, fondly referred to by locals and tourists as KL, your journey to this enchanted land begins. The KL Airport is a metaphor for this country where rainforest and civilization compliment and coexist in eco- harmony, where peoples of every race and creed meet, mingle and live in peace. In fact, the dramatic airport design incorporates a living rainforest with the structure built around it. The streamlined design is a model for what a 21st century airport can be. Even though completed in 1995, it is thoroughly modern, spacious, well designed and yes, even calming and soothing to all the senses. You can look forward to your trip to this airport. It is one of the highlights of your visit to Malaysia.

Experience the Colors of Malaysia Event
Whether this is your sole destination or part of your tour of Southeast Asia, you will be surprised and delighted at every turn in Malaysia. The colorful sight of saris, veils, turbans, kaftans, and Western garb all flowing together in office buildings, parks, shopping malls and outdoor cafes is a tribute to the commitment of the country which embraces its diversity and calls itself "One Malaysia."In fact, the slogan, One Malaysia, acknowledges this rich multiethnic melting pot through a yearly celebration called Colors of Malaysia, where the various cultures showcase their unique artistic heritage through costume, song, dance, and cuisine. But no worries, if you miss this grand occasion, as you will have your own experience of the nation's diversity.

Visit the World-Famous Petronas Tower
The most recognized symbol of Malaysia is the Petronas Towers, still the tallest twin towers in the world. Designed by The American firm of I.M. Pei, this structure defies description. So, up you go to the 41st/42nd Floor Sky Bridge to experience the view half way up the 88-story tower. The view is breathtaking and the details of the project as discussed by your guide and the informative film in the lobby area increase your appreciation of this modern wonder of the world.

Visit the KL Bird Park.
The KL Bird Park, located in the Lake Garden Park (KL's Central Park), is a delight. You stroll through an enclosed area where most of the birds fly freely. You are, in essence, INSIDE of a gigantic cage, and you get up close and personal with all shapes and sizes of our feathered friends, including the Great Hornbills, and other famous colorful birds of South East Asia. Feeding times are particularly exciting as you observe eagles, owls, hornbills and many more species in their natural environment.

Visit the Malaysia National Museum.
The National Museum is one of the country's finest repositories of its history and treasures. It is beautifully presented and conveniently located in the Lake Garden Park, along with the Planetarium, Hibiscus and Orchid Gardens. The National Museum traces the rise of South East Asian civilization and shows Malaysia's important role as a trade center between the Far East and Europe, and shows Malaysia under the Portuguese, Dutch, and English colonial powers through the Islamic time to present day Malaysia.

Visit the the Islamic Arts Museum Malaysia.
The Islamic Arts Museum Malaysia identifies the character of each separate 1 billion strong Islamic culture, including Egypt, Saudi Arabia, and others, and presents an astonishing collection of model mosques, including the famous one at Mecca, which can accommodate up to one million pilgrims.


Visit Ghenting Highlands, Malaysia's Premier Mountain Escape.
Ghenting Highlands, located less than one hour from KL city center is a cool refuge for city dwellers, nature lovers, entertainment seekers, golfers and gaming aficionados. This area currently boasts the only gaming casino in the country with over 10,000 rooms from ultra luxury to budget and a theme park to rival Disneyland. There is something for everyone in these rainforest highlands.

Go North from KL and Explore Penang.
Penang, a UNESCO World heritage sight. Malaysia's colonial period is depicted in the restored homes and government buildings of George Town, while the beach resorts attracts an international clientele, who play and often stay, making this island their second home.


What To Eat: Try savory and exotic Malaysian Food.
The diverse cuisines found everywhere from food courts in shopping malls, to coffee shops, to hawker stalls to restaurants, reflects the wide variety of racial and ethnic groups that comprise the country. Most hawker stalls and menus will feature items from the Malaysian, Indian, Chinese and Western culinary traditions, all under one roof. This cornucopia of cuisine is readily available at all price points--- from dawn until midnight--- in almost every neighborhood.
Some of the specialties include:
Satay is a skewered stick of chicken, lamb, beef or veggies barbecued over a charcoal fire. Served with spicy,sweet peanut sauce, Satay usually comes with cucumber and onion. Although you find it served in other countries, the Malay version is particularly succulent.
This is an Indian-Muslim creation. This is a meal of steamed rice and various accompanying curry dishes is rich in spices.
This is Penang's signature dish, which consists of a plate of flat white rice noodles, stir-fried and tossed with prawns, egg, Chinese sausage, cockles, bean sprouts and chives.
Brought here by immigrants from the Fujian province in China, this dish in Kuala Lumpur has yellow noodles that are fried. In Penang they are cooked in a savory orange-red prawn stock and sprinkled with greens, prawns, and pork.
While there are slightly different styles of cooking Asam Laksa depending on the location, they are thick rice noodles in a hot and sour fish gravy topped with a local mix of herbs making for a distinctive Malay dish that is one of the favorite dishes of the country.
This is a mix of fresh fruits and vegetables like pineapples, cucumber and apples with cuttlefish slices that is served with a dark,thick, local prawn paste sauce that imparts a unique flavor which the locals crave.
The favorite dessert of Malaysia, this is a bowl of ice shavings covered in evaporated milk, red beans, sweet corn, glass jelly and syrup. This is the perfect ending to any Malaysian feast!


Where to stay: Malaysia's Top Luxury Hotels
Grand Millennium- Kuala Lumpur
The Grand Millennium- Kuala Lumpur is a 468-room, five-star luxury hotel located along Bintang Walk, the heart of downtown Kuala Lumpur's prime business, shopping, and entertainment district. The facilities available to guests of this elegant Kuala Lumpur hotel include the "Executive Club," spa with a fully equipped fitness center and an outdoor swimming pool, business center, vibrant restaurants and bars with adjacent access to The Pavilion, one of the most upscale shopping malls in the city. The hotel is the recipient of numerous international awards including the "Hospitality Asia Platinum Award for Service Excellence" and "Hospitality Asia Platinum Award for Best Executive Club Lounge." Here one can experience superb service with an open bar at cocktail hour and cooked- to-order chef's breakfast. Particularly noteworthy is the superb buffet lunch and dinner offered in the hotel's restaurant. Asian and Western delicacies are offered that reflect great skill and quality.



G Hotel - Penang
Chic and stylish, Penang's latest gem is the G Hotel, which is a new urban icon along Penang's bustling Gurney Drive. With its stunning interiors and contemporary design, the G Hotel received the prestigious Best Hotel Construction and Design in Asia Pacific Award for 2010. The G Hotel's logo, "G," is inspired by its location, near Gurney Drive, a hub of activity and vibrant nightlife both within the hotel and in the surrounding neighborhood. The G Hotel is an urban oasis for discerning travelers, offering service and sophisticated facilities. The "Executive Level" is particularly memorable for its Champagne breakfast and Executive Cocktail Hour. The G Cafe's "International Buffet" is a must to experience the breadth of Malay and Western specialties prepared with panache. Every evening offers a different theme. The "Lobster Feast" features "endless lobster" served five different ways, along with superb salads, pastas, and diverse Asian items making for an unforgettable gourmet experience.


By Diane Sukiennik & Michael Reiss
JustLuxe Contributors
www.foodandwineaccess.com
See all Luxury Hotels in Asia