JustLuxe View Profile

Editorial Staff
Woodloch Resort: Family Fun for Everyone
Jun. 28th, 2010 | Comments 0 | Make a Comment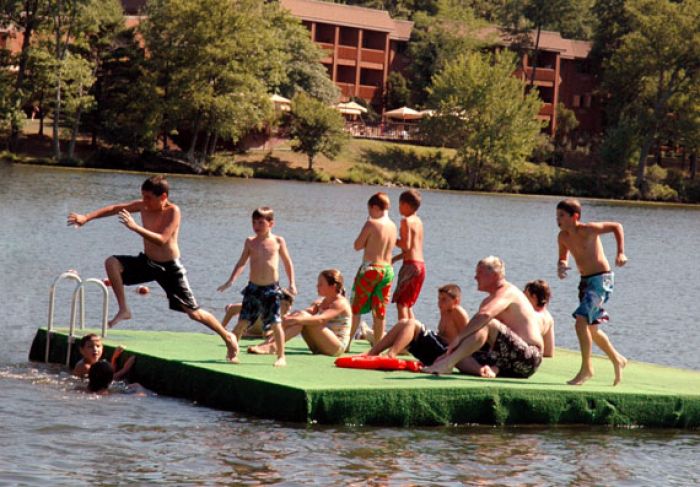 Luxury Vacations:
Those who remember the Catskills and its Borscht Belt in their heyday, when families flocked to such resorts as the Concord for their summer respite, will see a mirror image of those glory days at Woodloch Resort. The Pocono
vacation destination
has been pampering generations of families for more than 50 years now, and has gradually established itself as today's quintessential family resort by offering a remnant of yesteryear. Look down at the lake and you just might see Andy and Opie baiting a hook. There are no adult-specific activities here. On the contrary, the resort offers a veritable smorgasbord of activities that are all designed specifically with the family in mind. The resort's long standing philosophy is to have families spend time together on vacation as opposed to apart from one another.
The affable Kiesendahls, who have solely owned and managed the resort since its inception in 1958, call this unique concept "togethering." It's quite a stark contrast to such options as adult themed nights and vacation babysitting services at many other resorts that tend to separate families for hours on end. "We are seeing an increase in requests for this type of vacationing experience even though it's what we've always been about here at Woodloch Resort," says John Kiesendahl, a second generation owner. Woodloch lies nestled on more than 1,200 acres in the Pocono Mountain lake region of northeast Pennsylvania, which comprises the world's most southern glacial lakes and is surrounded by miles of state game lands and protected wetlands. What started out as a small business with ten employees has evolved into a bustling hotbed of activity with close to 1,000 staff members in season who attend to guests' every need. Literally. All guests need to do is ask and the hands-on staff will try to honor each request. Lest you think this is an idle claim, a staffer once ran to the nearest superstore and returned with sneakers for a guest who left his home.


The resort's original 12 acres included a main lodge, annex, and two cottages, all of which accommodated about 40 guests. By 1961 expansion had doubled the size of the resort, and by 1983 the property had grown into 150 acres and 135 rooms. Today the resort can accommodate over 900 guests. All the while, the resort has kept true to its roots of being a family-run business with two second generation and five third generation Kiesendahls currently overseeing the operations.

Throughout the day, guests can choose from bocce ball, jacuzzis, mini golf, go carts, bicycles, water slides and tennis courts. It's like going on a cruise without the waves. Woodloch tries to add a new major activity each year, such as an outdoor splash pool, an indoor three-story playground, bumper boats, and most recently an indoor splash pool. The focal point of the resort's 50-plus activities is the 1.5 mile long lake, where guests can canoe, swim, cruise on a sunfish sailboat, or take a guided pontoon boat ride while learning about the region's rich history. Others like to relax on the beach with a good book. Those needing an adrenalin rush can test their mettle waterskiing, while anglers can cast away their day by reeling in some of the lake's many bass, bluegill, and catfish.

There are so many organized social activities plus so many resort activities that even when there is a full house it never feels crowded. It is possible to relax at Woodloch too by planting yourself at the beach by the lake or pool side. Some of the resort's organized social activities include swimming pool games, Double Dare, the Amazing Race, and scavenger hunts. Popular TV game shows become popular Woodloch games. Night-time activities feature magic, a staff show, comedians, outdoor concerts, bull riding and the Broadway review. Meals are serious business at Woodloch. By selecting the American meal plan, the traditional way to dine at Woodloch, guests enjoy three abundant family style meals daily. It's wise to sample a little bit of everything at dinner, including both appetizers and the two soups served nightly. However, often eyes are bigger than stomachs.

The food is consistently good, the service is prompt and organized. How they can deliver high-quality, hot food virtually simultaneously to hundreds of guests is nothing short of remarkable. Braised beef short ribs with sautéed onions, fillet of sole with puttanesca sauce, roast duck with raspberry sauce, and chicken Florentine ravioli are all part of the sumptuous fare. Menu options are highlighted by delectable bakery items and decadent desserts, all of which are homemade, including the creamiest ice cream you'll find this side of France. The dining experience reminds me of holiday gatherings or Sunday dinners growing up, and the Kiesendahls do everything possible to make their guests feel right at home. Amicable waiters and waitresses undergo an extensive training session in order to memorize menu items and to ensure they can meet the dietary needs of each guest. In fact, it seems as though the Kiesendahls themselves know just about every guest by name."The most important part of our service is for the Woodloch family to maintain a personal relationship with many of our guests," says Kiesendahl. "We are very hands on in the daily operation which offers us an opportunity to listen and learn."



As dinner winds down, a parade of characters portraying a wide variety of storybook and movie icons march past diners. One has to wonder how Woodloch, which is located in a remote section of the Poconos, manages to attract the sheer number of staff it takes to put on such an elaborate show each week. The Wednesday and Saturday night ritual is always a crowd pleaser and brings wide smiles to the many young faces in attendance. The characters are kind enough to stop and sign autographs afterwards, even further exciting the children who rush in with pen and paper. Although Woodloch is a true four seasons destination resort, with an abundance of activities year round, the busiest times correspond directly to the school calendar. Also, holidays are a big draw with such themes as Haunted Hayrides for Halloween, Easter Egg Hunts, and the ever popular Festival of the Lights during Christmas. Everything -- including meals, musical reviews, and all of the activities -- is included in one price.

Woodloch welcomes the Pocono winters with ice skating and ice fishing. Zoom across the snow on a snowmobile or soak in the pristine scenery on a winter hayride, complete with rich hot chocolate. Ready for some adventure? Snowshoe across miles of picturesque terrain at the only exclusive snowshoe-designated resort in the Pennsylvania, New York, New Jersey region. Also, the resort has a discounted ski package with Ski Big Bear, only four miles away. The resort does draw its fair share of couples on their honeymoon, and weddings have been increasing in popularity over the past few years. Currently, between 50 and 60 weddings are performed at the resort, often with a lakeside ceremony. The newlyweds blend right in with the crowd.

Choice of accommodations include classic standard rooms, the most economical option, deluxe lakeview rooms with indoor access to the dining room, nightclub, indoor pool, and sports complex, and edgewater suites featuring an impressive view of the lake and its scenic shoreline. Woodloch Springs' guest homes are located within the golfing community about two miles from the resort. Woodloch's 18-hole golf course winds its way over 6,579 challenging yards of fern-carpeted forests, lush wetlands, and broad upland meadows. With four sets of tees on each hole, all levels of play can be accommodated. The signature 14th hole requires a dramatic 220-yard drive over "Hells Gate Gorge" which is carved from the rugged mountainside by rushing water some 200 feet below. Better bring some extra Titlists just in case as people have been known to lose more than their fair share of balls to the gorge below.

Over the years the resort has maintained existing facilities, while updating and expanding when needed. According to Kiesendahl, expectations are much higher today than in the past, from guestrooms to healthy eating and staying fit. "Today's generation of guests we serve are certainly looking for greater value and excellence in customer service," he says. Several new Woodloch housing developments have sprung up within a five-mile radius of the resort offering guests the option of purchasing vacation property. The beauty of the Delaware Highlands, its proximity to Philadelphia, and access to a world-class family resort has prompted many satisfied guests to build beautiful vacation homes just outside the Woodloch Springs golf community.

See all Luxury Hotels in North America
Featured Luxury Hotels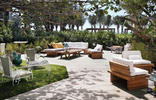 South Beach, United States
W South Beach
Glamour, location, style. Playful, energetic, whimsical. In a beachfront oasis...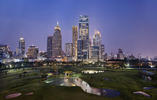 Bangkok, Thailand
The St. Regis Bangkok
Experience the splendor of Bangkok from a premier location along Rajadamri...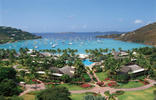 St. John, U.S. Virgin Islands
The Westin St. John Resort and Villas
Pure relaxation awaits you at The Westin St. John Resort & Villas, a refreshing...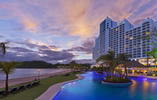 Panama City, Panama
The Westin Playa Bonita Panama
Discover complete rejuvenation at the natural refuge, where a serene beach...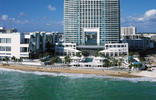 Fort Lauderdale, United States
The Westin Diplomat Resort and Spa
REFRESH UNWIND The Westin Diplomat Resort & Spa offers a refreshing way to...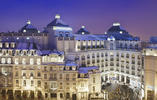 Brussels, Belgium
Steigenberger Grandhotel, Brussels
225 spacious guestrooms and a perfect location on the Avenue Louise makes the...