By Emma Dance Sep. 9th, 2011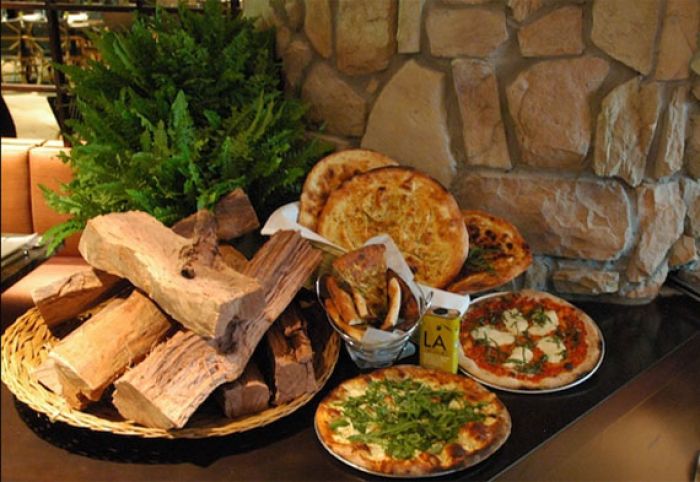 Photos Courtesy of Mayfair Hotel & Emma Dance
It's not often you get the chance to meet an award winning chef, let alone have a cookery lesson with one. But Jonathan Eismann, one of Florida's best known chefs, and the man credited with kick-starting
Miami's restaurant
culture back in the early 90s with his restaurant Pacific Time, takes time out of his busy schedule to give pizza making lessons at one of his latest projects, the Italian-American inspired trattoria, Spartico.
And his secrets are well worth knowing – after all, this is the chef who won the accolade on "Best Pizza in Miami in 2010." Chef Eismann is the Consulting Chef at Spartico which opened late last year in the Mayfair Hotel in the swanky neighborhood of Coconut Grove in Miami. So while he is not permanently based at the restaurant, he designed the menu and works with the chefs to make sure every dish that is produced is up to scratch.
And now and then he works with members of the public, at special pizza making classes held in the restaurant, sharing his tips on how to make the perfect pizza. In reality, the classes are as much about meeting Chef Eismann and socializing as learning to cook, which means that anyone can do it, regardless of your culinary skill.
Everyone gathers around a table laden with a selection of pizza toppings and is given a ball of dough. Chef Eismann then demonstrates how to turn the ball of dough into the perfect pizza base – which, as it turns out, is much tougher than it looks. I like to think I'm a pretty competent cook, but mastering that ball of dough proved to be almost completely beyond me.
Fortunately Chef Eismann is patient and he, along with one of the Spartico chefs, is on hand to help rescue the misshapen bases from the brink of disaster, while also taking the time to chat to all the participants. I hope that he remembers me for being the only person he has ever met who has eaten haggis, rather than the mess I made of making my pizza base!
Once everyone's bases were ready it was time to add the toppings. We had the option of making either a Margherita (traditional cheese and tomato), or a Pizza Bianca (a pizza made without tomato sauce and topped with a mixture of cheeses and arugula, otherwise known as rocket leaves). Being something of a cheese freak I opted to create a Pizza Bianca and took great delight in assembling it with more cheese than was probably recommended.
When everyone had finished their creations they were all taken down to the restaurant's wood fired pizza oven to cook. Chef Eismann explained that the benefit of a wood oven is that it acts as a natural convection oven, whereas a coal oven only heats from the bottom. While our pizzas baked we tucked into some of Spartico's delicious appetizers while getting to know each other.
Then came the best bit: the chance to taste our pizzas. And I am pleased to say that mine was a resounding success – but then with that much cheese it was never going to be too bad! The class was a really fun way to spend an afternoon, and even though it isn't really all about the cooking, it's a privilege to get to meet a chef of Chef Eismann's calibre and to get some tips from him.
A class with Jonathan Eismann at Spartico costs $50 and includes a meal, drinks and a Spartico apron to take home. Visit
MayfairHotelAndSpa.com
to learn more.
Emma Dance
Emma Dance is a trained journalist specialising in travel and food writing. She is based in the beautiful city of Bath in the UK but spends as much time as possible travelling the world. Emma is a contributor to a regional newspaper and numerous websites. She has written about everywhere, near and far, including the UK, Europe, Africa, US and the Caribbean. Emma has her own blog http://taste4...(Read More)