By Mila Pantovich Dec. 2nd, 2015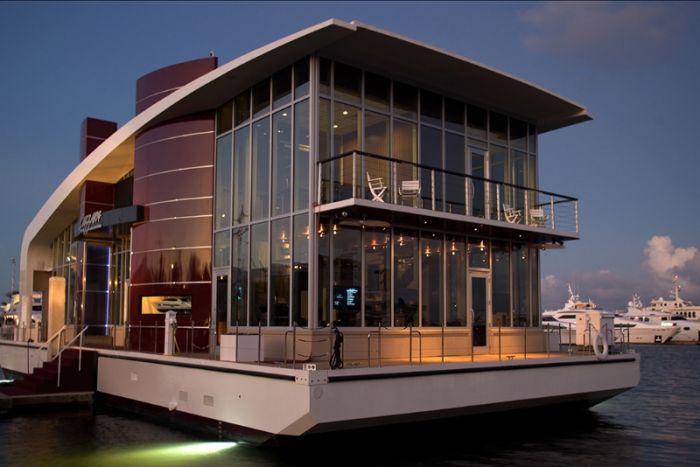 Photos Credit: Platinum Luxury Auctions
First debuting at the Fort Lauderdale Boat Show in 2008 when it was pegged the "Belle of the Ball," the Domino yacht looks more like a floating luxury home than it does a boat. The 90-foot hybrid vessel is 42 feet wide, features three decks encompassed by glass and steel, has a VIP lounge and a theater, and could be yours very soon. Platinum Luxury Auctions will be auctioning off the unique design in Miami on December 11, starting at the surprisingly low price of just $1.85 million.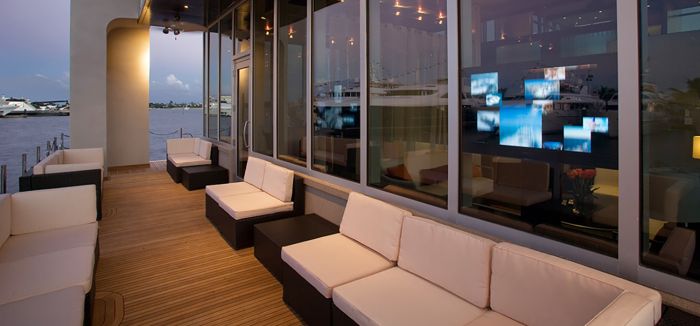 With over 6,700 square feet of space inside, Domino includes waterfall features, a large main salon, wet bar, a balcony lounge, six offices, two staterooms and a commercial-grade kitchen. Even though it's considered a yacht, Domino doesn't actually have its own propelling system and has to be towed to be moved. It was originally created by Lazzara Yachts to be a stationary venue and showroom first, so its lack of engines makes sense.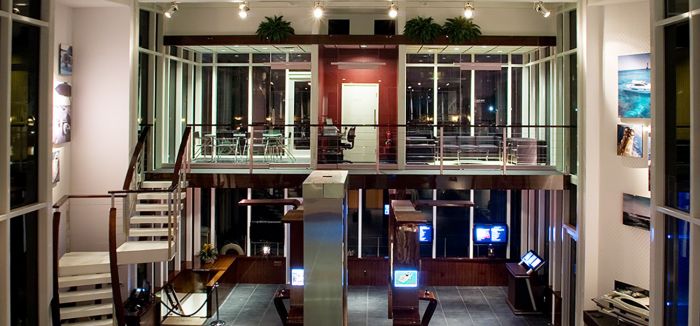 If you have other uses in mind, that's alright since the auction house assures that Domino can be used in several other ways, from being transformed into a restaurant to even being converted into an actual home. Plus, thanks to its anchoring "spuds," it can be set anywhere the owner wishes, while a small bridge can be used to connect it with the shore or a dock.
Pre-auction previews are given by appointment only and the auction will take place on December 11 at 7 p.m. EST. Make sure to register with Platinum Luxury Auctions beforehand, otherwise you won't be applicable to participate.
Mila Pantovich
An avid traveler, Mila Pantovich splits her time between San Diego, CA and Banff, AB Canada. She has been featured in several publications, including Huffington Post and Citizine, and also works in marketing for a prestigious law firm. Follow her travels on Instagram: @MilaPantovich ...(Read More)