Jun. 16th, 2009
Yacht Charters in Miami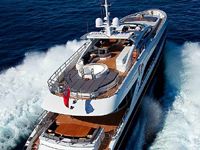 Yacht Charters in Miami:
Selecting the ideal yacht-charter experience in Miami is like going to an ice-cream parlor with more than 32 flavors. With so many marinas and charter companies in the area vying for the business, there is a fitting option for all comers. Long-term charters and short-term rentals are available. There are daytrips that offer sailing trips, fishing expeditions, and water-sports activities, such as scuba diving, snorkeling, and waterskiing. There are bareboat (no crew) and full-crew trips on catamarans and motor yachts. Convenient ports dot Miami, Fort Lauderdale, and Key West.
A good example of what a yacht that sleeps six would offer is a Sunseeker Manhattan 84. It has three cabins and accommodations for a three-member crew. The saloon is roomy with a bar and plenty of space for seating. The plush cruisers can be decorated from ship to stern and feature ultra modern entertainment and communications equipment. There also are water and recreational toys aboard most chartered yachts to enhance nautical pleasures even more. Yachts used for sports-fishing adventures are usually shorter, such as the three Searay Sundancer Sports Yacht models, which range from around 36 to 50 feet in length.

Most crews included on a charted-yacht trip are made up of at least three members: a captain, a host, and a chef. There are full-crew, extended cruises on motor yachts ranging in length from 50 to 100 feet.

Yacht Charters in Miami
OceanStyle Yachting -- The Miami-based chartering and brokerage company has more than 25 motor yachts for charter at destinations around the world. For more information, visit OSYachting.com.

Air and Sea Adventures -- Chartering and rental options vary from sedate to adventurous.

Miami Charters -- Offers long-term charters with full crews for vacationers. They specialize in corporate-and special-event planning. Short-term half- and one-day rentals are available. For more information, visit MiamiCharters.com.

Tropical Boat -- With a large fleet of 2004-2008 model yachts, Tropical Boat Charters offer everything from powerboats, sport yachts, fishing yachts, party boats, luxury yachts and mega yachts.

Windridge Yachts -- Since 1976, Windridge Yacht Charters has been serving the Miami area, providing excellent service to those looking to charter a luxury yacht. While the company has only three yachts in its fleet, each can accommodate up to 500 guests.

For JustLuxe James Rothaar
.

Miami Map

.
.

Luxury Hotels in Miami

.
W South Beach

Romantic, Business, Spa, Beach, Pet Friendly, Wedding, Luxe Superior, Tourism


Four Seasons Miami

Romantic, Family Friendly, Spa, Beach, Pet Friendly, Resort, Luxe Superior, Waterfront, Nightlife, Culinary


Epic Kimpton Hotel

Business, Family Friendly, Spa, Beach, Pet Friendly, Boutique, Waterfront, Nightlife