By Debbi & William D. Kickham, Esq. Jul. 13th, 2010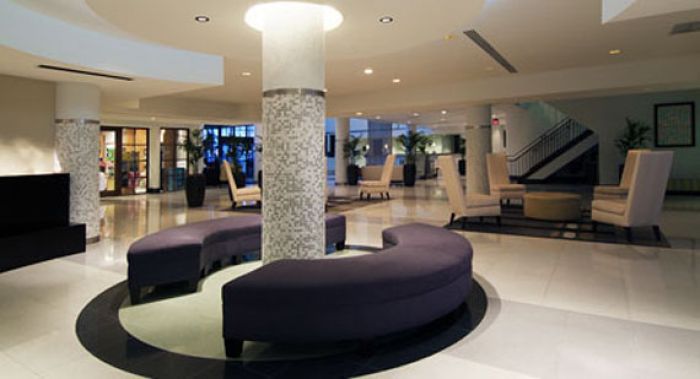 Hotel Review:
Perfect for departures to destinations near and far the Wyndham Miami Hotel at the airport is perfect when you're readying to take
Wyndham Miami Hotel
at the Airport does a booming business with cruisers – and it's easy to see why. "We do a lot of pre- and post bookings," said Bob LePore, General Manager. There's a special Bon Voyage package, which charges about $189 per night for your accommodations, full breakfast, complimentary airport transfers, and complimentary one-way to the cruise port. "We work with a local limo company," says Mr. LePore.
Mr. Pore added that the hotel has lots of international travelers, who love staying at this particular property because of all of its attractive advantages. For example, the Melreese (city) Golf Course is right next door, so you can easily play 9 or 18 holes soon after checking in. In fact, "Many airline pilots store their clubs here," said Mr. LePore.


The hotel also offers free shuttles to Coral Gables and Coconut Grove, where you can enjoy the historic atmosphere and great shopping. "It is important to us that our guests aren't isolated," said Mr. LePore. "There's also a $5 shuttle to the Dolphin Mall outlet with fantastic shopping," he added. "Our international travelers love it – and we pack and ship their purchases out using FedEx and UPS." The hotel is also conveniently located just 20 minutes from South Beach, and instead of taking a $50 cab ride there, you can easily pick up a $4.25 shuttle bus to get there.

This lovely hotel also boasts deluxe business accommodations, a Club Floor, luxury suites, and free wireless Internet in rooms as well as an Internet café. Plus, all the non-smoking guest rooms feature Clean Air by Pure – a medical-grade air filtration system that is allergy-friendly and a healthy alternative. You can also enjoy Wyndham Rewards, which lets you personalize your stay. We also loved that this hotel had an airplane theme, with pictures of vintage planes all around the hotel, and even an aptly named restaurant, Rickenbacker, where Executive Chef Frank Liberoni prepared for us an excellent lowfat meal (remember, we were getting ready for a food fest on our cruise). Mr. LePore had even sent up to our room an absolutely adorable amenity of a chocolate bi-plane stuffed with blueberry "passengers," and to-die-for chocolate bark.

Let's hear it for this terrific property, which makes staying at the airport as good as it can possibly get.
Debbi & William D. Kickham, Esq.
Debbi K. Kickham is a professional travel journalist and veteran member of the Society of American Travel Writers, www.satw.org. She is also former Editor of Robb Report Magazine ' 'The Millionaire's Magazine,' www.robbreport.com Debbi is also former Contributing Editor to Bridal Guide Magazine, for the Travel Section. She is currently at work on her third book, a diet/beaut...(Read More)