By JustLuxe Team Jun. 26th, 2012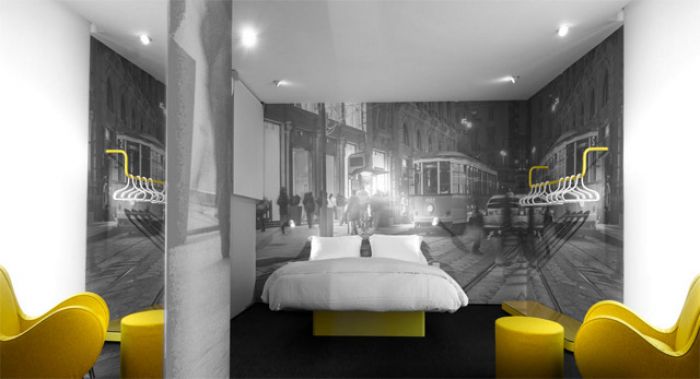 Photo Courtesy of TownHouse Street
TownHouse Street Milan Duomo, a
Milan luxury hotel
, recently opened the doors to its lavish suites on St. Radegonda Street 14, steps away from the Duomo Cathedral. The concept was first conceived in 2010 by Alessandro Rosso with the aid of Italian architect Simone Micheli. Rosso said that his goal in creating the TownHouse Street idea was to "overcome the idea of 'jet lag'."
He said, "When you travel on your own and you spend the night in the room 1032 at the 16th floor of a hotel, you feel isolated whereas in the TownHouse Street you feel plunged in the city, its rhythm and its dynamics. While watching the street lights, at TownHouse Street you get in touch with the landscape and its inhabitants in the same way you would make friends in an open air coffee. The city becomes your fellow traveller. You feel alive while you are looking at the city."
The TownHouse Street Milano Duomo is the second hospitality space to open within the TownHouse Street concept-brand. The Milano Goldoni, Via Goldoni/Castel Morrone was opened in 2010, catering to business travelers and facing the lively city streets of Milan. LCD monitors, light technology, and simple furniture create appealing visual aesthetics. Milano Duomo is situated in a former office building, featuring seven luxury suites with a four-star rating.
The Milano Duomo, which sites on Via Santa Radegonda, is just across the street from the beautiful
Duomo Cathedral
. Guests can choose between one and two bedroom suites, and although it is not a traditional hotel, the vibrancy of the location and contemporary décor create an energetic environment in which to enjoy the city.
To learn more visit
Townhouse.it/ThStreetMilanoDuomo
.
JustLuxe Team
The JustLuxe Team strives to bring our members and readers the very best in luxury news and conversations. We love to hear your opinions and suggestions, but most of all, we love to interact with you. ...(Read More)