By JustLuxe Team Oct. 29th, 2008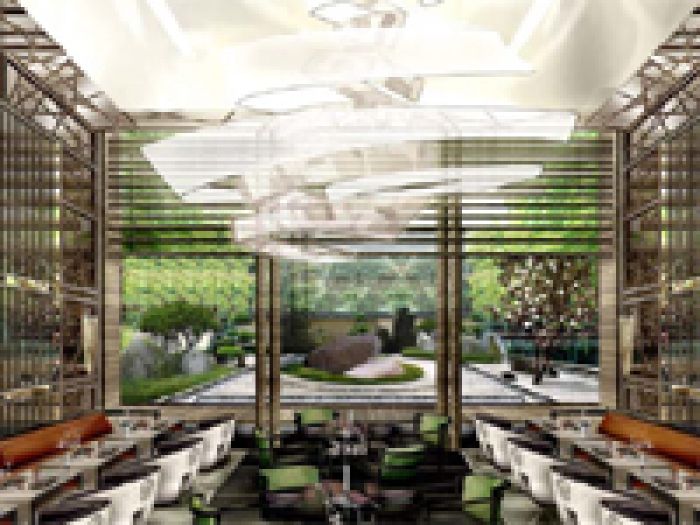 Food & Spirits:
Joël Robuchon, has announced the opening of Yoshi, a Japanese restaurant, his latest fine-dining experience in the luxurious Hotel Métropole Monte-Carlo.
Joël Robuchon has had the honor of being named "Chef of the Century" by Gault Millau in 1990. Owning restaurants that have a combined total of 18 Michelin stars, he currently runs 12 restaurants around the world in the stylish cities of Hong Kong, Las Vegas, London, Macau, Monaco, New York, Paris and Tokyo.
YOSHI, which means "kindness" in Japanese, will offer modern yet traditonal cuisine, created by Japanese Chef Takéo Yamazaki, under the wing of Joël Robuchon and Christophe Cussac, Executive Chef.
The restaurant is based on the celebrated chef's vision of Japan, where he has previously opened six French restaurants over the past 30 years he has fallen in love with the island country.
Yoshi will serve a selection of the finest Japanese foods including, sushi, sashimi, maki and other specialty dishes, including a Japanese consommé and seafood in jelly dish, along with a large selection of specialty sakes, green teas and an international wine list.
Of his latest venture, which will also include a sushi bar, Chef Robuchon says, "Guests will come to YOSHI out of curiosity, but they will be seduced by the quality and everybody will meet there for pleasure!"
The restaurant in Monaco is an elegant fusion of French and Japanese styles, designed by French interior architect Didier Gomez. The scrumptious décor, which uses exceptionally fine materials, including ebony wood, stone and silk in classic shades of white, ivory and pale green is a perfect compliment to the contemporary, yet traditional cuisine.
Gomez has worked with such notable luxury providers as Ferragamo, Céline, Jean-Paul Gaultier, Yves Saint Laurent and Armani. The designer says, "It is a great pleasure to work with Joël Robuchon and the Métropole Monte-Carlo. I really appreciate the constant desire to achieve the highest quality, the strong will to always push the limits further in order to create this fine jewelery piece which YOSHI will become."
The restaurant opens to include a Japanese-style garden by designer Jacques Messin, creating a link between indoors and out in the sophisticated Hotel Métropole Monte-Carlo, which is also home to another of the chef's restaurants, the 2-Michelin starred Joël Robuchon Restaurant.
Surrounded by a bustling cityscape, the Hotel Métropole Monte-Carlo plans to become a "gourmet destination," celebrated for the fine cuisine offered by its dining establishments, as well as a "21 century palace," exquisitely decorated by French interior architect Jacques Garcia to offer a sense of timeless elegance to visitors.
The elegant setting and fine cuisine are sure to please the palate when Yoshi officially opens on December 2 of this year.
For LxM Carly Zindermann
JustLuxe Team
The JustLuxe Team strives to bring our members and readers the very best in luxury news and conversations. We love to hear your opinions and suggestions, but most of all, we love to interact with you. ...(Read More)