By Shandana A. Durrani Nov. 17th, 2010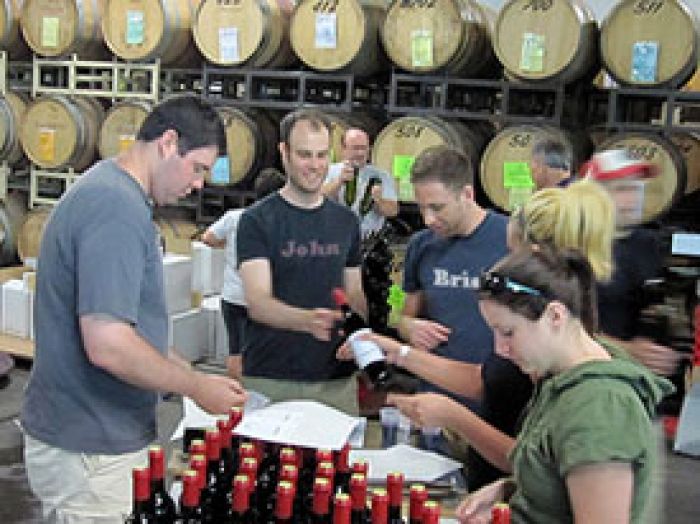 Wineries in New York:
It wasn't that long ago that in order to make your own
wine
, you had to purchase fertile land, carefully plant your rootstock, hire a winemaker, harvest your vintage and pray that it didn't taste like vinegar. But thanks to urban wineries such as The Brooklyn Winery, making your own wine has never been easier.
At this 8,000-square-foot winery and bar in Williamsburg, Brooklyn, novice winemakers get hands-on tutelage in creating their private label brand. Winemaker Conor McCormack has a history of making wine in a non-vineyard setting. He managed wine production at
San Francisco's
Crushpad, the first urban winery in the United States. McCormack, as well as co-owners Brian Leventhal and John Stires, lead winemakers through the year-long crushing, pressing, racking and bottling process. The grapes are from vineyards in
New York
and California and include Cabernet Sauvignon, Pinot Noir, Petite Sirah, Chardonnay and Riesling.
Brooklyn Winery offers two types of winemaking packages. Get a group of friends to pitch in for the Custom Barrel package. You can choose between a partial or full barrel of wine. If you and five your friends get together for a full barrel, you each could come home with 30 bottles of wine. Community Barrel packages are best if you're on your own; you'll just have to share the winemaking process with a stranger or four. No worry; at least they are wine lovers like yourself.
If you're too timid to make your own wine, you can always enjoy a glass at Brooklyn Winery. The bi-level space doubles as a wine bar. A number of choice wines and craft beers are on tap. Sit at the bar or at one of the rustic, wooden tables in the main room. The second floor boasts a balcony with cozy, wooden banquette seating that is perfect for small parties. If you want more space, head to the expansive homey room to the right of the stairs. Visitors can sit at barrels doubling as tables or at long wooden sideboards. You'll also get a perfect view of the winemaking process as it overlooks the barrel room. The room can be rented for private functions. I held my birthday party there in early November. The service and wine selection were exceptional.
Shandana A. Durrani
Shandana A. Durrani is a travel and lifestyle journalist based in New York City. She is the author of "Day Trips from New York City" (Globe Pequot Press, 2011) and co-author of "Insiders' Guide to New York City" (Globe Pequot Press, 2011), both travel guidebooks. She was Cigar Aficionado magazine's Travel Editor for more than 10 years and has visited such far-flung locales as New Zeal...(Read More)