By Jared Paul Stern Mar. 13th, 2012
Photo Courtesy of Gotham Hall
Each year
Relais & Châteaux
, the exclusive collection of over 500 of the finest hotels and gourmet restaurants, holds the Grand Chefs Dinner showcasing its famed haute cuisine in one of the 60 countries it encompasses. Last year the amazing event was held at the Palace of Versailles (below), and this year the honor has fallen to the U.S. and New York City, home to local R&C favorites like Daniel Boulud and
Jean-Georges Vongerichten
. It may be decades before the legendary event, which is slated for April 16 at New York's Gotham Hall (above), returns to the States, making it a truly once-in-a-lifetime culinary experience.
More than 40 renowned Relais & Châteaux Grands Chefs from five continents will participate in the gastronomic celebration hosted by Jaume Tàpies, Chairman of the Board of Relais & Châteaux. In addition to
Daniel Boulud
and Jean-Georges Vongerichten, the master chefs will include Jonathan Cartwright of the wonderful White Barn Inn & Spa in Kennebunkport, Maine, Marc Meneau of France?s L?Espérance, Normand Laprise of Canada?s Restaurant Toqué, and Yoshinori Shibuya of Japan?s La Bécasse. The chefs will work together in teams of three to showcase their most exceptional, show-stopping dishes, which will be served at the decadent dinner.
A limited allotment of tickets are available for purchase at $1,500 apiece from
RelaisChateaux.com
with a portion of the proceeds benefiting Citymeals-on-Wheels. Be quick, however, because they won?t last long.
Find More
New York City Events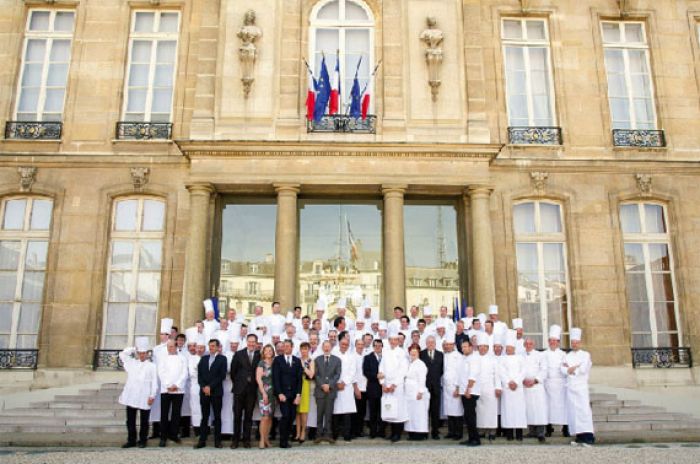 Chefs from the Grands Chefs Dinner at the Palace of Versailles
Palace of Versailles Grands Chefs Dinner 2011
Jared Paul Stern
Jared Paul Stern has written for the Wall Street Journal, New York Times, the New York Times' T magazine, GQ, WWD, Vogue, New York magazine, Details, Hamptons magazine, Playboy, BlackBook, the New York Post, Bergdorf Goodman magazine and Luxist among others. The founding editor of the Page Six magazine, he has also served as a judge for everything from the International Best Dressed List to the Fo...(Read More)