By Carolyn Hsu Apr. 2nd, 2012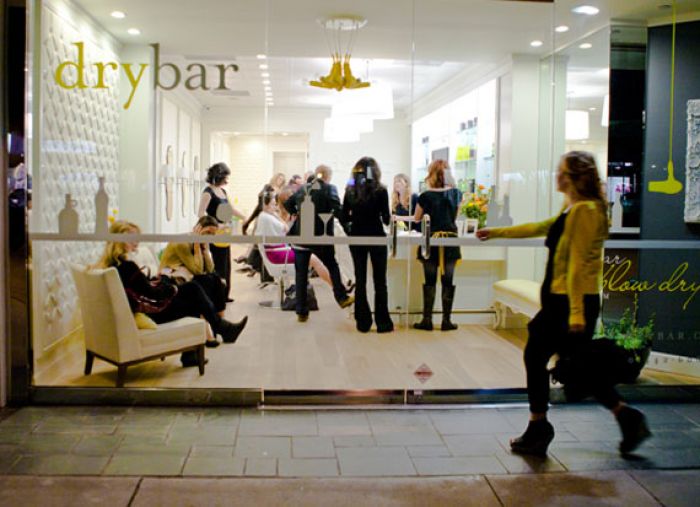 Photo Courtesy of Le Parker Meridien
Le Parker Meridien
, already a New York institution famous for restaurants NORMA'S and Burger Joint, recently opened a brand new 20,000-square-foot beauty and wellness level in March.
The space, dubbed "underground at Le Parker Meridien," used to house only a gym but has now been expanded to include the hotel's first spa concept, a blow dry bar, a health oriented café, and a nail salon. The hotel has long prided itself not only for providing the finest hospitality for New York visitors, but also as a destination that attracts local residents as well.
With the opening of the new underground level, not only will hotel guests have all the beauty services at their fingertips, but New Yorkers who work in the bustling Midtown commercial area will also be able to streamline all their wellness needs to one destination.
The centerpiece of the space is a completely redesigned, multi-level, state-of-the-art fitness center that's open to guests as well as local members and day guests. Gravity fitness, which operates as a fully functional gym, features 15,000 square feet of workout space and studios. The gym is equipped with top of the line machines and boasts its own, unique workout system, The Quickie.
As per its name, The Quickie is a routine designed to provide an effective workout in only fifteen to twenty minutes. Guided by a trainer as well as a computer software system called Fitlinxx, guests rotate through a series of nine machines, each designed to isolate and tone specific areas. Through the software system, guests can completely customize their workout, set goals, and track their progress on an ongoing basis.
Gravity fitness also features daily classes ranging from yoga to spin as well as their famous Penthouse Pool on the 42nd floor overlooking Central Park. After your workout, why not fuel up with delicious healthy food and then indulge in a day of pampering? The hotel has taken all that into account, opening
Drybar
, Moonshine, tenoverten, and Petite Blue Dog right alongside gravity fitness.
Petite Blue Dog, the new café concept from Blue Dog, serves high quality foods such as made to order gourmet sandwiches, salads, omelets, quiches and baked goods all made entirely from preservative free and organic ingredients. Blue Dog also serves their own brand of cold pressed juices, from all-vegetable green juices, to unique blends such as minty carrot and watermelon and lime.
The space also houses Drybar, a relative newcomer to New York's hair scene that is quickly becoming one of the most loved salons by editors and consumers alike. DryBar's 40 dollar no-muss, no-fuss, blow outs fill a much needed void between traditional upscale salons and discount neighborhood chains. Guests can enjoy a full, blow dry experience in a flirty and fun atmosphere, complete with luxurious touches such as complimentary snacks and champagne.
Down the way from Drybar will be tenoverten, a beloved New York nail salon that's opening its second doors at Le Parker Meridien in mid-April. Unlike typical nail salons, tenoverten is fashioned to feel like a beautiful apartment with limestone slab manicure tables, custom pedicure chairs and vintage light fixtures. Guests can enjoy custom manicures and pedicures either in the salon space or in the privacy of their hotel room.
Wrapping up the beauty level is Moonshine, the first ever spa at Le Parker Meridien. Conceived by renowned furniture and interior designer Colum McCartan, the unique space, with six treatment rooms including a couple's room and lounge, is equal parts luxury spa and rustic cavern. Relax in a lounge that's reminiscent of a Prohibition-era drinking den, with wood floors and walls, faux fur throws, Louis Vuitton trunks, Turkish rugs, and its own resident canary.
True to its name, the spa even offers guests a shot of Stillhouse Moonshine along with dried fruits and lemon water. Though there are only two options on the menu, facial or massage treatments are 100% custom tailored to the guest's requests and performed with Tata Harper's line of natural products. For more information, visit
ParkerMeridien.com
.
Carolyn Hsu
Carolyn Hsu is the New York Correspondent for JustLuxe and has been beauty, fashion, and travel editor at The Daily Obsession and a freelance writer since 2006. Her writing has been featured in Health.com, Refinery29.com, Q by Equinox, and Vivid Magazine among others. She also maintains a personal fashion blog at The Hsu Closet. A child of the digital age, Carolyn also works on social marketi...(Read More)