By Lena Katz May. 12th, 2013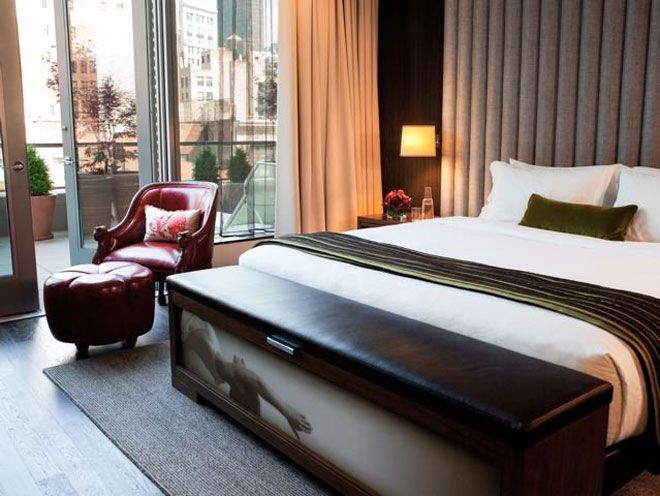 Photo Courtesy of Eventi Hotel
Let the unusual name of this Midtown newcomer clue you in: for business meetings or spontaneous meetups, cross-country rendezvous or a midweek shopping spree, the
Eventi — a Kimpton Hotel
is a great home base for a social stay in Manhattan. It's a friendly, casually chic, centrally located and versatile boutique hotel. Like most of its Kimpton sister properties, it excels at making the business-class traveler feel at home. Since the public spaces are spread across many floors, the hotel never feels congested, or like one particular group has overtaken the entire property.
Photo Courtesy of Kimpton Hotels & Resorts
A minimalist yet comfortable wraparound lobby lounge/reception area is on the ground level, and there are always a few guests relaxing by the fireplace observing foot traffic outside, or chatting/texting away in multiple languages. In addition to being international, the clientele is of a broad age range and pretty evenly divided between leisure, solo business travelers, and corporate groups. There are also a fair amount of New Yorkers passing through in the evenings en route to a cocktail event in the bar or on the outdoor terrace.
Photo Courtesy of Eventi Hotel
In terms of public spaces, the first thing to note is that Eventi has a lot more of it — and in a more innovative setup — than immediately meets the eye, including a beer garden, burger bar, seafood shack and tiki bar. Brighton eatery is adjacent on the ground floor and guests are allowed to bring their GoBurger and FishShack orders over to the Eventi Plaza if the weather's nice enough. You might think that's enough of a F&B setup for any deluxe-class Midtown hotel, and you'd be right, but that's less than half the story.
Photo Courtesy of Eventi Hotel
The second floor of Eventi seems almost entirely given over to the restaurant on one side, sexy lounge-type area on the opposing side, and separate bar in back. The identity of this venue is a bit amorphous, but we've been several times, and whether it's late night in the bar under purple lighting, or early evening Kimpton Wine Hour with complimentary cheese and snacks at sunset, we've always liked it.
Photo Courtesy of Eventi Hotel
Eventi's real hidden treasure is the open-air event space on the fifth floor. Dubbed The Veranda, it wraps around from the north- to south-facing sides of the hotel, and can be rented in conjunction with the Screening Room or either of the fifth-floor VIP suites. Views of 6th Avenue lend that extra excitement of being in the heart of Manhattan, but from a hundred feet above the sidewalks. It's rare that a venue could be categorized as ideal for a corporate cocktail function, a fashion event or a wedding, but this one really can.
Photo Courtesy of Eventi Hotel
Kimpton allows each hotel under its banner to custom tailor its programming according to what will best suit the property and its guests—no surprise here, given how much we've raved over the event spaces, Eventi really goes all-out with unique specialized offerings.
Recent events open to the public include a DJ dance party during happy hour (on a Monday, no less!) to celebrate International Dance Day and a Super Bowl party during which the game was projected onto a 16x30-foot LED screen behind the hotel (with premium viewing from the 2nd floor restaurant). During summer 2013, Eventi Plaza will host the Hester Street Fair, the only outdoor night market in Manhattan, from 5-10 p.m. every Thursday night through September 26.
Photo Courtesy of Eventi Hotel
As far as the guest rooms, Kimpton always pulls off that stylish yet casual, original yet corporate-enough-for-comfort, balance. The rooms are modern urban, with a gray-green-cream color palette enlivened by colorful flowers and art. Each is outfitted with a flat-screen TV, iPod docking station and mini-bar (an amenity that some hotels seems to be discontinuing, and we always feel its absence).

Floor-to-ceiling windows never let you forget just where you are. The downside is, whether it's those windows or just thin walls in general, the hotel rooms let in a lot of noise during a storm. If you're going to experience The City that Never Sleeps, though, that might be a non-issue.
Lena Katz
Lena Katz is the author of the Travel Temptations series (SIP, SUN, SNOW), published by Globe Pequot Press in 2009. Lena is also a travel expert for Celebrations/1800FLOWERS and WEtv (online and on-air). She contributes to the South China Morning Post and ABC News online. Lena is a former Orbitz Travel blogger and former columnist for the LA Times. She's been published in Brides Magazine, Robb Rep...(Read More)