By Donald Herrera-Fairbairn Jun. 27th, 2014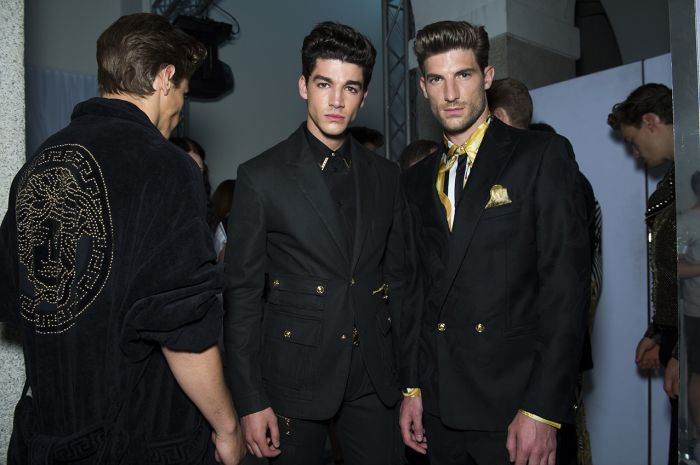 Photo Courtesy of Versace
Face it fellas, as American men, we don't exactly have much in the way of a signature style nor are we known globally for being particularly fashionable. Italians, on the other hand, have a striking style that's hard to put into words, but has a definitive look. Even guys in a fashion-forward city like New York could learn a few lessons from Milanese and Florentine wardrobes. We turned to a few of Italy's leading fashion houses for tips on helping you fix up your closet with some decidedly Italian duds to achieve a signature style whether it be classic Italian or sprezzatura.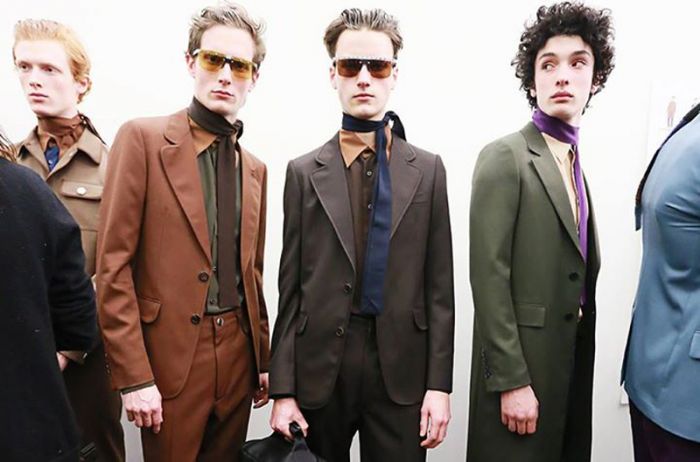 Photo Courtesy of Prada
Accessorize with a Touch Flair
American men can do a lot for their wardrobes by simply adding colorful eye-catching accessories to their wardrobe. Italian men have perfected this concept and here's how you can easily incorporate it into your own look: a black suit and overcoat will actually look more professional (and infinitely more stylish) when accompanied by a draped multicolor pastel scarf.
Photo Courtesy of Giorgio Armani
Embrace Imperfections (Sometimes)
The aforementioned sprezzatura is in itself a fashionable art form, but for those of you unacquainted with the term, a brief primer is in order. The best way to describe sprezzatura is the sartorial equivalent of making something that's incredibly difficult appear to have been done thoughtlessly or with little effort.
America's grunge phase during the '90s is a great example of sprezzatura. However, instead of purposely wrinkled flannel shirts and over-washed denim, the Italian version uses items like suit pieces, ties and unconventional pocket squares. It's premeditated disheveled at its best.
Photo Courtesy of Dolce & Gabbana
Go Thin
While getting in and staying in shape can have a substantial impact on how stylish a man looks, the thinness we're talking about is in the form of belts, ties and the way clothing is cut. Italian men's style has an unspoken focus on the thin, and guys in New York City should take note.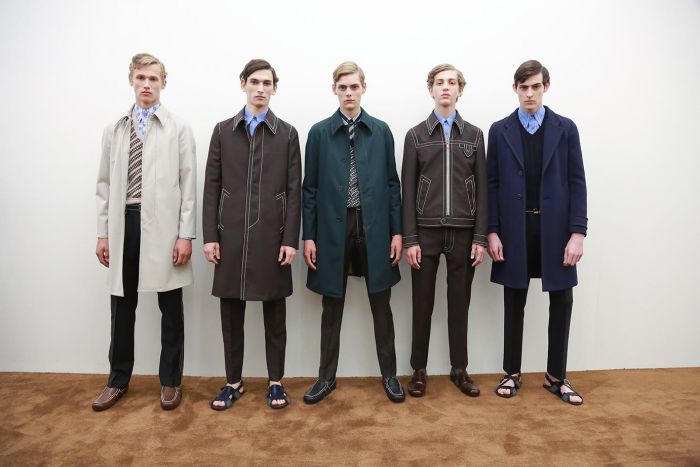 Photo Courtesy of Prada
Own More Than Two Jackets
Americans have a bad habit of being okay with having only two jackets in their closets. One, a casual or foul-weather piece, the other an overcoat that's usually paired with a suit.
On the other hand, Italian men are known for having as wide a collection of coats and jackets as an American guy has ties, which allows them to match many different looks alongside their various outfits. Just look at the above photo from Prada's Spring/Summer 2015 collection, it's a pretty large array of jackets for summer. Considering the nature of New York City winters, additional jackets should be easy purchases to justify.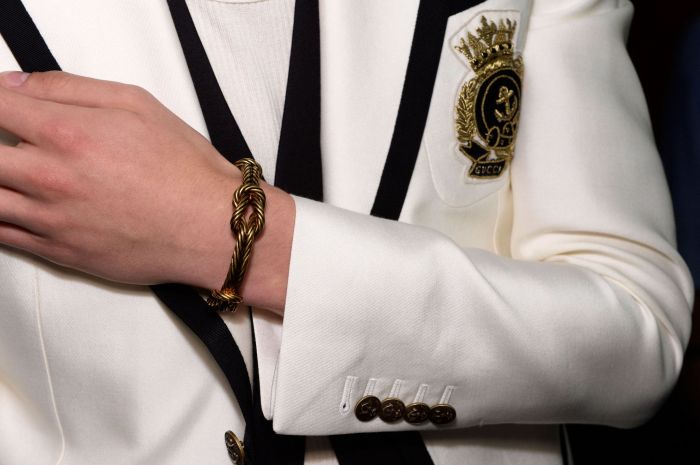 Photo Courtesy of Gucci
Prepare for a Leisurely Boat Ride
Whether it's the Mediterranean air or simply further proof of their sense of style, Italian men often appear ready to spend time sipping cocktails aboard a yacht, and they look great for it. Other than a pair of casual slip-on shoes, most American men already have the tools to rock this summery fashion and it's really easy to pull off. Khaki slacks and a partially tucked in white button-up shirt (with no undershirt) make up the majority of this look. Or you can take a cue from Gucci's Spring/Summer 2015 runway collection and don a sharp blazer in navy and white, plus some of their killer shoes and you're set.
Donald Herrera-Fairbairn
Donald lives in San Diego County with his wife and three children. He has written for a number of organizations in addition to JustLuxe, including Remy Martin, Yahoo!, Oh!Facts and more. Donald spent five years in the U.S. Navy where he discovered his knack for writing through creating instructional materials and standard operating procedures. Since his honorable discharge in 2009, he has embraced...(Read More)