By Shandana A. Durrani Apr. 30th, 2010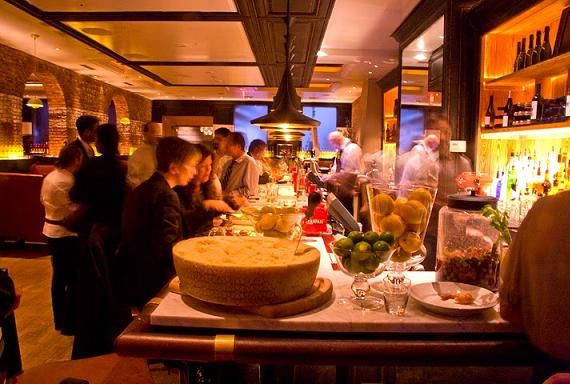 Dining:
It isn't difficult to find a good Italian restaurant in New York City. Stalwarts such as Babbo and Sardi's attract wealthy and famous clientele. But many of the trendiest Italian spots favor Tuscan cuisine over any other Italian region. Italy is more than just Tuscany and many areas have distinctive dishes that delight gourmands. Enter Trattoria Cinque, a restaurant in Tribeca that highlights a number of Italian regions, from Lombardy to Sicily.
Milanese Chef Mirco Grassini, who once crafted culinary delights for Dolce & Gabbana, partnered with Roman Russell Bellanca to open the expansive eatery in August 2009. The ambiance is decidedly retro, with flashes of Ferrari-red sprinkled throughout the 250-seat space. Large booths and rustic wooden tables occupy the main dining area and two fireplaces work as centerpieces in the lofty environs. Vintage photos of Italian cars and motorcycles dot the walls. It's not unusual to see a local celebrity sipping a Campari and soda at the lengthy Italian-marble bar. On the night I visited the restaurant, Sicilian tourists were happily taking photos with Sopranos' actor Steve Schirripa.
Each menu category lists five items (hence the word cinque in the restaurant name), from cocktails to starters to big plates. Grassini crafts seasonal dishes inspired by his years working throughout Italy. Portions are large and can be enjoyed by two people. Appetizers fare well. A recent standout was the zuppa vignarola. The broth of the potato and pea soup was light and flavorful, with hints of rosemary, and should definitely be enjoyed on a spring or summer evening. The insalata di rucola, an arugula salad with steak and gorgonzola crumbles, was devoured in mere minutes. The balsamic vinegar dressing combined with the pungent gorgonzola to deliver a unique and delicious flavor profile. Yet it's the pear and gorgonzola pizza that turns first time diners into regulars. The dish isn't just a mishmash of sweet and salty. The white truffle oil drizzled on the thin crust brings a welcome earthiness to the dish.
As a gluten-free foodie (I was recently diagnosed with Celiac disease), I have to skip bread and pasta dishes and this can be difficult at an Italian eatery. But Trattoria Cinque crafted a perfect rice tagliolini for me. The accompanying pesto overwhelmed the pasta and pinenuts, however. The dish could have been saved with a simpler sauce. The stinco d'agnello or lamb shank with polenta was cooked nicely and had the right amount of fat, giving it an extra wallop of flavor. However, the dish could have used more of the balsamic reduction and veggie glaze as the polenta lacked punch.
Besides starters, Trattoria Cinque shines on desserts. The pistachio semifreddo with sour cherry sauce shouldn't be missed. But the crostata con cioccolato e pere, a flaky pastry with chocolate and pears is the most unique and satisfying dessert I have had in months. Paired with an espresso, it's the perfect way to end an evening of gastronomic highs.
Shandana A. Durrani
Shandana A. Durrani is a travel and lifestyle journalist based in New York City. She is the author of "Day Trips from New York City" (Globe Pequot Press, 2011) and co-author of "Insiders' Guide to New York City" (Globe Pequot Press, 2011), both travel guidebooks. She was Cigar Aficionado magazine's Travel Editor for more than 10 years and has visited such far-flung locales as New Zeal...(Read More)