By Shandana A. Durrani May. 27th, 2010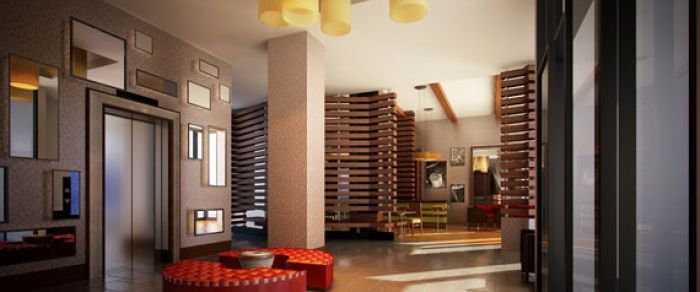 Luxury Hotels:
Fashion is to New York what red wine is to Bordeaux. It's a symbol of the city. During the twice-yearly Mercedes Benz New York Fashion Week, designers, models and fashion followers descend on the city to attend shows, openings and parties. But when the lights go down where do most out-of-town fashionistas rest their weary stiletto-clad feet? This season, it will be at
Fashion 26
, A Wyndham Hotel.

Opened in mid-April, Fashion 26 has quickly become a go-to spot for fashion-forward New Yorkers. The affordable, four-star, 22-story hotel near the Fashion Institute of Technology was built from scratch in a space once occupied by a one-story store and has a distinctly stylish theme that mirrors the hotel name. Doormen, clad in custom-designed uniforms, greet guests as they enter the modern lobby with its pattern-cutting table-cum-check-in desk. The check-in area also showcases colorful spools of thread stacked atop one another and unique art pieces such as "After Mondrian (Fashion 26)," by artist Devorah Sperder as well. Try one of the complimentary fashion-themed Crumbs cupcakes before heading to your room.
The chic theme is reflected once again in the modern lines of the 280 rooms. A baby-blue polka dotted vintage Ralph Lauren wallpaper pattern occupies one wall. Hologram photography, featuring spools of thread, line another. Pinstripes, harking back to classic men's suits, seem to be the most popular design element and can be seen on the navy blue carpet, the ebony wood and metal headboard, the small cream lampshades and the white cotton duvet. Custom-designed nightstands have crisscross legs, reminiscent of vintage sewing machines. A polka-dotted bolster pillow echoes the wallpaper. Bathrooms are small yet functional. Envelope yourself in a Frette bathrobe as you savor a complimentary chocolate. Although the rooms are small, the feeling of space is maximized due to the high ceilings, large windows and picture perfect view of the Empire State Building.


The rooftop bar is one of a growing number in the neighborhood. RARE View is small but stylish, serving up carefully crafted cocktails and light snacks. Get there early to get a spot otherwise you'll be tarrying with the rest of the throng, gazing longingly at the seats.

Guests at a loss on where to eat in the neighborhood can head downstairs to dine at RARE Bar & Grill, a high-end burger joint. RARE crafts delicious burgers topped with artisanal cheeses, some made from choice cuts of meat such as filet mignon and rib eye, as well as prime steaks, and its "frickles," a.k.a. fried pickles, are reason alone to eat there.
Shandana A. Durrani
Shandana A. Durrani is a travel and lifestyle journalist based in New York City. She is the author of "Day Trips from New York City" (Globe Pequot Press, 2011) and co-author of "Insiders' Guide to New York City" (Globe Pequot Press, 2011), both travel guidebooks. She was Cigar Aficionado magazine's Travel Editor for more than 10 years and has visited such far-flung locales as New Zeal...(Read More)