By Alex Cheney Mar. 7th, 2018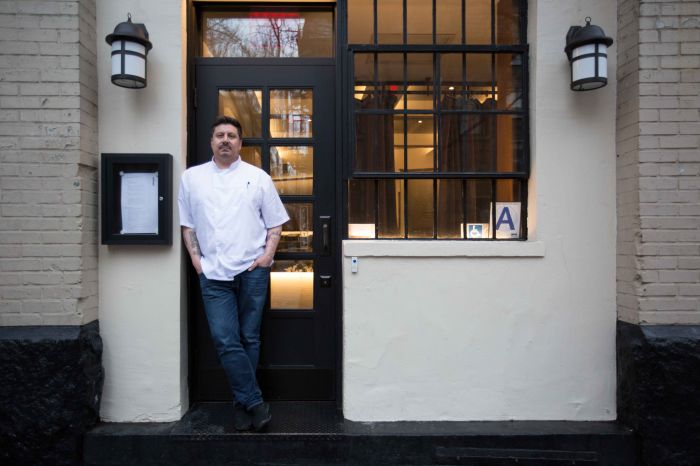 Kathryn Sheldon
Since its opening in 2016, Executive Chef Jaramillo and Owner Alex Kingman have created a new wave of New-American and Latin American cuisine in New York City at FIFTY. Exploring exotic South American flavors while utilizing fresh, seasonal ingredients and artful plating, Executive Chef Luis Jaramillo is truly doing something special tucked away in the West Village neighborhood.
Chef Luis Jaramillo grew up in Ambato, Ecuador, a small town nestled amongst the Andes Mountains 3000-meters above sea level. Surrounded by his mother's Ecuadorian cooking, Chef Jaramillo was exposed to the kitchen at an early age where he began to create dishes of his own. At FIFTY, Jaramillo is dedicated to running a kitchen that values equal and fair collaboration. He creates a diverse cooking community amongst his staff to pave the way for innovation and creativity within the kitchen.
We sat down with Chef Jaramillo to dive into what we need to know about Ecuadorian cuisine and give us a taste of FIFTY.
JL: What should people know about Ecuadorian cuisine that one may not know?
Chef Jaramillo: Talking about Ecuador is talking about one of the most diverse ecosystems, small in territory but rich an extensive when it comes to flavor and cooking technique, techniques that data for hundreds of years and are still being used, also and not to leave them behind ingredients that run all year-round cause of the marvelous climate. Ecuadorian food is dynamic, bold, unique and it's going into an amazing transition where ancient flavors and techniques are being used with contemporary counterparts. Therefore an amazing renaissance of Ecuadorian cuisine is about to start happening in the near future, equal as it happens in Peru, Mexico, Japan, the Philippines to name a few of cooking trends and booms. I highly believe Ecuador is on the same path. There are very great restaurants run by very talented chefs such as Los Salnes Picateria, Boca Baldivia, Urko, and Muyu Restaurant in Galapagos islands. Here at FIFTY in New York, we are doing exactly the same and are making a splash in the wave... in this case, working with local ingredients and adding that Ecuadorian bold unique ancient flair, creating a contemporary tasty menu that plays tribute of both worlds. Ecuador the country where I come from and New York a contemporary Mecca in this culinary universe where I reside now.
JL: What is the quintessential dish at FIFTY? Why?
Chef Jaramillo: I really don't like to talk about one dish, in particular, I often get asked the same question, but all dishes on the menu have a very special place. For example, the deviled eggs that might come across as a rendition to Italian food where they were created but that smoked trout flavor and scent bring me to my childhood when I used to go trout fishing with my friends as a weekend adventure, and then pit fire roasted them. The striped bass Crudo served with passion fruit, peanuts, and espepellet pepper powder is also a unique combination. Flavors took from a ceviche made in the town of Jipijapa in the province of Manabi, and the black rice is a rendition of the cocolon or pegao, which is the crispy rice that sticks in the bottom of the pan. This leads us to make a rice dish with that type of texture. Goat ribs, green plantain empanadas, shrimp, encocao, etc. I can just go on why I don't have a quintessential dish, they all are.
JL: Favorite ingredient to cook with and why?
Chef Jaramillo: Cilantro. I think cilantro is a very versatile herb that can be used in sauces, marinates, garnishes, salads, this herb has the quality to bring dishes alive, giving them that pop brightness.
JL: One rule you learned in cooking school that every home cook should know?
Chef Jaramillo: We keep on learning. Cooking is a never-ending experience. A kitchen is a laboratory where trial and failure are a daily basis rule.. maybe not giving up and continue to persevere, that is what I took out of one of the chefs at culinary school.
JL: Kitchen tool you can't live without?
Chef Jaramillo: Good attitude, a sharp knife, and the willingness of making delicious food.
JL: Secret weapon spice/ingredient/technique?
Chef Jaramillo: Love and passion for the craft.
For more information on FIFTY or make a reservation, visit www.FIFTYrestaurantnyc.com.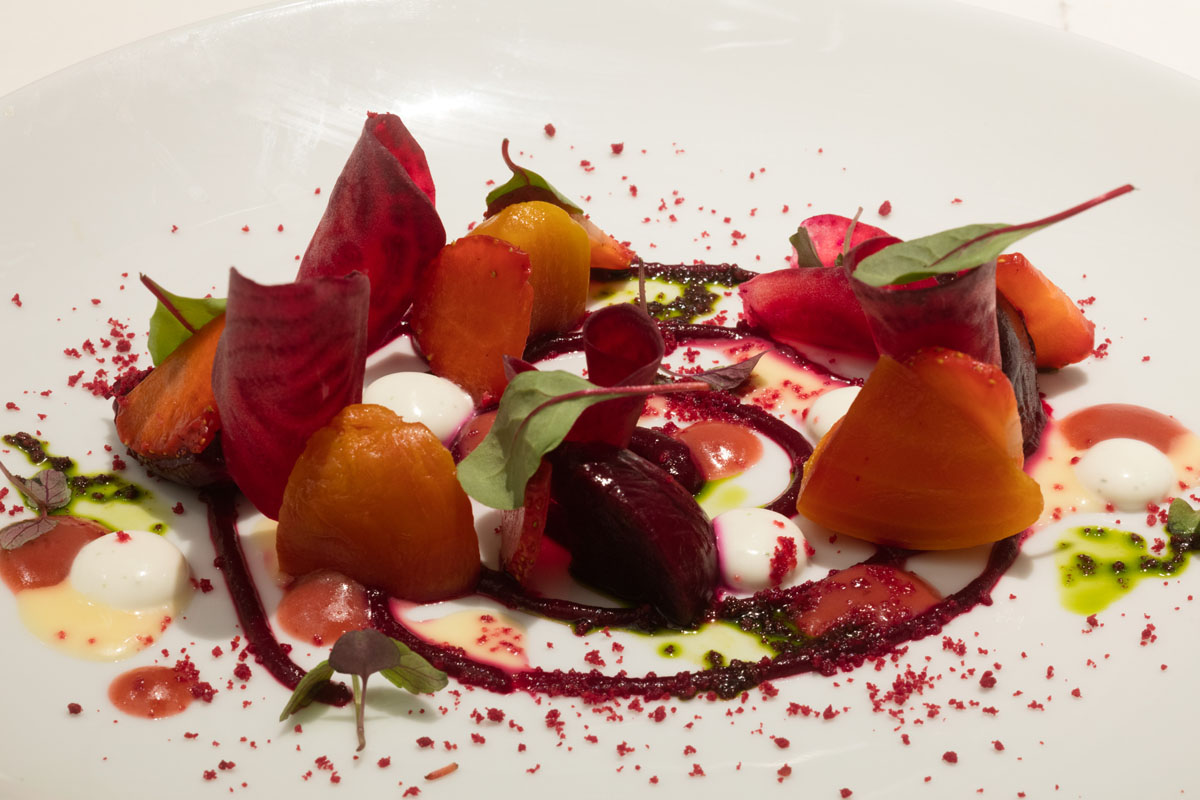 Kathryn Sheldon
Chorizo Empanadas at FIFTY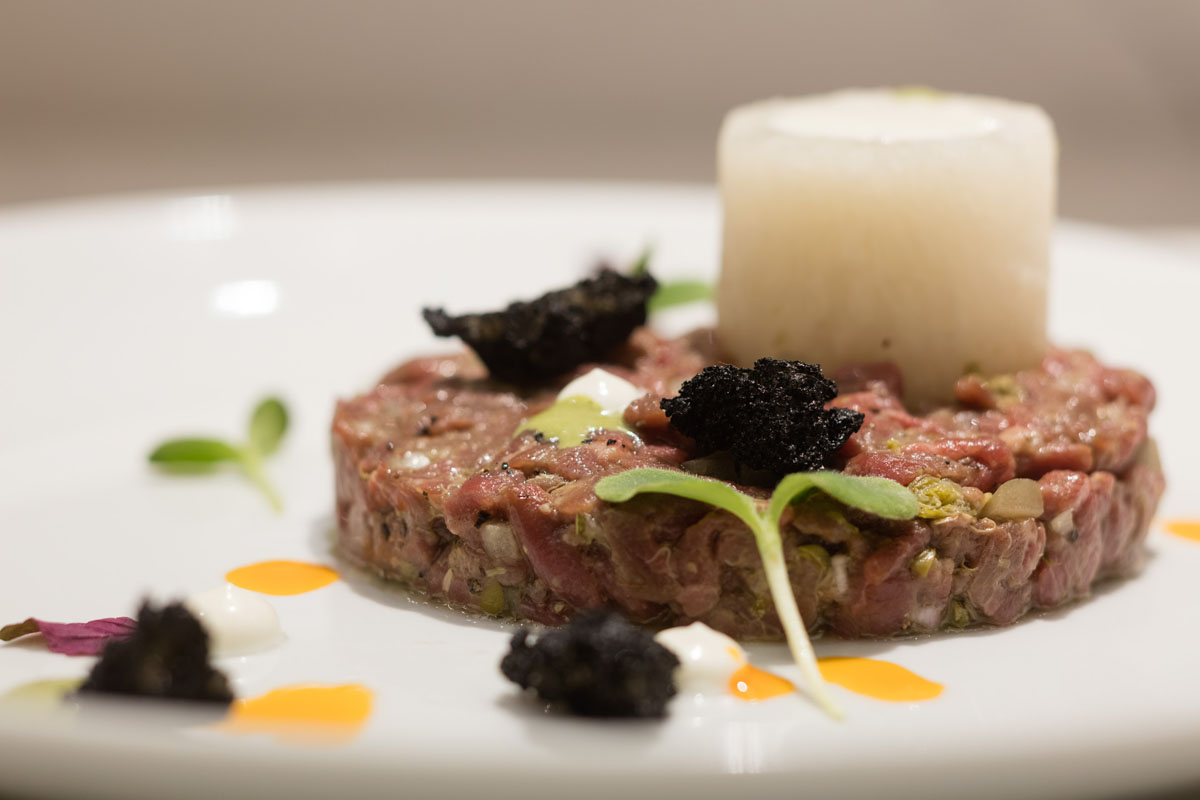 Kathryn Sheldon
Goat Ribs at FIFTY