By Christy Stewart May. 12th, 2009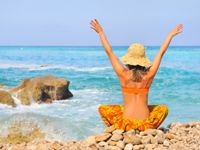 Luxury Travel:
As temperatures begin to rise, so does the anticipation of planning that annual summer trip. Whether you're seeking some much-needed solace, some non-stop action or if you're simply beach-bound, summertime is the perfect season for travel. We know that times are tough, but in today's economy, where everyone is vying for your business, there's never been a better time to find affordable hotel rates and packages. With so many choices as to where to spend your summer vacation, we've helped narrow it down based on the type of getaway your after.
For the Sun Worshiper
While its weather has proved to be among the best year-round, summertime in San Diego, California is exceptionally ideal. Each year, San Diego beaches draw swarms of travelers looking to soak up some rays, ride some waves, and experience the stereotypical Southern California lifestyle. Tourists tend to flock to the bikini-clad beaches of Pacific and Mission Beach, where there is no shortage of shopping, dining and nightlife entertainment. For a more leisurely day on the sand, venture north to La Jolla Shores, a luxurious stretch of sand, set amidst multi-million dollar homes. If you're looking to avoid tan lines altogether, leave your inhibitions at home and head to Black's Beach, a clothing-optional beach in La Jolla. In addition to its sprawling beaches, San Diego offers a vast array of activities sure to please even the most seasoned traveler. Stay in style at
TOWER23
, a chic hotel along the water's edge, starting at just $299 per night. For more to do in San Diego, don't forget to check out our
San Diego City Guide
.
For the Over-Worked
If your idea of a dream vacation includes spending some well-deserved "me-time" in the comfort of a plush robe,
Cancun
, Mexico might be just what the doctor ordered. While Cancun may be a popular destination for spring breakers, its abundance of world-class spas makes it the perfect escape for those in need of a little R&R. Spas in Cancun are known for providing treatments derived from local plants as well as maintaining the ancient practices of its Mayan culture. Indulge your senses at the
Zoetry™ Wellness & Spa Resort
or surrender to ancient healing rituals at
Le Blanc Spa Resort
.
For the Avid Golfer
Any golf enthusiast knows that Pebble Beach is synonymous with luxury. The coastal community of Pebble Beach is located in Monterey, California and is home to one of the world's finest championship golf courses. Pebble Beach Golf Links has long been a golfers' paradise and has served as a stomping ground of sorts for both celebrities and world-renowned golf champions. The course is scheduled to play host to the 2010 U.S. Open Championship. Luxurious accommodations in Pebble Beach include The Lodge at Pebble Beach, Casa Palmero, and The Inn at Spanish Bay. As a guest of one of these award-winning hotels, you have the option of taking advantage of the Preferred Golf Club program, which provides not only complimentary rounds of golf but also guarantees the lowest room rates available.
For the Family
If your summer vacation plans include the whole clan,
Orlando
, Florida is the perfect place for parents and kiddos alike. With Walt Disney World, Universal Studios, and Sea World Orlando all at your fingertips, Orlando is no doubt a crowd pleaser, guaranteed to put a smile on any child's face. While the attractions score big with the kiddos, parents will find pleasure in the luxurious amenities offered by many of the surrounding hotels. And with rates the lowest they've been in a decade, a trip to Orlando doesn't have to break the bank. The
Crowne Plaza Hotel Orlando-Universal
is currently offering rates starting at just $98.
Whatever your upcoming vacation plans might entail, there's never been a better time to find five-star hotels for three-star prices. Summer is right around the corner so grab that sunscreen, pack your bags and make this summer one you will never forget.
For LxM Christina Stewart
Christy Stewart
In her role as managing editor, Christina has developed a keen eye for all things luxury and is considered by many to be an expert within her field. Christina has covered a wide range of luxury lifestyle topics and finds passion in international travel, fast cars, and fabulous handbags. She graduated from San Diego State University in 2005 with a degree in both journalism and English. While attend...(Read More)