By Eric Meyers Feb. 27th, 2012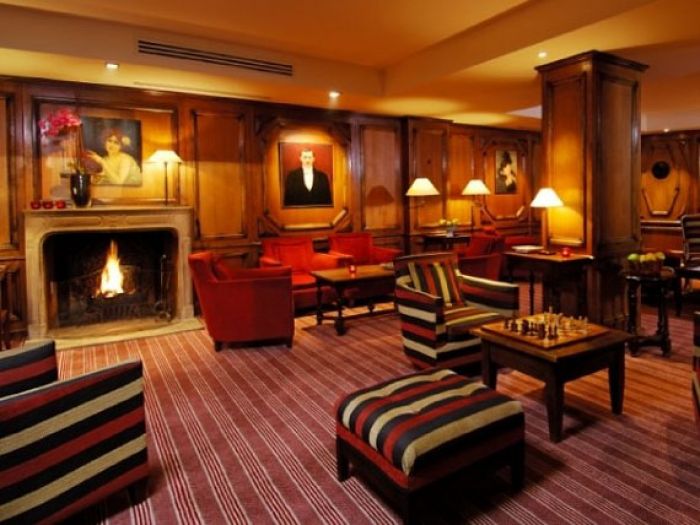 Photo Courtesy of Relais Christine
One of the great things about
Paris
— and there are many — is that the layout of the city makes things hard to find, and therefore, more rewarding when you do discover a new favorite. Relais Christine is a small luxury hotel, equidistant from the lively Saint-Germain-des-Prés and the rushing River Seine, yet you have to know it to find it, as it is tucked away on a very tiny, quiet and quaint side street.
Relais Christine feels more like a private residence than a hotel. Below the discrete sign out front, guests pass a gated arch and enter a hidden courtyard, with the hotel rising above and the cobblestone clacking underfoot. The lobby immediately impresses, with art on the walls and a politely attentive staff.
A piece of advice: Let your bags go to the room first, while you step into the lobby-adjacent room that houses the honesty bar. At one end of the room a fireplace, at the other, a variety of libations; and in between is an array of seating, often filled with interesting travelers ripe for an enlightening conversation.
There is an array of rooms available, all with a dedicated attention to detail in their styling. The junior suites overlooking the courtyard feature a living room with couches and desks on the first floor, and upstairs in the spacious loft a bedroom. The bedroom features technology like remote-controlled skylight blinds, but retains a sense of timeless Parisian charm with deep purples and mahogany appointments throughout. Back on the first floor of the duplex, the bathroom offers his and her sinks, products from L'Occitane en Provence, and pristine marble everywhere.

Below the luxury of the rooms rests what may be the true highlight of the address — the spa and fitness center. Under arched ceilings of brick and tile is a place to get a workout in, or let the stress out inside the hot tub or sauna. This spa effortlessly induces tranquility through its peacefulness in the midst of one of the most vibrant areas of the city.
Surrounding the Relais Christine are days worth of boutiques of all kinds, and some of the best undiscovered restaurants in the city. The concierge will be happy to direct you to a new favorite, or just amble down any side street off the Boulevard Saint-Germain and find your own.
The Relais Christine is truly a luxurious find among the boutique hotels of Paris, and its central-yet-removed location make it a hard place to leave. For more information about the hotel, visit
Relais-Christine.com
.