By Eric Meyers Mar. 9th, 2012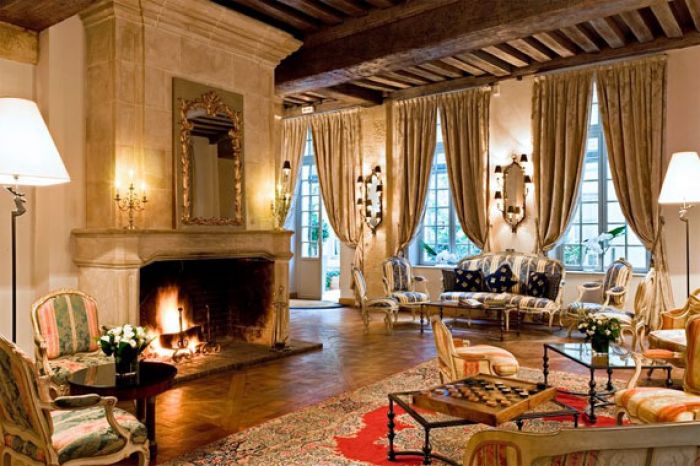 Photo Courtesy of Hotel d'Aubusson
Hotel d'Aubusson is named after a region of France that specialized in tapestry weaving after serving as refuge to citizens fleeing Flanders centuries ago. It is located just off the Boulevard Saint-Germain, where many expatriate artists spent time decades ago. It is therefore fitting, that when you walk through the doors and into the lobby, the first thing you experience are detailed tapestries on the wall, and the sounds of classic jazz music echoing in between.
The hotel evokes a feeling of the classic age of jazz, with its laid-back demeanor living in luxurious surroundings. Next to the lobby is a piano bar, with jazz performances sometimes twice nightly. Start here with a drink, and soak in the sounds before heading up to your room. Also nearby is the courtyard, where the young musicians can be found smoking cigarettes and discussing their craft with strangers before and after the shows. The courtyard, like many in
Paris
, is a wonderful place to spend a sunny day in the city.
The rooms feature some lovely views of the surrounding neighborhood, which is full of the type of dining and shopping people come to Paris for, so be sure to pull back the oversize curtains and enjoy. Even the smallest rooms come with large dual closets, a dining table, and a very small desk, making it immediately apparent that this address is not meant for work, but for food and fashion. The point is further made once you step in the bathroom, where you find products from Hermes.

Hotel d'Aubusson is also home to traditional French breakfasts within, and great evening drinks at the Café Laurent next door. For everything between, time is best spent wandering the neighborhood, or exploring the banks of the nearby Seine. For more information about the hotel, visit
HoteldAubusson.com
.