By Carly Zinderman Jun. 30th, 2009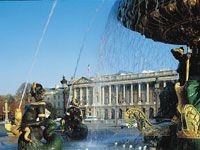 Luxury Hotels:
Located in the Place de Concorde of Paris, the Hotel De Crillon boasts a luxurious history as the former mansion of the Count de Crillon.
The exclusive hotel offers the dedication of personalized attention that one expects in a private home, with the exception of having 103 rooms, 39 suites, and 5 luxury apartments offering exceptional views of the Place de Concorde as well as interior courtyards.
As part of its dedication to being the ultimate in luxury, the Hotel de Crillon boasts several magnificent restaurants as well as an elegant bar:
Les Ambassadeurs is one of the most highly rated restaurants in the city. Presided over by executive chef Jean-François Piège, the formal dining establishment emphasizes seasonal ingredients.


In The Winter Garden, guests can enjoy a relaxed afternoon with tea or step outside into the Summer Patio and consider a selection of food from the menu.


L'Obé provides an informal bistro setting to enjoy Jean-François Piège's cuisine, as well as an expert wine list.


At night, relax in the Piano bar Crillon and enjoy elegant cocktails and light fare while listening to the keys tinkle.
Elsewhere in the hotel, enjoy a special dedication to service. The hotel not only provides the usual luxury amenities, but also childcare services, personalized service, a fitness center, a business center, and other amenities designed to make your stay exceptional.
Guest rooms and suites at the hotel offer the ultimate in luxury amenities in expertly decorated accommodations. For an extra special stay, choose from some of the hotel's finest accommodations, which offer up images of the Royal Palace.
The Bernstein Suite is named after the composer, who once stayed in the lavish rooms, and can be doubled in size to combine with the Louis XV Suite. Boasting two terraces, guests can enjoy uninterrupted views of the entire city of Paris as well as the Eiffel Tower. Despite the homage to days gone by in the sumptuous décor, the Suite boasts the latest in technological advances, including WiFi and two plasma television sets.
The Crillon Boutique offers an array of goods designed for both him and her in an elegant setting that hearkens to the past days of glory.
The hotel's terraces offer unparalleled views of some Paris' best know sights, including: the Concorde bridge, the Rue de Rivoli, the fountains in the square and the Obelisk of Luxor, the Eiffel Tower, Parliament House and the Grande Arche at La Défense.
If you can stand to tear yourself away from all the richness of the Hotel De Crillon, you will find yourself near some of Paris' finest landmarks, including the Louvre and the Rue du Faubourg Saint Honoré, with the finest designer shops and boutiques.Whether you stay in, or step out, the Hotel De Crillon is a luxurious experience you won't soon forget.
For
JustLuxe
Carly Zinderman
Hotel De Crillon
Hotel De Crillon
Hotel De Crillon
Hotel De Crillon
Hotel De Crillon
Hotel De Crillon
Hotel De Crillon
Hotel De Crillon
Hotel De Crillon
Hotel De Crillon
Hotel De Crillon
Hotel De Crillon
Hotel De Crillon
Hotel De Crillon
Hotel De Crillon
Carly Zinderman
Carly Zinderman is a Senior Staff Writer for JustLuxe, based just outside of Los Angeles, CA. Since graduating from Occidental College with a degree in English and Comparative Literary Studies, she has written on a variety of topics for books, magazines and online publications, but loves fashion and style best. In her spare time, when she?s not writing, Carly enjoys watching old movies, reading an...(Read More)